There was a time when lacrosse wasn't played year 'round, but those days are strangers to many now.  From the smallest tykes to the biggest Blue Chip recruits, it seems like everyone is playing lacrosse during the winter, and we have a single SUPER POST to show it all off.  If you're looking for more grown up content, check out our post with links to ALL the best stories from the week.  There are over 60 links in there!
We'll start with our youngest guys, and work our way up to the kids going to Maryland and Syracuse next year.  It's a veritable cornucopia of winter lacrosse action!
Sandstorm Tournament – Palm Springs, CA (More Uniform Photos)
Living lacrosse legend, Ryan Powell and his U13 Rhino Rippers departed snowy Portland Oregon in search of great lacrosse, warm weather, a tasty In-N-Out burger (or two!), and their first tournament championship.  Lofty goals, warm weather and some of the best fast food in the country.  It makes me wish I was 12 again.
The Rhino Rippers finished the tournament undefeated, with a 7 – 0 record, against tough competition from Southern California, Tucson AZ, and Burnaby Mountain, British Columbia.  In the end, the Rippers had the highest number of goals scored and the best differential in the U13 division. Rhino beat all 6 competitors in pool play, and won a hard fought rematch by a 7-6 score against an excellent Burnaby team in the Final. The game winner was scored in the last two minutes by Peter Burpee from an assist by Tucker Dordevic – and caused by a hard defensive ride by attackman Charlie Wiggin.
The Rhino Rippers were lead by captains Jack Schlendorf (goalie), Jake Frane (middie), and Peter Burpee (attack). The championship was truly a team effort with outstanding effort from all Ripper players and great support from the numerous families that made the long trip with the team. Tournament MVP, Jake Frane, led the way with a 76% Face-Off percentage, 16 Goals, 8 assists, and 24 GBs. On the offensive end of the field, Peter Burpee also scored 8 goals. Unselfish team play resulted in 58% of their goals being assisted with Sam Handley accounting for 7 assists. Defensively the Rippers controlled 52% of the GBs with Ryley McDowell collecting 19. Jack Schlendorf recorded a team high 26 saves, and had an outstanding 52% save percentage.
These Rhino little guys took the tournament seriously from beginning to end, and when they were on the field it was all business and team play.  Just the kind of stuff we love to see!  We heard good things about the Rippers from a couple of sources who were at the tourney.  So well done, guys!  Playing lacrosse the right way.  We LOVE it!
Tri-State National Indoor Lacrosse Championships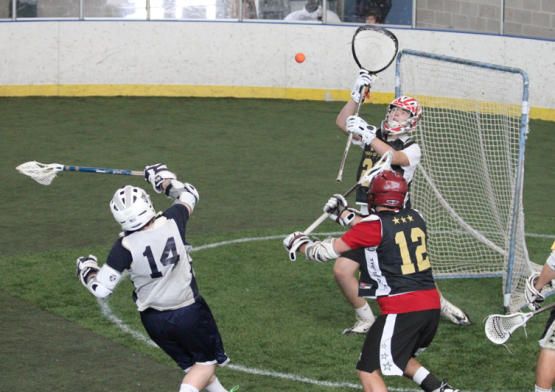 The Tri-State National High School Indoor Lacrosse Championship, now in its 21st year, continues to attract premier high school club lacrosse teams from up and down the East Coast, with four Tri-State teams competing (and Tri-State Green making it to the semi-finals), The Duke's Lacrosse Club, Sweet Lax Lacrosse, defending champion Hermits (St. Augustine Prep), Quaker Lacrosse, Lawrenceville Lacrosse and the Rebels Elite team from Pennsylvania.
The 2012 Tri-State National Indoor Lacrosse Championships (MLK Tournament) at the Peddie School came to a thrilling conclusion Sunday evening when the Duke's Lacrosse Club pulled out an impressive 11-10 overtime victory over the Sweet Lax Lacrosse Club from upstate New York to claim this year's championship.
"I can't think of a more thrilling way to draw to a conclusion what was one of the most talented fields of teams in the history of our tournament," said Bob Turco, founder of Tri-State Lacrosse and US Lacrosse New Jersey Hall of Fame coach. "I am blown away every year by the talent that comes through those doors. We are only to happy to give these young men the field on which they can showcase their talents and compete against eachother in what has quickly become one of the premier tournaments of the offseason."
Historically, the Brogden Cup was played annually between the top US and Canadian post-collegiate field players.  But with the advent of the MLL, it just wasn't going to happen with the same quality, so someone came up with the bright idea of making it a PRE-collegiate event instead.  This year it was held at the University of Tampa, where Rory Whipple is the NCAA D2 Head Men's Lacrosse Coach.
The two teams that played were a Canadian All-Star field team from Ontario, and a club team from the Rochester area that won the National Lacrosse Classic this past Summer in Maryland.  This is the Rochester area team's second win in three years at the Brogden Cup.  The series is set up as a best of three match, but only two games were needed this year as the US won 15-7 and 15-7, which seems weird, but that's what the presser says!  The Rochester team is coached by two Whipples, and has another Whipple (Connor headed to Georgetown) playing… it's a real family affair!  Or at least an affair of people named Whipple.
Other big names in attendance for the US were Jay McDermott (Syracuse), Nathan Gowen (Rutgers), Victor Petrrone (Army), Justin Rehm (Siena), Derek Jamison (Mercyhurst), Eric Fischer (Binghamton), Blaze Riorden (Albany), Connor Enright (Mercyhurst), Derek DeJoe (Syracuse), Gunnar Miller (Army), Maximus Maxwell, Nick Weston (Syracuse), (Tyler Aycock (Albany), and John Maloney (Albany). Some of the stand out Canadians were Joe French (Georgetown), Nicholas Beaudoin (Notre Dame College School), Chris Robertson, Justin DeMarchi (Denison), Kyle Jackson (Michigan) and Dan Lomas (High Point).
For more photos check out the National Lacrosse Classic site.
True Lacrosse Hold First-Ever Tryouts!
There are more and more lax programs out there to choose from, so we always like to see a smaller program put themselves out there to be seen and judged.  It looks like Ed Cimoch and the True Lacrosse guys in the midwest are on to something.  Great tryout video!  GTG in Illinois!
On January 2nd, True Lacrosse held their very first State Team Tryout at the Lake Barrington Field House in Barrington, Illinois. Over 400 players attended to try out for the three True Lacrosse Illinois All Star State Teams.  Teams are designated by graduation year.  In order to ensure an unbias evaluation, True Lacrosse enlisted the help of PreGame Lacrosse Evaluators.  This summer these teams will be competing in the NSCLA Tournament, MVP Lax Tournament, and UPLAX. Teams will be decided and players will be notified on team selections by this week!  Exciting times for Midwest Lax!