As far back as I can remember, lacrosse has always been a passion of mine. Starting early, I was constantly practicing my stick tricks, trying to snipe water bottles in the corners of the net, or even emulating the final 10 seconds of a National Championship game. Let me tell you, I hold the record for most buzzer beater goals with about 1,000,000!
Growing up in Upstate New York, I was blessed to always be surrounded by lacrosse. It was nothing to drive an hour to the Dome to watch Cuse. I went to every Knighthawks and Rattlers game I could. We watched legends like Brett Queener, Joe Walters, and Mike Manley play in high school.
Digging to the Roots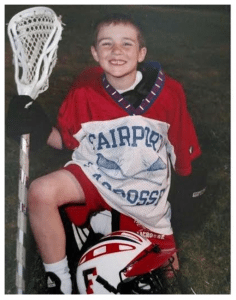 When I was 4 years old, my father, Mike Riorden, who grew up playing the game, signed me up for Fairport Youth Lacrosse. At first I was listed as an attackman, but this would soon change. After injuring our goalie in the 4th grade, my dad made it clear that I was going to have to hop in net. No one else wanted the job, so it became my new role. Being an attackman at heart, right after practice, I would go home, pick up my short stick and go to work. The skills I developed through both positions have helped me become the player I am today.
As I grew older, I knew eventually I would have to choose a primary position and it was going to involve preventing goals, rather than scoring them.
Taking the Next Steps
Recruited throughout high school as a goalie, the summer of my junior year I decided to go play attack at the Syracuse Shootout. After a game, a coach wearing purple and gold approached me to see where I was at in the recruiting process, it just so happened it was Scott Marr. I told Coach that I was a goalie and was just playing attack for fun. He was in disbelief.
A week later I went for a visit and quickly fell in love with the University at Albany. Marr was unlike any coach I've met. His outlook and perspective on the game led to decisions like former goalie, Brett Queener playing man up. I could not think of a more perfect fit. After establishing my starting position at goalie, I was soon asked if I wanted to play man-up. Without hesitation I was sold. But, the star power we had would only allow me to play with a shortie in about 15 games throughout college, scoring 1 goal, 3 assists.
Reshaped by the Rez
My freshman year, Ty Thompson and I became close friends. With the season coming to an end, he invited me to play box lacrosse on the Akwesasne Mohawk reservation and learn more about his culture. Without even knowing where Akwesasne was, I agreed. My first two summers as a forward were a learning experience (to say the least).
Putting my goalie stick down for the summer was the best thing for me. My hand-eye coordination, and stick skills improved tremendously. In my third summer I really took it upon myself to better my indoor game.
Wherever the Game Leads Me
Since then, I have competed in four NCAA tournaments, won a Jr. B Founders' Cup, nominated for an ESPY, and competed for bronze-winning Team USA in WILC 2015. I'm currently playing goalie for the MLL's Rochester Rattlers and forward for the NLL's Buffalo Bandits. Throughout the process, my stick skills and love for the game have allowed me to live my dream.
My lacrosse stick has brought me so many places, and has allowed me to meet my best friends. From living on a Native American Reservation, to playing in the Sweet 16 in front of 15,000 fans, working camps in all over the West, and exploring the Great White North (Canada).
I'm Blaze Riorden, and I Grow the Game!
[mks_separator style="solid" height="2″]