[fvplayer src="https://youtube.com/watch?v=TuULdRD3DqU" splash="https://i.ytimg.com/vi/TuULdRD3DqU/hqdefault.jpg" caption="LaserSharks vs. Baltimore Bombers Highlights – Box Lacrosse Exhibition"]
I had the distinct pleasure of playing in the Baltimore Bombers vs LaserSharks (sponsored by UnCommonFit) exhibition box lacrosse game at the William J Myers Pavilion in Brooklyn, MD, during the recent LaxCon weekend, and while I've seen a good deal of coverage for the event, I haven't seen a single post that has truly managed to squeeze the essence out of this event and distill it into something accurate.
Seeing as I played in the game (albeit sparingly), was involved in some of the lead up to the night, and run a lacrosse website, I think I'm uniquely positioned to shed some light here. Also, I was able to avoid injury or a massive concussion all game long, so I remember most of what happened.
First off, neither of these teams were "pro" teams in any way, shape, or form. The Bombers' logo may say otherwise, but both squads were collections of players from other operating teams or leagues, and there was a lot of overlap with the rosters, meaning some Bombers have played for the LaserSharks and vice versa.
The Bombers used to be a semi-pro team, and the LaserSharks are a men's club team that was only started recently. Before this game, the LaserSharks had competed in one tournament, and like I said, a number of the 2015 Bombers were on that team. 
So really, it was kind of like an all-star club team game, which was put on with the goal of spreading the box game to new people while putting on a good show for those who already cared enough to come out. And thanks to all that did come out!
The guys all played hard, did their best to gel quickly, and had some fun. A solid crowd came out to watch and cheer, and overall the event turned out really well, especially given that it is in its first year of existence. There are plans to continue this next year in Baltimore at the 2016 US Lacrosse Convention.
Bombers Vs LaserSharks Game Stuff
The 2015 version of the game started out as many would have predicted: lots of rushed shots, a couple big hits, and some early longer range goals allowed by goalies who were still settling in. The pace was frantic and it looked a lot like an all-star game where guys weren't super comfortable with each other for about 8 to 9 minutes, and then things settled down. When the early runs had been sorted out, Baltimore had a 2-1 lead.
My first run came about 8 minutes in and, almost immediately, I ole'd an easy ground ball much like preseason Roger Dorn. Thankfully my coach didn't make me take grounders for the rest of the night and by running into one of the Baltimore players by mistake, I did allow my more skilled teammate to pick up the ball. Crisis averted, taking man by mistake, embarassment levels down to 60%. I can deal with that.
The game wore on and I continued to take runs here and there, especially when our long line of lefties looked a little tired. I probably had the ball in my stick only a couple times all game, but I made my presence known by setting picks and getting held, or holding people. I'm an off ball guy. Sure, that's the ticket. Eventually a Bombers player, tired of my relentless holding, punched me in the helmet with his gloved hand. It turned out to be my friend, Rob Starr, who didn't recognize me because I had cut my hair. Or he secretly hates me. Either way it was good for a laugh!
The refs seemed to think that was totally okay, but those guys had both swallowed their whistles for the night, so I certainly didn't expect a call. There was actually only penalty called in the entire game, and it really looked quite harmless. Of course it was on our own team leader, PJ Martin. So who knows what those guys were doing? They did blow the whistle for face offs, so there's that I guess. All I'm saying is that I should have been nabbed for at least two good holding calls on Saturday night and I got zero penalties. I know how guilty I was, sir, punish me! Rules are rules.
Thankfully the players never really got out of control, and the game remained a classy affair. There were no fights, no dirty play that I could see, and very little animosity, at least for a box lacrosse game. Maybe it was because so many of the guys knew each other, or maybe it was because we all realized it was an exhibition game, but the blood never boiled over. Slow clap to all involved for that.
As the game continued in the scoring department Baltimore took a lead, and then the LaserSharks came back to take a lead of their own. When things looked like they would all go the UnCommonFit team's way, they didn't, and Baltimore made good on a couple of key chances to put the game away at 8-6. Our LaserShark squad fought back hard, and pulled to within one with less than a minute left. Zack Dorn got off a great shot that looked like it could sneak through with about 10 seconds left, but Baltimore's goalie Ginny Capicchioni made the squeeze stop and kept the win on ice for the Bombers.
All three goalies in the game (LaserSharks used two keepers) played well, but Capicchioni was a true difference maker for Baltimore. The LaserSharks generated more shots, and had good legs all game long, but Capicchioni stood on her head at times. Adam Nauerth, Anthony Terranova, Justin Otto, and Matt Hickman all had big games for the UnCommonFit crew. Ryan Wheeler, Will Harrington, Erik Holt, and Garett Ince all performed extremely well for Baltimore. Casey Connor was also a defensive stalwart for the Bombers, and the last minute roster addition proved vital to that unit's cohesion.
Fans who came to the game were able to join players on the floor after the game, and many of the players and spectators stuck around for quite a while catching up. It was a friendly atmosphere and there was plenty of media buzz, and people filming the game.
In what many of you may think to be a bizarre twist, I rode back to my hotel in downtown Baltimore from the game with our editor Mark Donahue, Billy Nguyen (who was writing for LPG at LaxCon), Kyle Devitte (an editor at IL), and Chris Rosenthall (who now works for IL).
(A little pre-game coffee and sad face, who knows why…)
Billy also played in the game, Mark took video, and my IL boys watched (and hopefully made fun of those playing, like me). It may have been the single most entertaining car ride of my life, and I promise you, that's not a sad thing. Is it weird that I had to say that's not a sad thing? Thanks to those guys for all being awesome. If we had crashed, the lacrosse media world would have been a lot smaller! A little morbid, but a lot true.
Game Notes:
– This was NOT a professional lacrosse game. Players weren't paid, and the game was free to fans. Neither team plays in a professional league or practice together consistently. This was an exhibition game. It was an awesome and well run exhibition game, but it was still an exhibition nonetheless. The announced crowd was 457, but that seems high to me. That being said, the stands were pretty darn packed!
– Felix Nyeko became the first African lacrosse player to play box lacrosse, and he played a LOT! This was awesome to see, and Felix took to the sport quickly. What was even better was that as the game progressed, the LaserSharks shortened their defensive bench, but Felix kept taking lots and lots of runs… and no one even thought about stopping him! I loved that UCFit crew was more concerned with Felix having the best possible experience than with purely winning this game. We definitely tried to win, but keeping Felix playing was pretty glorious, and by the end of the game, Felix looked really good out on the floor. I'd say he was better than me, but that's not saying much.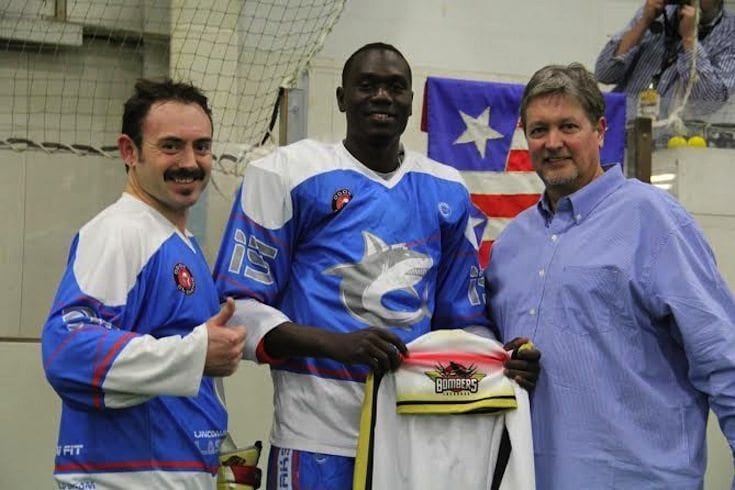 – The scoreboard was always late, and very angry. It was a little hard to tell what the actual score was at times because the scoreboard operator was seemingly "too" into the game to make those updates. I get being excited, but screaming during the game and not doing your job left something to be desired. And so does abusing a member of the media covering your event. I saw that happen too. It was not GTG in any way. Please. Chill. Out. Sir. It's just a game, we don't need any hockey dad fights, ok?
– The fans were loud and hometown biased! This was great to see. Most of the fans were pro-Baltimore, and I thought this added a lot to the game's atmosphere. Cheering could be heard throughout and the fans really did seem to care. They did not want us to win. I like that. I could feel the love on the floor and it made me want to run into the stands and start hugging people. You thought I was going to say punching, didn't you? I can appreciate a good away crowd and the Baltimore fans delivered!
– The Bombers are a classy bunch. Seriously, I knew the LaserSharks were good guys, but there was very little chirping from either team. For the most part, guys just played the game. I love contests like that. Probably because I'm not very good at talking trash. No… you are. That's my best.
Either way, the Bombers were a class organization, made up of talented players, and it was an honor to play against them.
– Ty Thompson wasn't allowed to play. One or two members of both teams couldn't make the game last minute and while Baltimore was allowed to replace Ben Hunt with Casey Connor, the LaserSharks were not allowed to fill a roster spot with Ty Thompson, who was at the convention and looking to play.
I guess that could be seen as an unfair advantage, but if the goal was to bring people to see an EXHIBITION game, doesn't having a Thompson on the floor help that cause? Also, Ty is an awesome guy and it would have been fun to play with him. I get that people want to win, and sandbagging isn't cool, but if this game was about growing box, why wouldn't you want to include someone like that? I guess I'll never know. We need to get Ty involved next time, and earlier. He's the kind of guy you WANT to have involved! I didn't agree with the decision but of course I am also inherently biased, so take that for what you will.
– The Baltimore Box scene is gaining exposure. One thing is certain, this game helped spread the fact that there is box lacrosse in Baltimore, along with the broader United States. The scene in Balmer is remarkably old and established. It's still extremely small, but I heard a lot of good things about possible youth programs, and a larger push to expand participation. The group down there is passionate, and I hope they can really take things to the next level. The potential is certainly there.
While it's not quite the same as an NLL game, this event could do big things over the next couple of years. And when the Convention goes to Philly again, it can continue there, which is promising.
Did I just play in the first ever event in what will be a long standing tradition at future US Lacrosse Conventions? I sure hope so! It was fun, a good show, and did some good for the box game in the US. It's a good starting point in changing the scene, and next year should see some improvements (they are already talking about four teams playing in a mini tourney) and the future is looking just a bit brighter.