Another week in the NLL, and off the floor, an important one.  We might as well get right into it, the suspension of New England Black Wolves forward, and favorite for the NLL MVP award at this stage in the season, Callum Crawford, is suspended for 6 games.  The suspension is under appeal, but if upheld because Crawford played this weekend, he would miss all but the final remaining regular season game.
Going back one step for those that haven't heard about what is happening, with 5 minutes to go in the game between the Black Wolves and Rock a week ago, Crawford took a good five steps into the Rock's Bradley Kri, who was engaged with another one of Crawford's teammates.  Rather than setting a pick, Crawford jumped and delivered an elbow straight to Kri's head, knocking his helmet off. Kri came back into the game minutes later, but Crawford was initially given a major and game misconduct. Upon review by the NLL, this was upgraded to a match penalty.  To myself and most of the media, this was absolutely the right call. Crawford's actions were dangerous, without any concern for player safety and he clearly in my opinion, intended to injure Kri.
Normally a match penalty comes with a 1 to 2 game suspension, however, Crawford is a repeat offender.  Rule 41.4 in the NLL rulebook is very clear, if you receive a second match penalty within 2 years of the first violation, you are suspended for an additional 5 games.  So Brian Lemon and his crew at the NLL did the right thing, and suspended Crawford for the minimum they were allowed to, 6 games, one for the match penalty and 5 for the repeat offender.
This isn't the first time that 41.4 has been enforced.  Two years ago, Greg Harnett of the Calgary Roughnecks had 41.4 enforced against him for two match penalties.   Now in Harnett's case, the two match penalties were within a few games of one another, but he was still a repeat offender.  Harnett appealed, in part that 41.4 was too punishing. The arbitrator gave Harnett a tiny amount of relief, but not much. The ruling was that 41.4 at the time wasn't clear if the suspension should be 5 games or 5 games on top of the suspension for the incident itself, so the arbitrator ruled on the side of caution and Harnett sat 5 games.  The following season, 41.4 was reworded to make it clear that the 5 games were on top of the suspension for the match itself.
To me, this is black and white.  Perhaps I'm putting on my disciplinary committee hat (I sit on the disciplinary board for Saskatchewan Ball Hockey), and you have to look at the rules and the precedents set.  The violation is a clear match penalty. Crawford is a repeat offender. The precedent has been set. The rule has been clarified. I don't believe this will be overturned on appeal.
The sad part is Crawford had an NLL MVP season going, and one stupid decision is going to cost him that MVP season.  Its also going to cost his team. I still think the Black Wolves will make the playoffs. They're 4.5 games ahead of both Philly and Rochester for the last playoff spot with 7 games to go.  It was going to be tough for New England to get a home playoff game, and now its going to be much more difficult.
One change I would like to see is for the NLL to adopt a rule similar to the NBA rule.  In the NBA, the officials are allowed to go to the replay to assess whether or not a foul should be a flagrant foul, or whether a flagrant foul should be a flagrant 1 (other team receives free throws and possession) or a flagrant 2 (immediate ejection from the game).  With the Crawford call initially being called a major and game misconduct, as well as the large number of majors called throughout the season that have been overturned to minors in the disciplinary report, and finally because of the massive difference a minor versus a major can make in a game, officials in the NLL should have the ability to review two things.  The first is whether a penalty should be a minor or major. The second is to get a major vs, major and game misconduct vs. match penalty correct.
But most of all, I'm very happy for what Brian Lemon did.  Crawford didn't receive superstar treatment. The letter of the law was followed.  Player safety came first. In a sport where concussions have been a problem in the past, we need a future going forward to do everything possible to prevent concussions while maintaining the physical sport that the fans enjoy so much.
Rush Get Their Revenge
In a battle of the prairies between Saskatchewan and Calgary that had first place in the west on the line, the Rush put in a complete performance in a 15-9 win over the Roughnecks.  The Rush now have a 1.5 game lead over Calgary and maintain a half game lead over San Diego for first in the west.
For the Rush offense, you could tell that Jeff Shattler was playing with a lot of extra energy in this one.  He had seven points, but off ball he was in more battles, coming back on defense a lot more often, and those leaps into the glass were a lot higher than normal.  As for the rest of the team, I wouldn't say there was a lot more energy than normal, but what did happen was throughout the opening half, the Rush were making the cuts time and time again through the middle and Calgary's defense was breaking down too often.  While you don't expect Christian Del Bianco to allow 10 goals in the opening half, there wasn't much he could do when most of those goals are somebody with time, 10 to 15 feet away from you.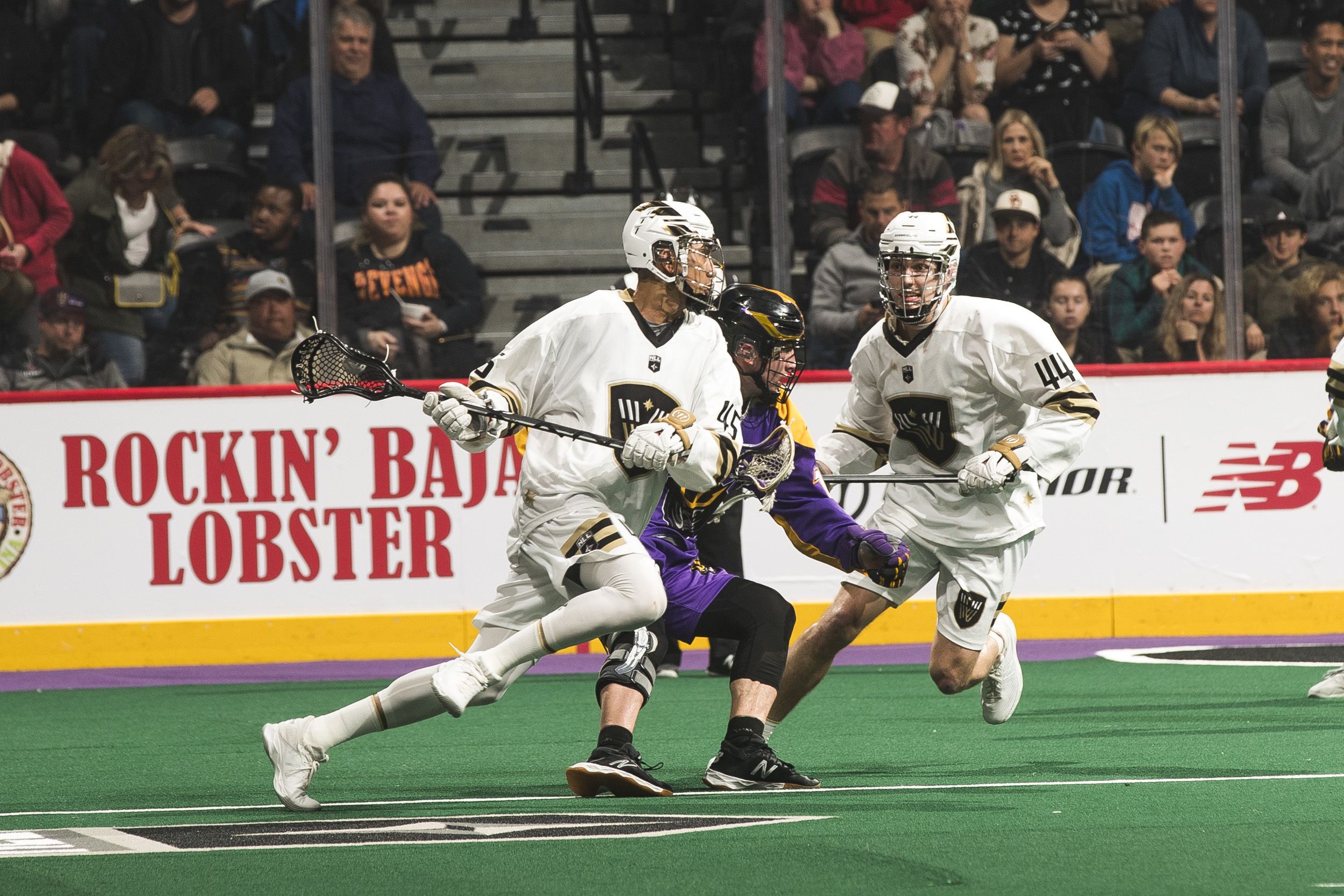 The man that should have been in the NLL three stars so obvious to me that wasn't was Kyle Rubisch.  A lot of these three star selections are based on points scored or goaltending stats that a wizard like Rubisch gets overlooked constantly.  He's such a treat to watch to truly appreciate defensive lacrosse. Another nine loose balls and four caused turnovers on the night, plus being able to just shut guys down.  I only saw him lose his man once all night on Dobbie's second goal. And then there was that play in the final minutes of the opening half where Rubes picked up a loose ball, Dobbie decided to lay an huge open floor hit on him, and Rubes just bulldozed right over top of Dobbie like he wasn't even there.  A week ago I had Steve Priolo down as the defender of the mid-season. If you asked me today, I'm not sure if I would pick Priolo or Rubisch, but Rubisch now has to receive serious consideration to get his trophy back, after winning it four times in a row in the first half of this decade.
Evan Kirk had another solid game for the Rush.  I don't want to give him too much credit. The last time I did that he went on a losing streak, but he's playing much better, allowing just 16 goals in the last two games.
The other key for the Rush was their transition game started to work the way it was working in years past.  The transition game has eluded the Rush for the most part this year, but in this game, eight points by the defense is a vast improvement over what was happening when the losing streak occurred.
Last One For A While?
If Callum Crawford's suspension holds up, he at least went out with a bang.  Crawford had four goals and 10 points Sunday afternoon in a critical 17-11 win over Colorado Sunday afternoon.  New England continues to be deadly at home and especially on Sunday afternoons.
Some fans thought that it would be in Crawford's best interests to simply start the suspension immediately while New England has a weaker schedule ahead of them.  There's two issues with that train of thought. First, New England can't afford to lose someone as valuable as Crawford for a third of the season, so you use every avenue available to attempt to avoid that.  Even then, while your team is playing well, you want to put as much space as you can between yourselves and the bottom two teams in the east. With the win on Sunday, New England is 4.5 games ahead of both Rochester and Philly for the final playoff spot and their magic number to make the playoffs is four (against both teams).
To explain that, New England has a magic number against both, but any combination of four New England wins and Rochester losses the rest of the way, and Rochester is out.  Any combination of four New England wins and Philly losses and Philly is out. New England has 7 games remaining. Both Rochester and Philly have 8 games remaining. Unless one of those teams below the Black Wolves gets unbelievably hot, you would expect them to lose at least 4 games each the rest of the way.  In this case however, without Crawford, New England loses this game against the Mammoth and the math is very different.
It was a tale of two halves in this one.  The score was just 5-4 New England at the half, and three of those nine goals had come in the final segment of the 2nd quarter.  Then you had a third quarter with 12 goals.  The air tight Colorado defense that they've had for several weeks dissipated in minutes.  Whether it was the effect of long travel out to the Mohegan Sun, or the wear and tear of a long season, or New England making a number of offensive adjustments, it's likely a combination of all of the above.  Colorado now heads home to face a 2nd place Seals squad next week in what isn't a "must win", but a "much needed win."
Discipline and More Discipline
If you've read Random Thoughts for any period of time, you'll recall several times I've dealt with how key discipline in the NLL is.  If you needed to see any evidence of this, it was on full display in Georgia Saturday night in a 15-11 win by the Swarm over Rochester.
This game was tied at 7 at the half and Rochester opened the scoring in the third.  The Swarm tied it up, and then Cody Jamieson takes a foolish slashing penalty way behind the play.  The Swarm score quickly and take the lead. After another Swarm goal, the Swarm were about to go a man down, but then Cody Jamieson gives a retaliatory shot, a fight breaks out, and not only Rochester's powerplay is gone, their top scorer is off the floor for the next 7 minutes, or most of the remainder of the quarter.  Then Billy Dee Smith was, well, Billy Dee Smith. The microphones picked up that he claims he was speared in the neck and I can't tell if he was or wasn't, but, then he delivers a slash, and then two hard shots to the head of Shayne Jackson. Rochester is down a man for 7 minutes. Rochester takes a gamble during a part of that 7 minutes when its back to 4 on 4, pull the goaltender and it backfires.  Georgia scores into an empty net, and worse, Angus Goodleaf, the Knighthawks goaltender, who is racing back to his net, elbows the goal scorer, Jordan MacIntosh high and late, and the Knighthawks are down a man for another 5 minutes.
Not only did Georgia score five times during this exchange of 10 minutes of penalty kill, plus 4 minutes of 4 on 4 because of a few Swarm minors during that time to go 4 on 4, but Rochester gave themselves no chance to get back in the game.
Rochester got Jake Withers back in the lineup and it was obvious the effect that had.  Withers won 24 of 28 faceoffs. There was no doubt as to how much his presence was missed and it likely cost the Knighthawks a win or two during the stretch while he was away.
And we couldn't possibly discuss this game without mentioning the crazy goal scored by Kyle Jackson at the end of the first quarter.  Jackson caught a ball off the end glass with time expiring in the quarter, caught it in front of the crease, back to the net, and just bounced it between his legs and top corner.  It's the type of crazy goal you would expect from say a John Grant Jr. Its absolute filth and absolute beauty all at the same time.
How about this @KyleJackson47 goal in the final seconds of the quarter in the @RocKnighthawks loss to @GeorgiaSwarmLAX last weekend.. this is easily one of the best goals of the week? How about so far this season?? pic.twitter.com/k6sovaHX6A

— Renee Washington (@ReneePwash) March 4, 2019
Seals Keep Pace
In what continues to be an unbelievable season for the San Diego Seals, they pulled off a 13-10 win over the Vancouver Warriors on Saturday.  It gave them the season series against the Warriors. Now while a tiebreak between the two of them seems unlikely now, had the Seals lost, they would have been even on wins with Vancouver, and without the tiebreak.
Instead, the Seals keep pace with the Rush at just a half game back and move ahead of the Roughnecks in the standings.  The NLL West Division is quickly turning into a top three and bottom two division with some separation down to Colorado and Vancouver at the moment.  If the Seals can beat Colorado next week, they practically put themselves in a position where they know they are in the playoffs, and can focus solely on a home playoff game, or just maybe, home floor advantage throughout the western playoffs.  That might sound crazy for an expansion team, but then again a year ago we saw the Vegas Golden Knights go to the Stanley Cup finals. In today's day and age, the bar as to what an expansion team can achieve has been raised significantly.
NLL's Mic'd Up
One thing the NLL has done on most of its broadcasts lately was having someone mic'd up.  Having Tyler Carlson, the backup goaltender for the Seals, mic'd up was a treat as he's always super energetic on the bench.  But one of my favorites so far has been referee Ian Garrison being mic'd up. A month ago he had the mic on and we got to hear him go through all the semantics of a goal challenge and it exposed the problem of not having a camera angle available that showed the clock and net at the same time in Georgia, something that was fixed for last Saturday's game.
When they had Ian mic'd up again this week, we had a series of f-bombs being unleashed from Cody Jamieson, Mike Hasen and Billy Dee Smith within 5 minutes of one another.  No seven second delay on this production. When you hear fans complain about the officiating on a regular basis, getting to hear this allows fans to better understand the thought process and details the referees have to process on a regular basis, and how much abuse they put up with sometimes.
I would love to see the refs mic'd up on a more regular basis.  No, fans won't always agree with the refs, even if they're mic'd up, but it helps the likability factor for the officials and the complaints should at least decrease somewhat.
NLL Attendance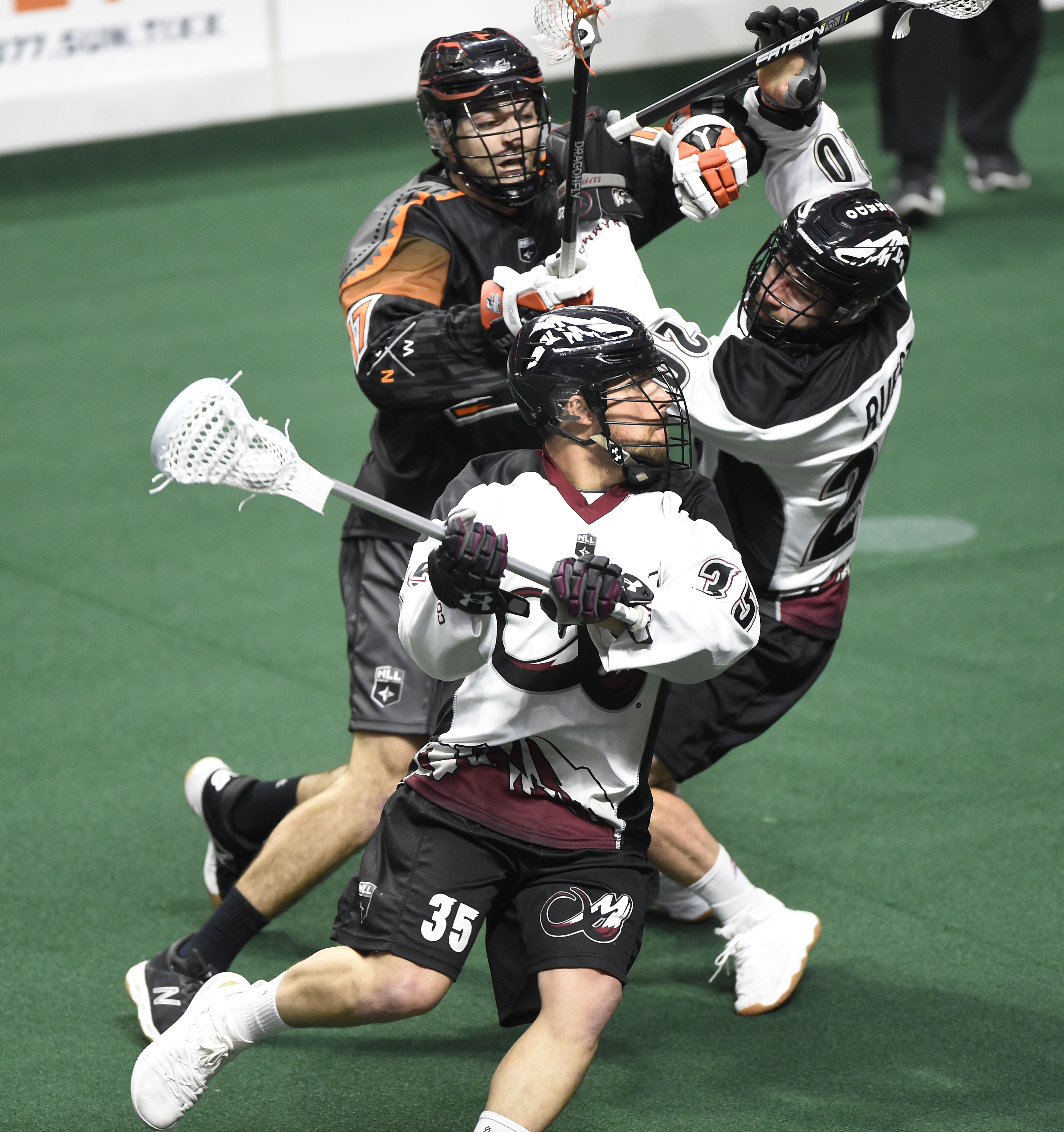 A few people have noticed that I haven't talked much about NLL attendance on either Random Thoughts or Lacrosse Classified this year.  There is a reason. To be honest, I've seen way too many examples of padded attendance throughout the league this year that it's a number I can't honestly rely on with any accuracy to evaluate.  It's not just in Georgia, it's in several markets. Is there much of a point to deal with attendance trends when the data is sometimes reliable and sometimes not, certainly it isn't.
In lacrosse, fans perhaps care more about attendance than in any other pro sport in North America.  Two reasons for this. First off, the vast majority of team revenues are derived from ticket sales so its an important driver in the team's financial health.  But why is a team's financial health important to lacrosse fans? Well it the laundry list of failed teams in the past of the NLL and in almost every case, it was weak attendances that forced teams to move or fold.
In the 32 year history of the NLL, 31 times a team has folded or moved.  It's a track record that the league is working hard on not repeating itself, and I applaud the commissioner for his efforts in the due diligence process to ensure the teams being added are in strong markets with strong financial backing.  In the past five years, there have only been two relocations, and none since 2016. Its not like the days of 15 to 20 years ago, where it was a system of whomever was willing to write a cheque for the expansion fee was getting a team. But for those that have followed the game for a while, these memories of the past remain.  And when Rochester moves to Halifax next year and the Riptide start up in New York, it will be the attendance numbers everyone will be looking towards as to how well or how poorly the respective markets are taking to the sport.
There is one trend though that I hope sorts itself out before the end of the year, and that's the attendance at the "big 3" markets so far this season.  By Big 3, I'm referring to Saskatchewan, Colorado and Buffalo.
The Rush remain the leaders in average attendance with 13,201, even though their average attendance has dropped by about 1,400 per game from last season.  There are two factors in play here. First, if anyone has been following my Twitter, you will have seen the multiple posts of the weather in Saskatoon in which we've had one of the coldest winters on record.  We never talk the actual temperature in Saskatchewan because its not the cold that will kill you, it's the wind that will, so we always talk temperatures in terms of the wind chill during the winters here. We have had overnight lows with the wind chill below -30C (-22F) every day except one in February and half of those dipped below -40C (-40F).  Getting people to drive between two and five hours in those temperatures isn't easy. But by the same token, as what naturally evolves, lacrosse isn't the new thing in Saskatoon and a dip is eventually going to happen, and you have to work twice as hard to sell that same ticket.
With an average of 13,201, the Rush shouldn't be in first place in the average attendance numbers, but Colorado and Buffalo have seen drops as well.  Colorado is at 12,104 and Buffalo is at 11,535, which puts them 4th behind Calgary.  In both Colorado and Buffalo in past years, we have also seen a spike towards the end of the season when the weather is better, so we shall see if all three can get their numbers up before the end of this season.
Need A Timeout?
In both games the Roughnecks have played in Saskatoon this year, in both cases head coach Curt Malawsky used his first half timeout to attempt to stall the momentum of the Rush.  You don't see coaches use timeouts in this fashion too often anymore. Part of it has to do with the fact that you have a TV timeout every 5 minutes anyways, and part of it is that you might need that timeout to challenge a goal later and avoid a delay of game penalty.  Malawsky ignored this in both cases. His team was hurting, the Rush were extending their lead and there wasn't a TV timeout for another three minutes. He took his timeout.
The result of this, in the first game, the timeout shifted the momentum and started the slow but certain run that got the Roughnecks the win.  The result wasn't as great this weekend, but it did stop the momentum and the Roughnecks got a goal on the possession immediately following the timeout.
If you think about it, holding the timeout for a potential future challenge might take a goal off the board later in the half, might.  Instead, in both cases Malawsky got a quick goal and stalled the Rush from scoring. That timeout was probably responsible for one goal going your way and one or two coming off the board for your opponent.  That's a result far better than maybe taking one off the board for your opponent on a future review.
It will be interesting to see if other coaches pick up on this and start to use their timeout as a momentum killer more often going forward.
PLL Rosters
The marketing genius that is the Premier Lacrosse League and Paul Rabil finally released the team rosters on Monday, and the marketing genius continued by creating a bitmoji for each player for their announcement.  It was unique, fun, and I bet a number of the players keep using those bitmoji's throughout the season.
The roster I find the most intriguing is the Chaos.  The roster is comprised of 15 current NLL players and what a lineup it is.  Dickson, Austin Staats, Byrne, Dhane Smith, Miles and Jeremy Thompson, Joey Res, Connor Fields, Kevin Buchanan, Self, Bell, Coates, Billy Dee Smith, Riorden (who is a goalie in field lacrosse), and perhaps the best long pole of all time, Brodie Merrill.
One of the reasons I am looking forward to this team is that for those people who are box lacrosse fans, field lacrosse can be boring as the possessions are longer, slower and there isn't the high impact contact.  But if you look at this lineup, throw the slow, methodical approach out the window. This is going to be a fast paced, high octane team that will be exciting to watch. Their team name suits them very well.
NLL Trade Winds
With the NLL trade deadline just a week away, teams could be looking to beef up on talent in what are some tight races in both divisions.  There's only one problem, only two teams are currently what I would classify as out of the race in Philly and Rochester. Pickings will be slim.
Could you see teams like Colorado or Vancouver decide to stock up for the future, but I'm skeptical.  I wouldn't be surprised to see Philly or Rochester trade away some of their veterans for picks or youth.  But I just don't see a lot of action happening.
One other thing to keep in mind, there is an expansion draft coming up in July once again.  The final possibility is if teams are fairly certain who they are and aren't going to protect and a good offer comes for someone they can't protect, maybe you make that move.  But by the same token, if you acquire someone, you run the risk of losing that player, or another prized asset in July's expansion draft.
Last year's trade deadline only featured one deal, and that's been the trend the last several years.  Don't expect a ton of trades, especially when teams can pick up street free agents for the next month if a need arises.
Until next time…
For all the latest updates, follow me on Twitter or Instagram @SchemLax and keep an eye out on Wednesday as I make an appearance on the NLL Flash.