Over the last 20 years, the college lacrosse program ranks have certainly grown, but they have not kept up with the growth of the game at the high school and youth levels. This means there are more good players interested in playing college lacrosse than ever before. We have seen rosters grow, but we have also seen each level of college lacrosse take a step up in terms of quality and depth.
The above scenario can make it seem like college lacrosse is an impossibility for some, or that to make it happen you must follow a clearly prescribed set of steps, but college lacrosse still has the potential to be whatever you want it to be, as long as you're willing to look at things a little differently, and trust your own process!
So if you're looking for a different approach to recruiting, or a different approach to playing college lacrosse in general, then please read on, open your mind, and look at your path to college lacrosse in a whole new way. In a more competitive world, it may be your best chance. You will not be able to magically change the school or lacrosse program you choose to fit your needs. You need to find the right school and program, and then get to work!
If you can keep your wits, and not get caught up in the hype, college lacrosse can still be whatever you want it to be. It's all about finding the right fit, at the right level, at the right school.
Accepting The College Lacrosse Status Quo
Before I go any further, you should be aware that I don't accept much of what we "know" about recruiting and college lacrosse as fact. Parents and coaches I speak with often tell me "how it works", but from my perspective, it is simply not a science or cut and dry formula. At my most generous, I will call recruiting an art form, and even then we are still just getting past the point of finger painting. Perhaps you accept the "play club ball, go to elite showcases, AAU model from 10-18 years old" approach. If so, that's cool and you don't need to read on, because you already know how it all works. Best of luck on your journey!
BUT, if you don't accept the status quo, and are willing to look past what you've been told is fact, then please do read along further. Kids make it to D1 from ALL OVER. It's a brave new world.
The Big Myth – There Is Only D1 Path
There is a well defined path for many of the kids who end up playing D1 lacrosse, but it is not the only path to a D1 roster spot. Yes, a lot of kids find their way on to top level D1 programs by playing club ball, doing all the right invite-only showcases, receiving 1-on-1 professional personal training, specializing early on, and/or focusing on lacrosse all the time… but there are still plenty of other kids out there who play D1 that do not follow that path. Sometimes, these are even the most successful players.
The D1 calculus is so much more complicated than just the club scene. So where do all these non-AA club players come from?
Many are phenomenal athletes, and some are so good that they play two sports in college. Some get recruited as football players or wrestlers and walk on to the lacrosse team. Others use their diverse HS sports backgrounds to show what amazing athletes they are. No coach is blowing off an all-state linebacker from Texas, an all-state hockey player from Minnesota or a 6'4 225 pound monster who runs a 4.5 40. If an interested lacrosse prospect is also getting D1 basketball looks, any smart coach will surely talk to him. Club ball or not, those kids exist.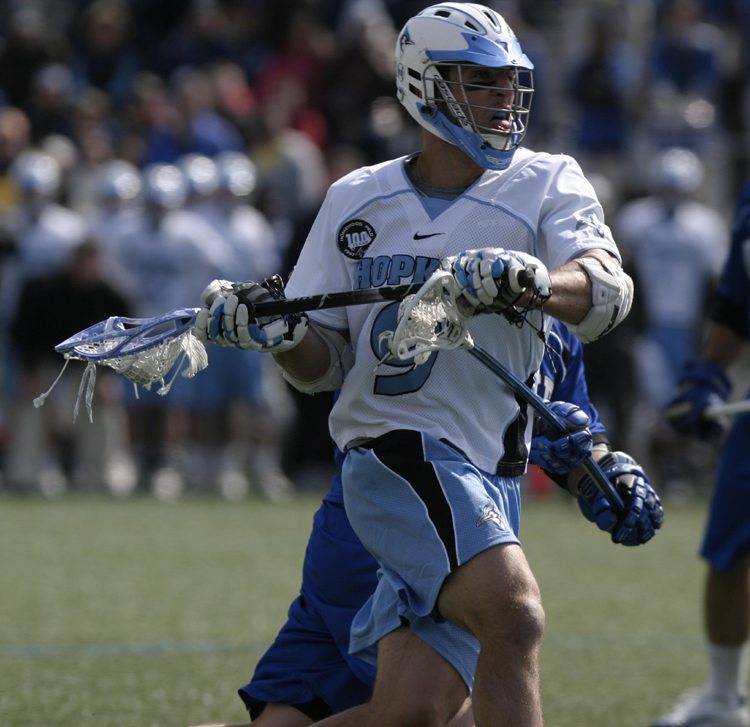 But many other eventual D1 lacrosse players are simply high character kids with a great GPA, a team first attitude, and just enough skill and athleticism to earn them a spot on a D1 roster. Some focused on lacrosse primarily, others played multiple sports, but they all share certain traits that D1 coaches look for and none of it has to do with what we view as "typical recruiting".
I call these types of players "backbone recruits" because while they may not be the team's on field stars, they often make up the backbone of the team and define the program off of the field. Look past the top 15-20 players on any roster. How do those "next up" players act? How do they carry themselves? How hard do they practice? These guys might not see the field for the first 1-3 years of college or ever earn any scholarship dollars, but they are on the team and looking to contribute in games eventually, and they are incredibly important to any program. In fact, if you look at any D1 team, there are backbone guys on every single roster.
While these spots have always been important, after some of the college lacrosse "incidents" of the last decade or two, they have taken on an increased role of importance for a program, and for any coach who wants to keep their job. The lacrosse team can't be Animal House anymore, times have changed. This is not a judgement of mine. Ask ANY D1 coach if he's willing to risk having a questionable character on his team. I'd bet the number who would say yes has dropped precipitously over the last 10 years. If the kid isn't a stud player? The chances drop even further.
So if every team has more backbone guys like this on the roster now, and NEEDS guys like this on their roster, but not all these kids were playing for the biggest name club teams at summer tournaments or invite-only showcases, how do they make it work? How did they find a spot on a D1 roster?
Simply put, they are proactive.
These players get their HS coaches to help them with advice and recommendations, and they work any connections they have to schools that may be of interest to them. They are often multi-sport athletes, but top level grades and test scores are usually a must. It checks a big box for any coach. These players do their research, and look for programs and schools that will be a good fit. It's not about where dad played, or what team they wanted to play for when they were 10 and still collecting Pokemon. They are making an informed decision for themselves, and thinking about their future in a realistic way.
Perhaps more importantly, these players are honest with themselves about where they fall on the academic and athletic spectrums and look for high quality college matches. When they find a good match, they pursue it with vigor. They don't wait for a call from the coach, they call the coach. They write sincere hand-written letters of thanks to coaches that talk to them. They go the extra mile. They apply to schools they love even if they don't get officially recruited there.
These are mature and driven young adults. They know their top choice may have no interest in them as a lacrosse player. They seek out criticism, and work to address their weaknesses and turn them into strengths. They have a contingency plan if that doesn't work out. And another one after that. They have honestly looked at D2 or D3 schools and decided that playing D1 really is that important to them. They know they may not play for a couple years, possibly ever, and have talked to current players in that position. College isn't going to be lacrosse and some partying. It's going to be a lot of lacrosse, and a lot of academics.
If you are NOT a D1 level stud, you had better be a backbone recruit/walk on. If you're not a backbone player, a roster spot is highly unlikely these days, and even if you do make the team at first, there is no guarantee they keep you on board. If you want to play D1, be prepared to put in work, and lots of it, but don't think that just because you didn't play in the National Lacrosse Recruiting Showcase Extreme 250 Combine you don't have a shot.
Be a stud or be a backbone player, but be proactive and open minded, or be prepared to look elsewhere.
Ok, so if D1 really is this limited, how can college lacrosse still be whatever you want it to be?
D2 & D3 Diversity
A lot of what I said above holds true for almost all of the top level and established D2 and D3 programs out there. These teams are obviously looking for stars and the best recruits they can grab, but like their D1 counterparts, they are also very much looking for backbone players, and the doors are more open than at most D1 schools. While many of the best players at the D2 and D3 levels went the elite showcase and high level club ball route, many others did not. You have a lot more kids who played "non-elite" club lacrosse (that's most club teams by the way and it's not a knock, just reality) and the coaches never saw them play at any of the lower level tournaments, because they weren't there to watch.
These players often get recruited at first off of word of mouth, highlight tapes, online profiles, and coaches connections. But MOST IMPORTANTLY… these players really get recruited from showcases AT THE SCHOOL where the coaches get to see the kids up close and in person. This is not a showcase for 100 coaches, it's a chance for you to show a school you are interested in what you've got, and it is the great equalizer. It doesn't matter how good a club team your club coaches assembled. It matters how good YOU are. Can you hang? Can you impress the coaches enough for them to be interested? This is true for a lot of D1 backbone guys as well. If you shine at a showcase, coaches will take notice. You can't be average though, you need to impress them all day, in every way. It's about play AND character.
I know, it's hard to imagine that the best player on the No Name No Famous Coaches Club Team might be better than the worst players on Hotbed AA Club Alpha, but it does happen, and these showcases run by the schools really are the best way for players to be seen, and the best way for coaches to evaluate talent. As D2 and D3 coaches recruit from a wider base, these showcases will only gain in importance, and if a kid stands out who doesn't play club at all, then so be it! Since players only have so many free weekends, and can only attend so many showcases, it forces players to really pick and choose which schools they are truly interested in. D2 and D3 coaches have to handle a lot when it comes to recruiting, so they love it when qualified, talented kids seek them out early on. It makes their job a little easier.
Now here is the BEST THING about the D2 and D3 scene – the diversity of program and academic experience available to you is HUGE!
You can find D2 and D3 programs in almost every state, in every US region, and they span the gamut of academic and athletic rigor. Looking for a top level academic school with lower level lacrosse? You can find that. Want nerds AND titles? Also an option. Rural? Urban? State? Private? Religious? Secular? WHATEVER you want, you can find it. The range from D1 level lacrosse to just above rec league exists, along with every academic option.
It takes work, but if you are proactive, honest, and a backbone style player, I guarantee you can find a spot in the D2 and D3 world that meets all of your requirements. But be forewarned, a lot of these coaches won't be able to find you, you will need to find them and then prove you are a backbone guy or a stud they missed. Even if you're just looking for an NCAA place to play, you can find a good home in D2 or D3 at newer or lower tier programs.
When it comes to finding a home and place to play, you have hundreds of choices at the D2 and D3 levels. Look into it, find 10-20 schools that match up well with your academic requirements, and see if the lacrosse there would be a good fit. Narrow your search, and get proactive!
What other options are out there?
Update: NAIA – I Missed One!
The NAIA is an alternative overseeing body to the NCAA, and up until a couple of years ago, the NAIA didn't sponsor men's or women's lacrosse, but it was noted as an "emerging sport". The 2016 season saw that change as lacrosse was moved to an "invitational" status, and NIT championships were held in 2016 and 2017. A sport must remain invitational for two years, and while I have not seen news of another change to fully sponsored status, it does seem like that will happen eventually. With around 40 active men's programs and around 35 active women's programs, the NAIA lacrosse scene is geographically focused on the southeast and midwest, and it's worth a look. I myself need to learn more about the NAIA, but like any level of college lacrosse, you should look for a school that fits you well, and then see how their varsity or club lacrosse matches up to your needs. The NAIA is no different, but they do offer scholarships, unlike D3 schools, and they can offer more than the four scholarships D2 schools can offer.
MCLA and NCLL – Give It A Look!
I very much wanted to play in the NCAA and I had a great experience playing all four years under a great coach, all while receiving a challenging and exciting education. It was a great fit for me. My younger brother, who was a better player than I was and got recruited by D1 and high level D3 schools, decided to play club ball in college because that's what he wanted. He played lacrosse all four years, and also got a great education and had a great experience. We both got what we wanted, and needed, out of our college experiences, inside and outside of lacrosse.
My point here is don't allow lacrosse to be the ONLY guiding principle when you look at schools, but do consider it IF it is that important to you. We both loved lacrosse, but we wanted different things. Beyond that, consider HOW lacrosse is important TO YOU in even more general terms! Do you care about matching helmets and a full on college sports experience? Do you care about that, and playing the game at the highest level? Or do you just care about playing? Is fun more important than winning? Or does winning matter to you, no matter what level you end up playing? I wanted a serious experience, my brother said he wanted it to be fun. We found what we wanted, found enjoyment in it, and did not simply do what our level of skill dictated.
In the MCLA and NCLL, you will find everything above and beyond. The world of club ball is different in many ways, as players often pay to play, but it offers a similar range to many of the D3 options out there. Some teams really get after it, and take it as seriously as anyone else. Others tone it down a little. Still others are just there to have some fun. In the club world, it makes a LOT of sense to talk to the coach and a club representative to figure out how that club operates. Each one can be quite different.
In fact, the MCLA and NCLL options are likely the most diverse in all of college lacrosse. You have a huge range of schools to choose from, and even if you can't make the varsity team at Navy, Salisbury, or Albany, you can still play college lacrosse for their NCLL team. You might not be playing NCAA lacrosse at Chapman, BC, or Simon Fraser, but their MLCA teams are legit, and it's a serious lacrosse experience.
Most of these schools can't help you get in for lacrosse, but they can offer a compelling college experience, and help create friendships for life, and stoke an eternal love for the game.
If you live in Canada, check out the CUFLA! It's excellent!
Junior College – It's Coming Back!!!
College is getting more and more expensive, and there doesn't seem to be any end in sight to this trend. Keeping this in mind, I can see the NJCAA making a big jump in the years to come. Many community colleges offer good two year programs, and the fees are considerably lower than they are at most four year institutions. If players can play two years of great lacrosse in the NJCAA, then transfer to an NCAA school and play two more years, still graduate with a degree in four years, AND save a ton of money, what's not to like?
For a long time, Junior College lacrosse has been written off as only having 1 or 2 good teams, but that is rapidly changing, and at least 4-5 teams can be seen as contenders in 2018. NJCAA schools are slowly adding lacrosse, and we have seen programs in New Jersey start to show serious promise. Maryland now has 4 very good programs in their state alone, and there is a bonafide NJCAA team in Indiana, believe it or not!
There is some REALY good coaching at the NJCAA level, and these guys legitimately care about their players, and where they go in the future. Onondaga is known for getting guys to the next level, and Howard's current slogan is "play here to get there". They are far from alone as programs like Genesee, Nassau, and others continue to get guys to the next levels. NJCAA lacrosse is about opportunity, and as more people look at staggering college bills with disgust, junior colleges should become even more attractive. As more NJCAA schools add lacrosse, and the league grows due to demand, more and more players will look to the NJCAA for their first two years. You can still graduate with a degree from a D1 school if you go to an NJCAA school for two years, and you might save a big chunk of change. It's a great option these days!
Outside of the top couple programs, a lot of the NJCAA teams are looking for kids. If you're not a backbone player already, a lot of these coaches will help you become one if you want it and are willing to listen. Enroll locally, take your academics seriously, and play as much lacrosse as you can. The NJCAA doors are typically wide open if you'll walk through them, but it does take effort and outreach.
The Big College Lacrosse Picture
As college lacrosse has grown, the recruiting landscape has changed. Today's elite level world is more like the AAU basketball scene than ever before, and it's a natural progression. I don't see it stopping, nor do I care. It is what it is. At the same time, lacrosse still offers a different path to even the highest levels for those who are willing to take it. D1 rosters are littered with walk ons and backbone players. These guys never made all-star teams at tournaments, and they didn't shine at elite showcases, but they proved they were team first athletes who would be good for the program in other ways.
You can find this type of player at every level, on every team, and while it is not THE path to success, it is more common than many seem to think in today's recruiting world. The only guarantees on this path are the struggles and the challenges, but it makes the potential triumph in the end that much better. It requires honesty and sacrifice, but if it's done right, it can result in the best fit for your college experience, and an undying love for the game.
In the end, it's really not that different from the approach that most people take when they are looking into a college education without athletics. There is a large and potentially confusing calculus required to find a good fit. The only real difference for you is that lacrosse figures into this complex equation and you have a coach to impress. If you can remember that it is only part of this mathematical statement AND figure out how big that part is, you will find a good fit, and be part of a backbone of success within your program, in your academic pursuits, and in life.