Now that the brackets are released, it's time for the DII and DIII men's lacrosse tournaments. Saint Anselm is in, Adelphi is out, John Carroll and Franklin & Marshall will be at each other's throats, Jared Nelson has the career point scoring record in his sights, and more will soon be in store.
DII Men's Tournament – Saint Anselm in, Adelphi Out
NCAA Tournament mainstay Adelphi will be watching this year's tournament from home to make way for newcomer Saint Anselm. Adelphi's three losses at the hands of LeMoyne was too much in the eyes of the committee, so it's out! One might argue that its schedule was much tougher than a Saint Anselm team that was mostly untested until the conference semis, but it is what it is at this point. It will be great to see a new team step up to the plate in May. Its reward…Seton Hill.
In the South Region of the DII Tournament, Tampa got through on the shoulders of a perfect regular season that was full of cancellations and rescheduled games. It had a challenging run this spring that left many wondering if it would even be able to participate. Tampa will meet Mount Olive in the first round, with the winner getting the LR Bears.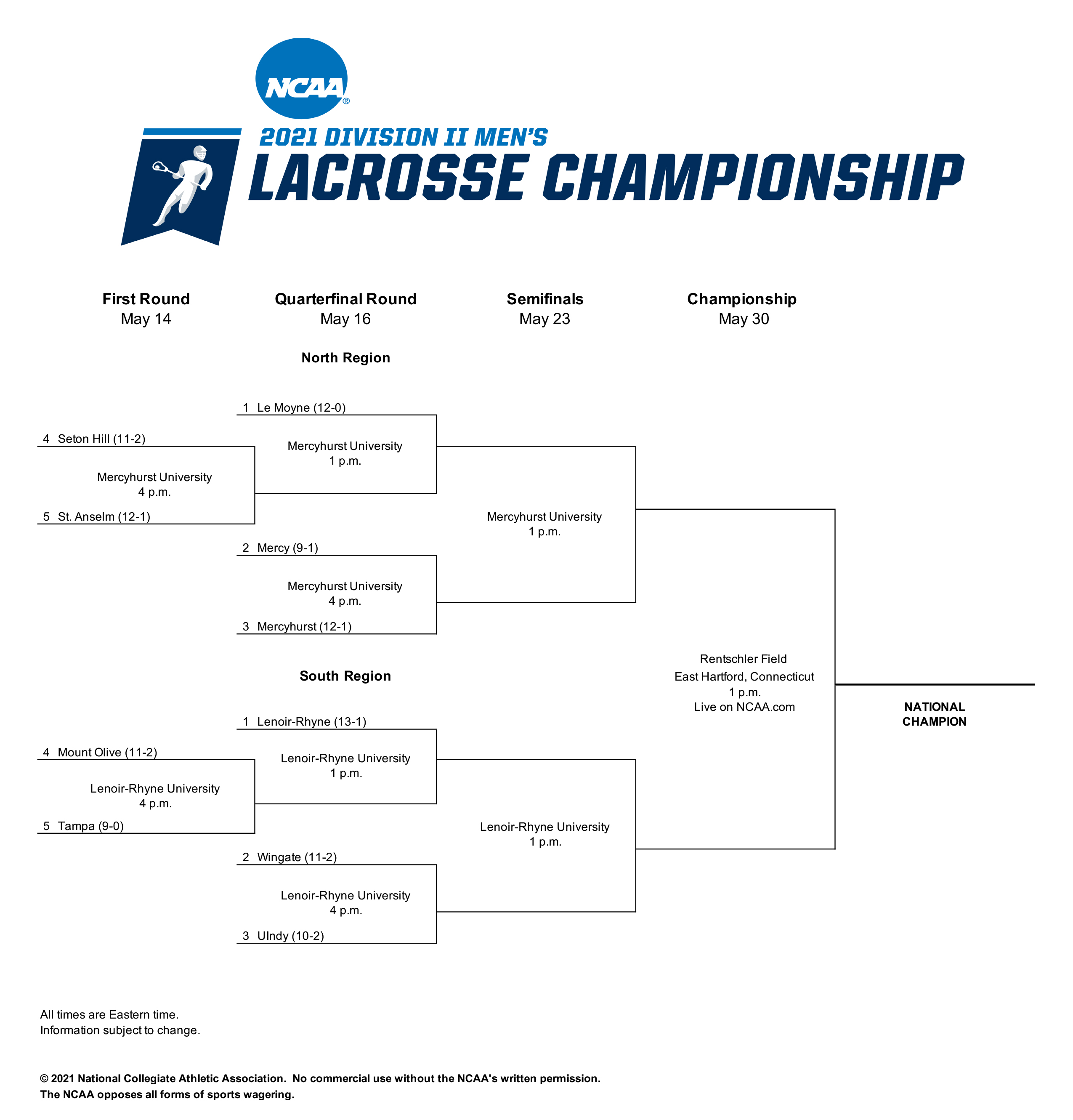 Watch out for the teams that have to play multiple games this weekend. With the weather getting hotter and the decreased roster sizes for NCAA games, you may see signs of fatigue going into those second games.
Game To Watch – #2 Mercy vs #3 Mercyhurst
A rematch of an early-season defeat has revenge on the minds of the Mercyhurst Lakers. Coach Ryan brings a wealth of knowledge and previous NCAA success to the table as they hope to beat the Mercy Mavericks. Both teams play a tough, hard nosed brand of lacrosse, and fans can expect this to be an extremely physical and tough game.
Much like the first game, I expect this to be a close one. Mercy is riding a wave of success that includes a win in Erie, which is no easy task. Expect this to be one of the many great games of the weekend!
DIII Men's Tournament – AQ's and Pod Life, What a Time to Be Alive!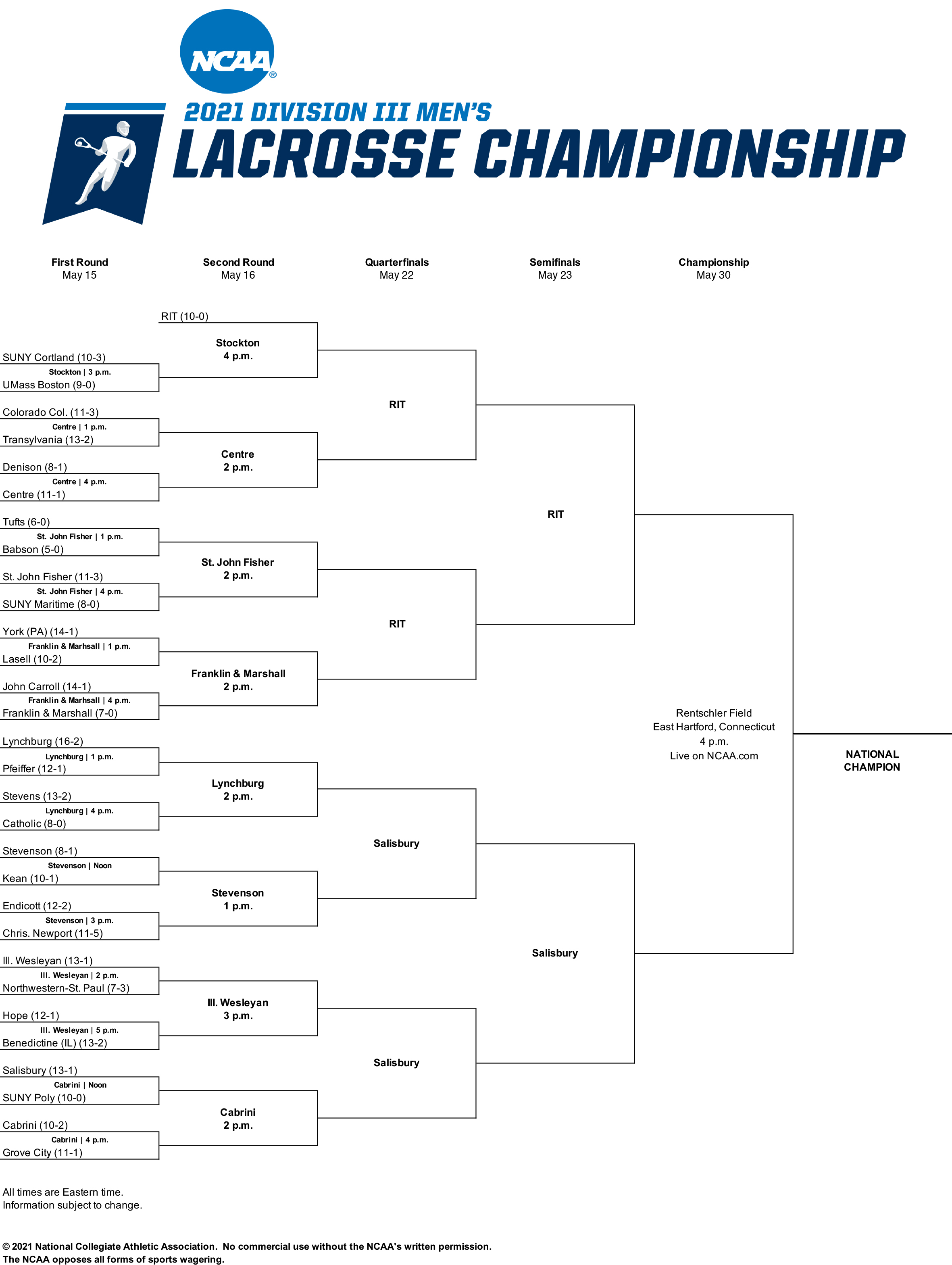 People are complaining that there are too many automatic qualifiers and too many good teams sitting home. I say, so what? That's the system. Adapt, migrate, or perish. The automatic qualifier has been instrumental in the expansion of lacrosse at the collegiate level, and that is clearly evident at the DIII level. This year we'll have a team from Minnesota in the tournament, along with a host of other teams that are giving an incredible experience to their student athletes.
While I agree that some teams have an easier path than others, I don't envy the selection committee when putting this bracket together. There are many factors that go into the pairings, and unless you're in the room with them it is very hard to be in the committees shoes.
Game to Watch – Lynchburg vs. Pfeiffer
This is a game to watch because what's at stake. Jared Nelson has been scoring at a ridiculous pace since he stepped on campus, and this weekend he has an opportunity to take the throne as the greatest point scorer in NCAA lacrosse history. He comes from a tremendous lacrosse pedigree, and I would expect him to be in the hunt throughout the whole game. Going into Lynchburg, he needs four points to tie Jason Coffman and five to break the record.
Game to Watch – John Carroll vs. Franklin & Marshall
This has the potential to be one of the more exciting games of the first round. Both teams won their respective conferences, and they've also had a run of success in their programs. Don't sleep on JCU. It has an explosive offense and a very stingy defense that will be put to the test against an extremely well-coached F&M team. The Diplomats have been on the cusp of a deep tourney run, and I expect Coach Cavallaro to have his group ready to dispatch of the Blue Streaks.