Editor's Note: Welcome to our first Game Grower Spotlight for 2014. Here at Lacrosse All Stars, our mission has been to Grow The Game since day one. Not only is it our passion to Grow The Game, but we recognize it is the goal of countless others across the world. We want to take the time to honor those that make up the backbone of the lacrosse community, starting this week with Richard Roy of Burns, OR.
[mks_separator style="solid" height="4″]
Rick and the Harney Co. lacrosse program, since day one, have proudly used the name Nadzitsaga, which is Northern Paiute for 'stick game', as their official program title. They were asked to use this name by the Tribal Council of the Burns Paiute Tribe (Wadatika Band of the Northern Paiute people). The Paiute Tribe is a supporter/partner and the team incorporates as much culture into their program as they can. They go by Harney only at the high school level to best work with the Oregon HS Lacrosse Association. In 2015, they will go back to Nadzitsaga from U9 through high school.
The program continues to move towards highlighting the traditional and Native roots of the game and showing respect and honor towards that history. Since day-one Nadzitsaga has performed a 'thanks giving' prior to all contests, last year they had the Tuwakkii Nobi (Paiute Tribe's youth center) youth singers open up home games and now will will also incorporate a wampum belt 'ceremony' between both teams prior to our home games marking the agreement by both teams to play the game appropriately and with good 'spirit' (it is like a 'contract' between all involved).
Even though there is a fair amount of publicity over the Thompson Trio, I do not think the vast majority of leagues and teams are TRULY ready for more expression of Native aspects of the game. People 'know' the game has a Native history but, they don't KNOW it has a Native history." – Richard Roy
It's exciting to see the Nadzitsaga club incorporating Paiute phrases into the game this year. They are working with a Tribal Council member and elder to translate lacrosse terms from English to Northern Paiute. They also plan to learn the Tribe's Flag Song (kind of like their anthem) and will sing it at away games with a traditional hand drum!
On May 3rd Nadzitsaga is traveling to Umatilla Reservation near Pendleton to play Xa'lish (kwa-LEESH), the Umatilla lacrosse team in what will be known as the first Oregon Native Youth Lacrosse Championship! They expect members of the Iroquois Lacrosse Program to be in attendance to celebrate the successes in Native heritage not only in Oregon, but for lacrosse in general!
We asked Rick to answer a series of questions about himself as well as the Harney County lacrosse program, known best by the native name Nadzitsaga.
Richard Roy
Please describe the state of lacrosse in your area.
Growing slowly but, steadily. We are a very small and remote community. Less than 5,000 people and 130 miles from the nearest Walmart! Lacrosse is booming in Oregon and Idaho. We play in the Oregon High School Lacrosse Association.
In what way(s) are you involved with growing the game in your area?
I was originally asked by a gentleman by the name of Amos First Raised III, a member of the Burns Paiute Tribe, to "teach us our game" after his son Gabe told him that I played lacrosse in college. I also work with a group called the Oregon Native Youth Lacrosse Association to introduce and support lacrosse on the nine reservations in Oregon.
How did you get involved? Where did you learn about lacrosse?
I grew up New England at a time when lacrosse was strictly a prep school sport. I was first introduced to the game in high school. I was a football & hockey player in reality. In college, the lacrosse coach sought me out and asked me to come out and play. I did and picked it up very quickly. My hockey playing experience as a defenseman translated very quickly to playing close defense. I was a four-year starter.
What is your favorite thing about our sport? What drew you in?
Camaraderie and knowing where the game comes from. The Native cultural and spiritual aspect of the game fascinates me. This game was not invented by ESPN!!! I work with the Iroquois Lacrosse Program to Grow the Game in Indian Country out west. That is very rewarding. Because the team I started is really a cooperative venture with the Burns Paiute Tribe we use the name Nadzitsaga ('stick game") as our club name and we incorporate considerable Native aspects into our game.
If you could change one thing about our sport, what would it be and why?
More recognition and more incorporation of the Native roots of the game. As the game grows and gets more ESPN-ified and commercialized I am afraid that those roots will be forgotten. I am amazed at how many coaches, players, officials and parents I encounter that have no idea or appreciation about the origins and meaning of the game. It saddens me really.
Do you have a favorite lacrosse team? Favorite player(s)? Why do you like them?
My favorite college team are the Terps! I just like them. I am not a fan of the MLL. I really like New England small college lacrosse the best. Just a bias I have I guess. I LOVE DIII New England lacrosse.
What do you do outside of lacrosse? (i.e. school, career, other activities…)
I work a the U.S. Bureau of Land Management. I am responsible for managing about 1.5 million acres. I have a wife and ten children (8 boys and 2 girls). Some of the kids are biological and some are adopted and some we are Guardians. We have a very diverse family (white, African American and Native American) All my kids are exposed to lacrosse at a very early age! I also own a small upstart nano-brewery business. I also get involved in other community/church efforts.
What would you say has been your biggest accomplishment when it comes to helping grow the game in your community?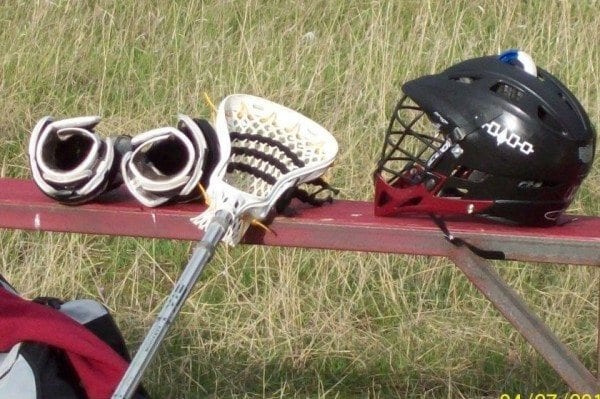 Actually getting the program I coach, Nadzitsaga, up and running. We have kids from the local reservation and the general community playing lacrosse. A lot of people in this town were extremely skeptical and critical about getting a lacrosse program going. This is a small, conservative, rural ranching community where "Americans play baseball and football." However, the program is up and running, we have U9, U11, U13, U15 and high school teams.
What do you think the biggest obstacle for growth of lacrosse is in your area?
Time and help. There are not enough hours in the day nor enough help to get out there and introduce the game to everyone.
Who, or what, inspires you most to help Grow The Game?
I love the game, it 'resurrected' my athletic career in college (my college didn't have football or hockey) and my football days were done anyway because of injury/arthritis in one of my knees and I was not a fast enough skater to play college hockey. Playing lacrosse had a huge impact on me. Also, my college coach Wilson Hess had a huge impact on me as a person and lacrosse player.
Check back in for future Game Grower Spotlights. Know someone who deserves to be recognized? Let us know!