Editor's Note: Kohta Kurashima is back on LAS talking about his Japanese Box Lacrosse Experience! Kohta played his first ever games of box lacrosse at the LASNAI on September 29th – October 1st. This is his second time writing an article on LaxAllStars.com, you can read his first story HERE.
I hope my second article will be useful for any and all lacrosse players around the world. This time, I want to tell about my experience at my first ever box lacrosse tournament at the Onondaga Nation Fieldhouse. I took a bus from NYC for 5 hours to get there, but there is also an airport near the town/arena, so it's not an inconvenience for teams to make the trip.
A Japanese Box Lacrosse Experience
:47 seconds in to the video below, you can see me wearing #24 in white!
As I said above, this was my first time playing box lacrosse. I have always watched field lacrosse videos, but I had only watched quick highlights of the NLL, so I didn't really know how offense or defense worked at all. I did know that box lacrosse players wore more padding, so before getting to the arena, I went to the sports shop and I bought a shin guard for soccer to protect my upper arm/bicep just in case.
This decision was super successful for me. I don't want to think about what would have happened if I didn't buy this extra padding! I was so surprised how box lacrosse is such a hard contact sport. If I am close to an opposing player, even if I don't have the ball, they will push me, hit my stick, crosscheck me, and try to stop me from getting my hands free. Also there is a 30 second shot clock, AND a 10 second clear-up limit in box lacrosse, so there is no time to relax during the game.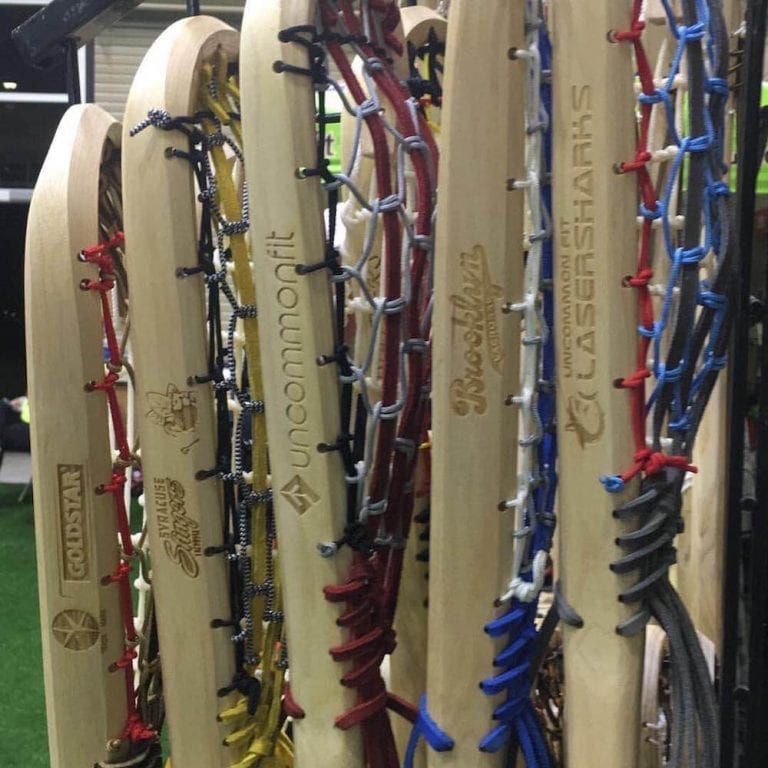 The goal is so much smaller than a field goal, and the goaltender is so much bigger than field goalie because of all the pads they wear, so it is really hard to score. We need to pass the ball quickly and fake to move the goaltender. Even then you have to shoot to the tiny open space, much smaller than field lacrosse, to score. I played 5 games but I scored only 1 goal.
There were many kind of vendors at the arena. I bought a wooden attack shaft at Burd Wood Works, and I was able to have letters carved on it right there at the arena. There was a vendor of traditional wooden sticks too. I didn't get one of those but it was so awesome!
I played with a team called the Brooklyn Dodgers, which is run by Rudy Martinez. Rudy picked me up at a summer tournament for field lacrosse. Most of the team members had played box lacrosse before and they were the champion of ULAX box league in NYC. The jersey was so cool and it was so fun to play with them. I learned a lot!
Other teams also had many skilled players. There were a couple of teams from other countries, like Jamaica, the Czech Republic, and Israel. But the team which I most surprised by was Thompson Brothers Lacrosse!! This team featured all of the Thompson Brothers and so many amazing pro players. I couldn't believe that my first time playing box lacrosse was in the same tournament with them. How fast they pass, and how easy they score… It was so fun to watch them! I wish I could play against them but we didn't line up against them.
This experience will help me Grow the Game in field lacrosse. I can now see the field better than before and I learned how to move the goalie when I shoot, and be more deceptive. If I didn't take a risk and play in this tournament, I would still only watch the field lacrosse videos. But now, I will watch box lacrosse and use the pick & roll much more than before.
I couldn't have had a better first box lacrosse experience than the LASNAI. I hope I can come back to this tournament next year with TEAM JAPAN!!