Last time, the Junior College Report got caught up with big news from 2018, and laid out some basics on 2019 like important dates, OCC's coaching change, scrimmage info and more. It was really a pre-preview. This time I'm going much deeper into the 2019 season itself, how programs are looking early on, what we might be able to expect as the season kicks off with big news, an early junior college top ten, and plenty of team-by-team previews and players to watch!
Mercyhurst NE on Hiatus for 2019
I got confirmation this past week that Mercyhurst NE has officially canceled their slate of games for the 2019 men's lacrosse season. They had a great coach in Eric Miccio, but when he took the Onondaga head coaching position it's clear that MNE could not fill the void quickly enough that he left to field a team for 2019.
That being said, a former OCC standout player and NCAA Division III defensive coordinator, Logan Tousaw, is now at the helm as head coach and the team is practicing, recruiting and building, so hopefully in the near future the program makes a full comeback and starts playing games again. We wish any and all players or people associated with the team the best of luck moving forward, send our best wishes to Coach Tousaw as he rebuilds the program and sincerely hope to see Mercyhurst NE back on the field playing games again soon.
My Pre-Preseason Junior College Top 10 Poll
Usually I just supply the NJCAA Top 10 poll in this space, but since it's not out yet, I'm coming up with my own pre-pre-poll. These are my Top 10 teams, with a little info on each one. For even more info on even more junior college programs, keep reading as we get into team by team previews below my pre-preseason Top 10. Remember, this is just for fun. The actual games are what matters.
Onondaga – I'm a big believer in last year's national champ earning the preseason #1 ranking regardless of who they graduated or what happened, so they are obviously taking the pre-pre-poll No. 1 spot. That being said, Onondaga would own this spot even if all this weren't the case. We've all seen Game of Thrones and we know how this works. LONG LIVE THE KING (until someone kills them and takes their place, then long live that king)! But OCC is back, looking as strong as ever, and a clear cut No. 1 right now with talent, depth and lofty expectations.
Nassau – In all fairness to the NCC Lions, I believe they can be a No. 1 ranked team this year. Nassau is looking consistently strong under Coach Savage, with fantastic numbers, interest and depth of talent, and the program is on the right track towards long-term consistent success at the highest levels. I don't expect a let down out on Long Island as Nassau quietly grinds away. They were so close last year, they have to be hungry.
Howard – Howard lost a good deal of talent from last year's team, and sent a couple of their guys to big time Division I programs, but every team loses great players every year – the question is can you reload? Coach Foust and company have found a way to do that year in and year out, and I'm thinking 2019 is going to be another one of those years where they are comfortably in the top four for much, if not the entirety, of the season. In 2017 Howard made the finals, and by the end of 2019 they could make a push for their first title ever, but there is work to be done between now and then.
Genesee – The Cougars are always intriguing, and this is a team that tends to improve as the season goes on. A loss by seven early on will be a loss by one later, or even a win. They are like a fine wine – they get better with age. GCC has proven that they may not start at the absolute top, but Coach Hoover's crew certainly can finish there, as they did in 2016 winning their first title ever. Genesee starts in my personal pre-pre top four with relative ease and an early loss isn't the end of the world for this team. The benefit of playing in Region 3 is that you get plenty of good games and GCC tends to pack in a lot of good wins later in the season. It works, and come playoff time the Cougars are usually raring to go.
Harford – This program has really stepped it up as of late but the question remains – can they make the jump to playing during the final weekend of the season and edge their way into the elusive top tier of junior college men's lacrosse? It's not easy to break into the truly upper echelons of the junior college ranks, but the Fighting Owls are sitting right on the cusp. Is 2019 the year? Recruiting has been a priority and this is important for depth and year-over-year success. Bring in a couple gems and see some freshmen growing into bigger roles as sophomores and Harford is potentially right there. This is a big test year for this program and excited to see how this rise to the challenge.
Anne Arundel – AACC has been solid as of late, but has also been sitting behind OCC, Nassau and others for too long. They won a title in 1998 and played in the finals in 2000 but haven't reached the same heights since. However, there does seem to be an energy at Anne Arundel this year that has me excited to see what they can do. It's no easy road in the South, but it's easier than fighting through the big three in the North and there is plenty of local talent out there.
Monroe – MCC faces a big test as they moved up into the Top 10 last year, but staying there is never guaranteed. Coach Church will need to bring in a good group to keep the success coming and continue to climb the ladder but he's extremely capable, and the Monroe Women's team is lights out, so success at the school is achievable. It makes Monroe a team to watch for sure, but the challenge of OCC, NCC, and GCC up North make it a hard road for the Tribunes.
CCBC Essex – This is a program that played in the title game back in 2015 (and 2011 and 2010), so do not count them out even if the last couple seasons haven't seen quite the same levels of success. Essex returns more players than most teams do, as they were heavily rostered with freshmen last season. I see a bounce back for Essex, maybe not to a national title game, but back into the Top 10. It's a pre-pre-poll, I'm allowed to make some "out-there" predictions, and this is one I'm going with.
Suffolk – Suffolk could face competition in Region 15 from newly active ASA but for now they look like a solid Top-10 team with potential. I am beyond curious to see what Tim McCabe is able to do with the Suffolk program in both the short and long term. There is talent locally, can McCabe make it work? There have usually been a number of stellar players at Suffolk, but overall depth can be an issue, especially if injuries hit. With a larger roster, Suffolk may be able to weather these issues better and climb higher into the Top 10. A great Nassau-Suffolk rivalry game would do NJCAA a lot of good out on the Island and in general. That's just a classic county game. I'd love to see it go to OT sometime in the next few years.
Mercer – For my No. 10 team I like to take a risk, have some fun, and do something a little weird. After all, it's a pre-preseason poll from a sportswriter and it doesn't really mean anything… but after a full year of practice, I'm beyond curious to see what kind of product Mercer puts out on the field, so they are my wacky No. 10 pick for 2019. Did I pick a brand new team for the No. 10 spot? Yes, yes I did. Does this put an unnecessary target on Mercer's back? Also yes. Will Ocean or Delaware Tech take this personally? Probably, but it's a trial by fire and Coach Siris has had a full year to prep, so I'm sure he's up for a little additional pressure! Maybe I'm wrong, or maybe I'm a genius. Only real games will tell, but it looks like there is some talent in West Windsor, NJ.
Other teams I'm keeping an eye on: All of them! Prove me wrong and become a Top-10 team this year – I'd love to see it! I'd expect to see a good deal of movement outside of the top 4-5 teams, and a number of programs could spend some time in the Top 10. There is a lot of potential for a number of Region 3 teams especially as the overall quality and depth improves, but any team can schedule big games in such a small overall grouping, and that means any team can earn a big win! Playing in the NJCAA can be a bit of a circular firing squad (meaning that the opportunity is there to play plenty of top level teams) but there is also no better way to get noticed.
2019 Junior College Team Previews & Players To Watch
Anne Arundel Riverhawks
2019 Team Captains: Jordan Kopf (A), James Dipietro (M), Joey Niles (M), and Cam King (LSM)
2019 Players to Watch: All four of the captains listed above are excellent leaders, but they can also play the game at a high level. In addition to those four, look out for Colin Hinton (D), Steve Moheiser (M), Caleb Nash (A), and Chris Greenstein (FO/LSM).
2018 players now playing NCAA: Zach Payne (Newberry), Justin Walsh (Newberry), Charlie Ellis (Guilford), Trevor Bellote (Catawba), Camden Stramanak (Randolph-Macon)
Quote from Head Coach, Joe Stanilaus, on his team for 2019: "I am very excited to coach this group of guys. We are working hard in practice, and have added some tough scrimmages this season to prepare for Game 1 (VA Wesleyan, St Mary's, Frostburg, and Army Prep)."
Social Media worth following: Twitter
And as a bonus, here is the 2019 AACC helmet. It's pretty simple, but it's also pretty gosh darn glorious. Love it.
Onondaga Lazers
2019 Team Captains: Michael Brandow (D), Frank Delia (G), Dorian Faster (M), and Kyle Worsley (A)
2019 Players to Watch: Fr. Midfielder Owen Hill, Fr. Midfielder Percy Booth, So. Midfielder Dorian Faster, Fr. Midfielder Eli Dandelaught, So. Attackman Kyle Worsley, So. Goalie Frank Delia, So LSM Sean Rigley, Fr. FO Midfielder Zach VanValkenburgh, So. Defensemen Michael Brandow, Fr. Defender Sam Hixon-Milks
2018 players now playing NCAA: James Sexton (Utah), Colton Thew (Binghamton), Jerry Staats (Syracuse), Zach Pierce (Salisbury), Riley Ford (Salisbury), Zach Lorenz (Mercyhurst), Matt Cavanagh (Cortland), Cade Talbert (Canisus), Jake Corcoran (Canisus), Austin Robinson (Michigan), Robbie Pollock (SUNYIT), Brandon O'Brien (Nazareth), PJ Delpha (Hobart), Brook Rideau (Delaware), Brendon Class (Oswego)
Quote from Head Coach, Eric Miccio, on his team for 2019: "We are extremely excited to get the 2019 campaign under way. Our players have been chomping at the bit to play a team with a different color jersey on. Our coaching staff has been pleased thus with the players progress and growth in regards to execution and team chemistry since the beginning of spring practice. Our players will continue to grow and they are looking forward to each and every contest so that we can continue the Lazer tradition. We have some exciting returners and newcomers that help make up part of our roster. We know that it will take a complete family effort to achieve our objectives that we want to accomplish. We look forward to the challenge."
Social Media worth following: Twitter, Instagram
Union Owls
2019 Team Captains: Team captains are not usually 'named' at Union, which is a different approach to leadership from Coach Roussey and… I LIKE IT! Three players that will likely take on this role are Greg Scaturo (A), Anthony Gargilis (D), and Allen Melick (D).
2019 Players to Watch: Greg Scaturo is definitely worth keeping an eye on.
2018 players now playing NCAA: Jarrett Luoma (Bryn Athyn), Ryan Bohm (Cooker), Myles Ackerson (Stockton)
Quote from Head Coach, Jay Roussey, on his team for 2019: "This year's team has the potential to play very well team-wise. So far the chemistry seems to be coming along and the discipline level is on par as well. Each year I stress to my teams that the NJCAA programs with the most discipline and who get along well together can achieve high expectations.  So far this team has bought into that concept."
Social Media worth following: Instagram, Facebook, Twitter
Mercer Vikings
2019 Team Captains: Brady Moore, Vinnie Crea, Cameron Potts, Dylan Ritchkoff
2019 Players to Watch: Brady Moore (A), Nick Parente (M), Jack Earley (M), Vinnie Crea (D), Evan Janiec (D)
2018 players now playing NCAA: None, as Mercer is a first year program!
Quote from Head Coach, Robert Siris, on his team for 2019: "We had a great fall and added some good transfer students over the past few months. We have a very strong out of region schedule against teams like Nassau, Howard, Essex, Anne Arundel, etc. and we are excited to compete in Region XIX."
Social Media worth following: Twitter
Howard Dragons
2019 Team Captains: Johnny Chaisson (LSM), Jake Pyke (M), Jake MacKenzie (M), Jake Polinsky (A)
2019 Players to Watch: Cruz Hanson (freshman goalie), Tim Russell (freshman goalie), Jason McElroy (freshman defense), Austin Stuebner (sophomore defense), Tim Roesler (sophomore D/LSM), Bobby Solomon (freshman A/M), Jackson Krasny (freshman midfield), Colvin Prosser (freshman attack)
2018 players now playing NCAA: TJ Ellis (Salisbury), Dayton Fisher (Ohio State), Ian Decker (Maryland), Will Smith (Stevenson), Jared Thompson (Queens), Slater Bender (Chowan), Quintin Bender (Chowan), Matt Leone (Chowan), Ever Amaya (Barton)
Quote from Head Coach, Erik Foust, on his team for 2019: "I'm very excited about this team. We are young, with 31 freshmen, but very tough and athletic."
Social Media worth following: Youtube, Twitter, Instagram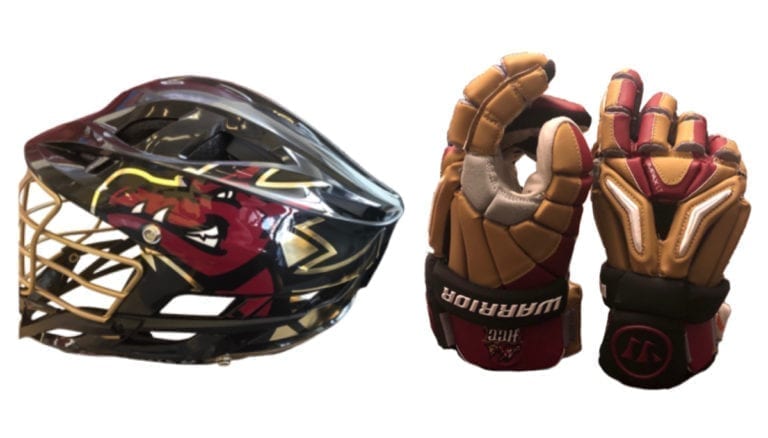 Monroe Tribunes
2019 Team Captains: Austin Foe, Chad Anderson, Adam Witscheber
2019 Players to Watch: Adam Witscheber (Defense), Austin Foe (Defense), Chad Anderson (Defense), Reed Perestam (MidField & F/O), Tim Day (Attack)
2018 players now playing NCAA: Patrick Brewer (Alfred State), Bryce Saba (Oswego State)
Quote from Head Coach, Shaun Church, on his team for 2019: "One characteristic of a man is to establish something that has not been done before."
Social Media worth following: Instagram
Genesee Cougars
2019 Team Captains: Mat Anderson, Jason Chiodo, Ian Dolac, Samuel Koczwara, and Jacob Smeader
2019 Players to Watch: Jason Chiodo (Attack), Baden Boyenko (Attack), Zach Wade (Midfield), Konner Sunday (Midfield), ​Samuel Koczwara (Midfield), Tyler Thompson (Midfield), ​Val Brito (LSM), Anthony Diamico (LSM), Mat Anderson (Defense), Jacob Smeader (Defense), Lincoln Potter (Goalie)
2018 players now playing NCAA: Kevin McParlane (Tampa), Evan Hollfelder (Oswego), Pat Shea (Roberts Wesleyan), Connor Schissler (Roberts Wesleyan), Brad Hejmanowski (Hilbert), Nate Ess (Hilbert)
Quote from Head Coach, David Hoover, on his team for 2019: "It is our deepest team ever at Genesee.  Our team this year has great effort and compete level every day at practice, they have set their goals very high, and we can see that they are taking each day on and off the field very seriously.  With how competitive junior college lacrosse is, you can only worry about yourselves and hope that all the hard work pays off in the end."
Social Media worth following: Twitter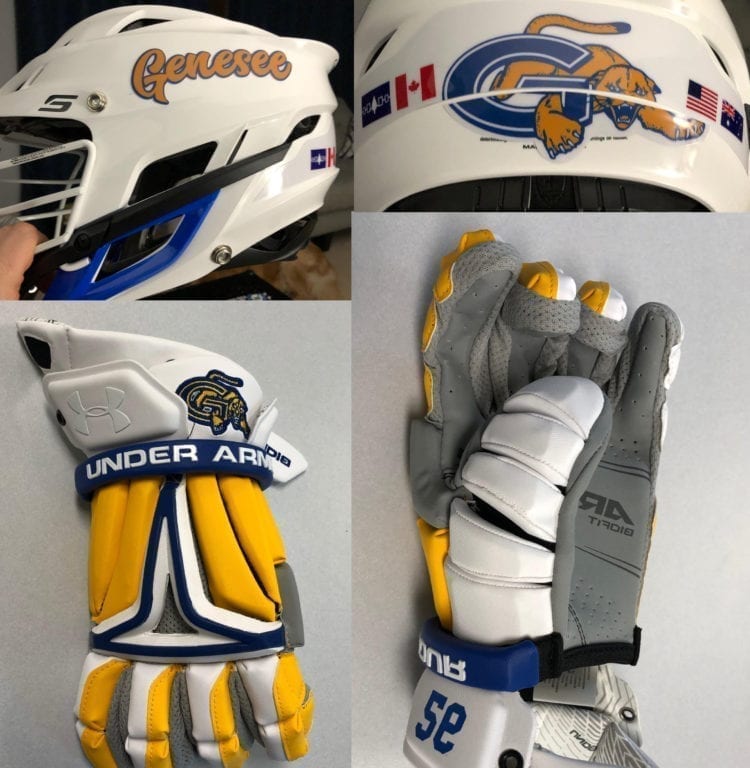 Finger Lakes Lakers
2019 Team Captains: Finger Lakes selects game captains, and not captains for the season, but will likely look to Ryan Ferrini, Mike Dhondt, Trae Papke, and Justin Closser for a good chunk of that leadership core.
2019 Players to Watch: Mike Dhondt (Freshman Goalie), Henry Millard (Freshman Defense), Nate Birch (Sophomore Defense), Ryan Ferrini (Sophomore Defense), Trae Papke (Freshman Attack), Sutherland Thayer (Freshman Attack), Justin Closser (Freshman Midfield), Sam Johnson (Sophomore Midfield)
2018 players now playing NCAA: Garrison Kuhl (Keuka College), Mike Thompson (Hilbert)
Quote from Head Coach, David Stein, on his team for 2019: I like this team a lot. Great character. They work very hard. We are excited to play in our new turf stadium.
Social Media worth following: Twitter
NJCAA Lacrosse on the Internet!
If you're looking for a little more NJCAA action, here are a couple good social media posts, people worth following, etc, etc.
Doing "the walk"! Coach Wilbur might not be the coach at OCC anymore, but he's still at the school, and still looking out for the squad:
LONG LIVE THE DIVE! A little preseason dive goal action from Harford:
As I gather more info from more junior college teams, more junior college teams will get previews. That's how it works! Coaches – if you don't see your team listed, please reach out to me with the info so we can include your program and shine a spotlight on your 2019 squad.
More to come next week as the Junior College Report rolls on.