Author's Note: Thanks to an awesome support staff of all-stars on the grounds in Radotin and watching the games online, we were able to put together this awesome countdown of the 21 teams competing in the 2015 Ales Hrebesky Memorial and a short snippet of their stories from the event.
The Pioneers from Ladner, British Columbia defeated the Clarington Green Gaels, 9-6, in an all-Canadian final in front of a capacity crowd on Saturday night in Radotin under the stars. Player/captain/organizer Chris Fox led a group of 16 men to their first championship (previous best was 5th, achieved in 2013 and 2014) by playing a hard-nosed, physical style of play that rattled European teams and North American squads alike.
Fox's troops are but just one story of a unique celebration of the sport, one filled with brats, beer, fireworks and a camaraderie unlike any other in the world. Here's 21 stories for 21 teams at this year's Ales Hrebesky Memorial.
[mks_dropcap style="letter" size="52″ bg_color="#ffffff" txt_color="#000000″]21[/mks_dropcap]The Polish Eagles didn't crack the top 16 for the third consecutive year. The Hřebeský did serve as a valuable opportunity for a team comprised of entirely Poland-based players to continue building box lacrosse experience. There aren't many opportunities to play the box game in Poland, which has a single, small box available to the Federation in Wroclaw.
Kajetan Statkiewicz led the Eagles with three goals, and appeared in the tournament All-Star game. Poland is right back in action next weekend at the Nations Cup in Dresden. The national program has a goal of competing in the 2017 European Indoor Lacrosse Championship.
[mks_dropcap style="letter" size="52″ bg_color="#ffffff" txt_color="#000000″]20[/mks_dropcap]Team EuroLaxCo ended their 2015 Hřebeský campaign on a high note, topping the Eagles (5-4) for their first win ever in Radotin. After consecutive winless tournaments, the victory on
the largest stage in Europe is a rallying point for a team which has shown a strong commitment to traveling or hosting events to improve their game.
The French hope to keep improving and developing with more local players. France won't be at WILC2015, but if they keep hosting events like BoxMania, their annual tournament at "La Halle de Glisse" (an inline hockey rink in Lille), it shouldn't be long before the French debut at a European or World Indoor tournament.
[mks_dropcap style="letter" size="52″ bg_color="#ffffff" txt_color="#000000″]19[/mks_dropcap]Helan Går Lacrosse, Sweden's first foray into box lacrosse, went winless at the Hřebeský, but played mostly close games, allowing the squad to earn a bye in the lower bracket. Two native Swedes, Marcus Lind and Mattias Eklund, led the squad with three goals apiece.
The team had a few Czechs sprinkled into their lineup to fill out the roster, but the lineup was nearly entirely Swedish-based players, which bodes well for the future development of a country that is hockey-crazy and will hopefully take pride in the box game. It's too early to tell if Helan Går will grow into a powerhouse regular, but they're certainly on the right track.
[mks_dropcap style="letter" size="52″ bg_color="#ffffff" txt_color="#000000″]18[/mks_dropcap]The Regina Heat, the first team from the province of Saskatchewan to compete internationally, were the primary victims of the Istanbul Sultans surprise performance, and after day-one losses to the Sultans and host LCC Radotin, found themselves as the first Canadian team ever in the lower bracket before they could even get their legs loose.
The team rebounded with a pair of wins against Poland and Helan Går, but fell to Glasgow in the 17th-place round. Dallan Larson led the squad with six goals and three assists. Regina's interest in the Hřebeský stems from Jordan West-Pratt, who played for Love You To Death in a past AHM. Despite the performance, the Heat had great things to say about the tournament, the atmosphere, and the quality of play and stick skills of their European counterparts.
[mks_dropcap style="letter" size="52″ bg_color="#ffffff" txt_color="#000000″]17[/mks_dropcap]Following a disappointing close loss to the Bratislava Bats and a 10-goal defeat at the hands of the Champion Pioneers, the Glasgow Clydesiders rocked the lower bracket with three straight wins.
Although the 17th-place finish matches their placement in 2013 and 2014, this years result represents a slight improvement as there are 21 teams in the tournament instead of the 20 of prior years. American Brian Witmer was team MVP with solid play on both sides of the floor. Five different nationalities were represented on the squad, including a large group of Scottish-Canadians, were displayed on the team logo: A stick-weilding Groundkeeper Willy of the Simpsons over a Canadian Maple Leaf.
The Scotts, who actually appeared in the 2007 World Indoor Championship, hope to develop a local indoor league and an annual tournament, but finding a proper venue is a challenge.
[mks_dropcap style="letter" size="52″ bg_color="#ffffff" txt_color="#000000″]16[/mks_dropcap]It's hard to get excited about a 1-5 record, but the Bratislava Bats showed a lot of guts in their win over Glasgow, and close losses to several teams with tremendous amounts of experience. Simon Thomay was a force for the Bats, who are made up of almost entirely Slovakian players.
Many Bats have experience playing in the Czech leagues and tournaments, and roughly 10 players had the opportunity to compete in the 2011 World Indoor Championships, when Slovakia was asked to play as an exhibition entry.
While the Slovaks won't be in Syracuse in September, they are considering an appearance at the 2017 European Indoor Championships. Watch out for the rapid development of the Slovakian box program as their players continue to learn and improve with every game.
[mks_dropcap style="letter" size="52″ bg_color="#ffffff" txt_color="#000000″]15[/mks_dropcap]Team Germany, which replaced traditional participant Deutschland Adler as the squad trims down its player pool ahead of the World Championships, used their appearance as just that: a training and trial opportunity for WILC.
With the top German talent spread amongst two squads, Team Germany struggled offensively, but showed tremendous improvement as the tournament progressed. National team GM Simon Krause credits the defensive and goaltending play as strong points for the new entry.
Stay tuned for exciting things from the German box program, which is hosting the Nations Cup next weekend in Dresden and is the rumored frontrunner to host the 2017 European Indoor Championships.
[mks_dropcap style="letter" size="52″ bg_color="#ffffff" txt_color="#000000″]14[/mks_dropcap]The Turku Titans played well, but, like Dublin and Tel Aviv, who arrived early for the European Box Invitational, were physically drained following about six hours of competition in one week.
The Finns are a program to watch, as an all-star coaching staff (Devan Wray, Tracey Kelusky and Neil Doddridge) have a talented lineup playing a fundamentally sound game. Jarno Aaltonen, who in sheer size towers over his teammates and opponents alike, is unstoppable. Jarno led Turku with nine goals and three assists, while Roope Jokela chipped in eight goals. The Titans went winless in a very balanced group, but advanced to the Round-of-16 as a wildcard with a pair of close losses to Bundeswehr and Tel Aviv. They also played Vienna and Nova Scotia to close results.
Turku also wins our "uniform of the year" award with their plaid jerseys and faux-denim design shorts with pockets.
[mks_dropcap style="letter" size="52″ bg_color="#ffffff" txt_color="#000000″]13[/mks_dropcap]There's no greater advocate for the rising quality of play in Europe than Rod Humphreys and the Nova Scotia Privateers, a strong Canadian team who had consecutive Hřebeský final-four appearances in 2012 and 2013.
The Privateers were hoping to rebound after suffering an upset loss in a first round playoff game last year. However, their relegation to the "second pot", combined with a tough draw against the Megamen resulted in a first-round playoff date against host LCC Radotin.
In the 9th-place bracket, TJ Malešice snuck away with a 5-3 upset, before the Privateers rallied to finish strong with a pair of wins against the Bats and Titans. Humphreys credits his players for pulling together as a team to finish strong, and notes the quality of play at the tournament — especially with the teams ranked 5th through 16th — has risen tremendously.
[mks_dropcap style="letter" size="52″ bg_color="#ffffff" txt_color="#000000″]12[/mks_dropcap]The London Knights matched their 12th-place finish from 2014, earning a win over Bratislava and competing in a number of close games against their European counterparts from Germany, Ireland and Czech Republic. The Knights were in a competitive pool with Team Germany and Jižní Město, and, despite going 0-2, were able to advance by playing close, tight games.
The Knights first-round playoff game against the Green Gaels, an 8-2 loss that many thought would be more lopsided, was a confidence booster, especially since the game was deadlocked at 0-0 for most of the first half. The Knights featured several new players to the box game who picked up the variation of the sport very quickly.
The tournament also served as an informal tryout of sorts for Team England, as most of the Knights players are under consideration for WILC2015. England hopes to build on the upcoming World Championship by giving more field lacrosse players in-country the opportunity to refine their box skills. Venues are a challenge, but the Tasko Cup will take place this July at a roller-hockey rink in Bournemouth.
[mks_dropcap style="letter" size="52″ bg_color="#ffffff" txt_color="#000000″]11[/mks_dropcap]The Dublin Riggers celebrated their 10th year in the Memorial, matching their 11th-place finish of the year prior. Like Turku and Tel Aviv, the Riggers were physically drained with many of their players competing over consecutive weekends. The Riggers also had a tough draw with the Green Gaels in their group, resulting in a second-place finish and a first-round playoff game against the Pioneers.
While the Irish had hoped to improve upon their 11th-place finish, they were happy to wrap up their 2015 campaign with a win over London. Ireland national team goaltender Mike Cregan, who was unavailable for the Invitational, was a bright spot for the Riggers. Cregan led the tournament with 106 saves, good for an 81% save percentage.
With Andrew McBride and Steven Keough suiting up for the green-and-white and Cregan in net at the WILC, and watch out for Ireland in September. One of the highlights of the weekend for Dublin: Sean Gibson's upset win over Gavin Prout in the accuracy contest during the All-Star Game skills competition.
[mks_dropcap style="letter" size="52″ bg_color="#ffffff" txt_color="#000000″]10[/mks_dropcap]Despite dropping from 8th place to 10th (an upset over Nova Scotia last year put Vienna into the Quarterfinals), the Vienna Monarchs exceeded their expectations, having a great week with a 4-2 record. The Monarchs took down TJ Malešice to win their group, before losing a nail-biter to Istanbul that came down to a shootout.
Klaus Hauer's 16 goals gave him a share of the scoring crown with LCC Radotin's Dominik Pešek. Competing with a relatively slim roster of 14 players (10 Austrians with mostly field lacrosse experience, who, outside of this tournament never play the box game, as well as 4 Czech nationals), the Monarchs continue to impress.
As for the Austria national program, a debut at the 2017 European Championships is not out of the question, but the Austrians need to focus on continuing to build their player pool.
[mks_dropcap style="letter" size="52″ bg_color="#ffffff" txt_color="#000000″]9[/mks_dropcap] Czech club TJ Malešice had a hot-cold kind of week, with disappointing early losses to Vienna in group play and Bundeswehr in a first-round playoff, but a couple of big wins over Nova Scotia and revenge over Vienna with a decisive 8-4 win in the rematch to wrap up the tournament and win the 9th-place bracket.
Although happy with the result, Malešice would like to be in the top eight, and credits the rising level of play across Europe with relatively new entrants like Bundeswehr, Istanbul and Tel Aviv climbing the rankings. Standouts include Adam Podroužek on transition and Kamil Trhlík who made big improvements during the tournament.
Some insight into how the Czech clubs qualify for the Memorial: The top three teams in the league are invited, and occasionally a 4th-place team is invited if there are late withdrawals from the tournament. Malešice is the 3rd-ranked Czech team behind Radotin and Jižní Město.
Check out my new t-shirt with the throwback Malešice logo! The town is known for its industrial sector and factories, so you can see the angry lax man coming out of the smoke.
[mks_dropcap style="letter" size="52″ bg_color="#ffffff" txt_color="#000000″]8[/mks_dropcap]Tournament-vet Patrick Dougherty's conglomeration was born this week: the Istanbul Sultans, the first box lacrosse team to ever play under the Turkish flag, might very well have the record for the most nationalities playing on one team. Turkish, American, Canadian, Iroquois, Israeli, English and Czech players came together, and, they were the talk of the tournament.
After an unexpected (at the time) 8-3 win over Regina, Istanbul took down the Vienna Monarchs in a first-round playoff game to advance to the quarterfinals. Despite the 6-4 loss, Istanbul can hang their heads high after giving Boston a run for their money in the quarters. 17-year-old Czech goalie Philip Hladký played great for the Sultans, who looked sharp wearing turbans during opening ceremonies.
Turkey will be making their world indoor debut at WILC2015, and with Dougherty wrapping up his career as a player, you can be sure they'll be well organized and competitive, just like the Sultans. Also a shout-out to legend Jonny "Vegas" Namer, who showed no fear in his first box tournament, winner of the innovative facepaint award.
[mks_dropcap style="letter" size="52″ bg_color="#ffffff" txt_color="#000000″]7[/mks_dropcap]One of the most improved teams, from 14th last year to 7th, Bundeswehr LC is comprised of officers and officer cadets from the German armed forces. Of the two German teams competing this week, Bundeswehr has played together much longer, and their familiarity translated to success on the floor. Most of the team is under consideration for the National Team.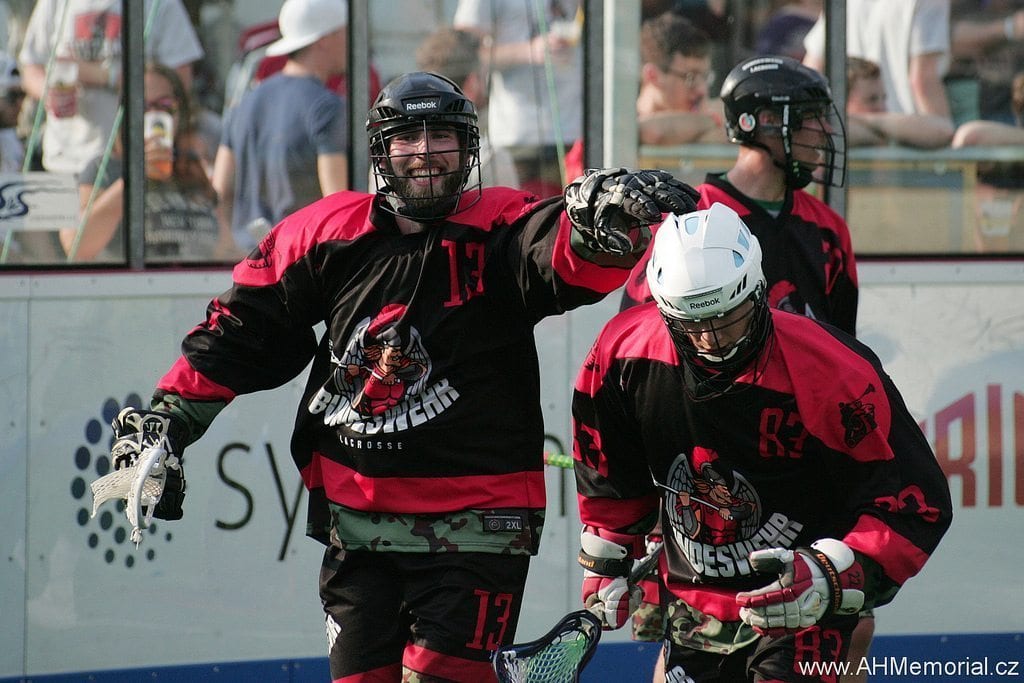 Wolfgang Grießl led the way with six goals and three assists, but Germany GM Simon Krause credits a team-first philosophy. Bundeswehr is holding their heads high following big wins against Turku, Malešice and Istanbul.
What's next for Germany? The European Nations Cup, which they are hosting in Dresden. The full German coaching staff will be on hand to evaluate the player pool, which will be split into an A and B group. The idea is to build camaraderie with the A group, however, despite these initial player rankings, the trial is still wide open. Krause expects many players from the B group will be on the final 23-man roster, which will be announced after next weekend.
[mks_dropcap style="letter" size="52″ bg_color="#ffffff" txt_color="#000000″]6[/mks_dropcap]Goldstar Tel Aviv continued to climb the rankings as the core of the team of converted field lacrosse players builds their box experience ahead of WILC2015. Coached by Canadian Brad MacArthur, the improvement in the Israelis since their 20th-place debut in 2013 is drastic.
Canadian-Israeli Kevin Harper has developed into a team leader for Tel Aviv, while Kyle Bergman looked like a seasoned veteran in his first-ever box lacrosse tournament. Israelis Matthew Flapan and Seth Mahler, who continue to rack up the minutes after playing as loaners for Deutschland Adler at the Mayors Cup in January, look more and more comfortable in the indoor game. Tel Aviv emerged from a very competitive group, defeating Turku, Bundeswehr, and Germany, before falling to the Pioneers in the quarterfinals.
What's next for Israel? The team expects to announce their roster following a closed-door June training camp in Philadelphia. Tel Aviv definitely owns the record for the most uniforms worn at the Memorial: after tossing on their white Israel jerseys from last weekend's Invitational to avoid a Red-Red conflict with Team Germany, Tel Aviv, which forfeited a game on Shabbat at last year's Memorial, officially withdrew from the 2015 event, and re-entered with most of their roster as "Prague Sports" for a pair of consolation games on Saturday.
[mks_dropcap style="letter" size="52″ bg_color="#ffffff" txt_color="#000000″]5[/mks_dropcap]Czech club Jižní Město had a great week, going 5-1 with a single loss to the Green Gaels to win the 5th-place bracket. Pavel Došlý (11 goals, 9 assists) and Jáchym Plecháček (10 goals, 8 assists) plowed through the competition, while Tomáš Čekal surprised many to earn Top Goalie honors at the Memorial.
In front of a packed house on Saturday night, Jižní Město gutted out a 4-3 comeback win over Tel Aviv that took a shootout to settle. Jižní Město also earned wins over Germany, London, Bratislava and Bundeswehr. Keep an eye on this team to take the jump into the top four as their younger players continue to develop.
[mks_dropcap style="letter" size="52″ bg_color="#ffffff" txt_color="#000000″]4[/mks_dropcap]The three-time champ Boston Megamen, always a contender, rolled to a 4-0 start with a roster of experienced North American players from both sides of the border. The hot start included a 5-3 win over Nova Scotia, who were the victims of the tough draw.
In the semifinals, the Megamen drew first blood, but the Pioneers rattled off six straight goals and never looked back, prevailing 10-4. Boston cements their place as a powerhouse at the Memorial with their 7th consecutive semifinal appearance, but, anything short of a Championship is a disappointment for Boston. Matt Hickman led the way with 13 goals and 3 assists, while Jamie Plunkett contributed with 6 and 6.
[mks_dropcap style="letter" size="52″ bg_color="#ffffff" txt_color="#000000″]3[/mks_dropcap]For all but a few seconds, the host team, LCC Radotin, owned the Memorial, as a Dominik Pešek goal with four seconds left in the semifinals gave the Czech's top team a 7-6 advantage over the favored Green Gaels.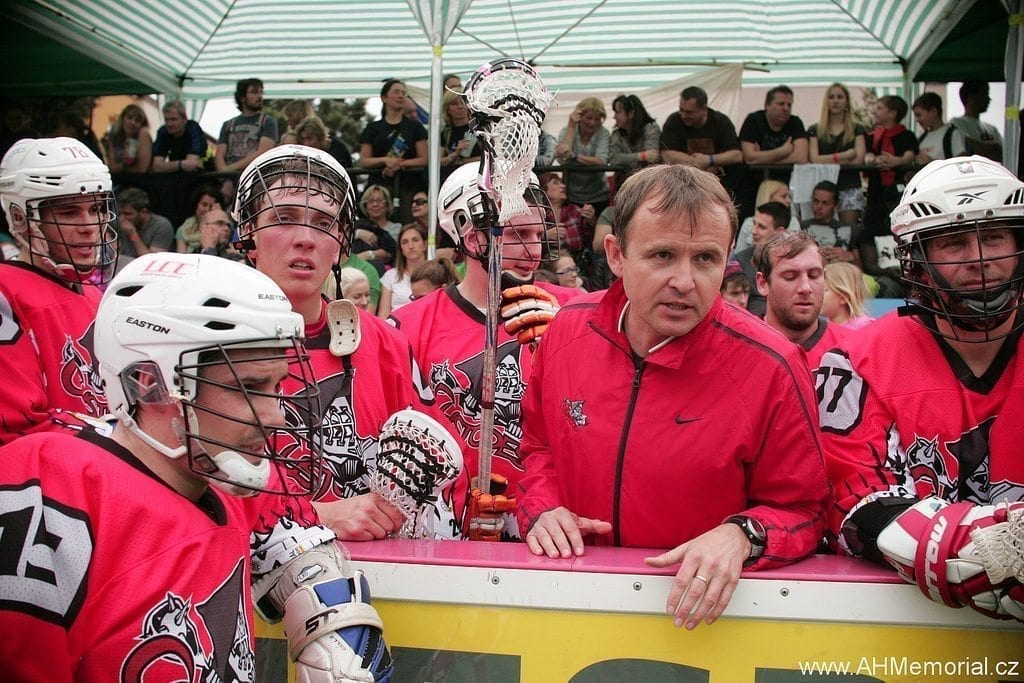 A lot can happen in just a few seconds. After a faceoff win and a quick timeout, with two seconds left on the clock, Gavin Prout fed Brad Cann, tying the game in a gut-wrenching turn of events for the hosts. A quick shootout later, and, Radotin would be watching the all-Canadian final from the stands.
Props to the hosts for coming out for vengeance and rebounding in the 3rd place game. Pešek finished with 16 goals and 6 assists, leading the tournament in goals and points, while Radek Skála chipped in 12 goals and 7 assists. Radotin finished with a 5-1 record, their only loss coming in the shootout to the Gaels.
[mks_dropcap style="letter" size="52″ bg_color="#ffffff" txt_color="#000000″]2[/mks_dropcap]The Green Gaels finish in 2nd place for the second consecutive year, a disappointment given the scoring prowess of Dylan Goddard (13 goals, 5 assists), Michael Teeter (11 goals) and Gavin Prout (6 goals, 7 assists).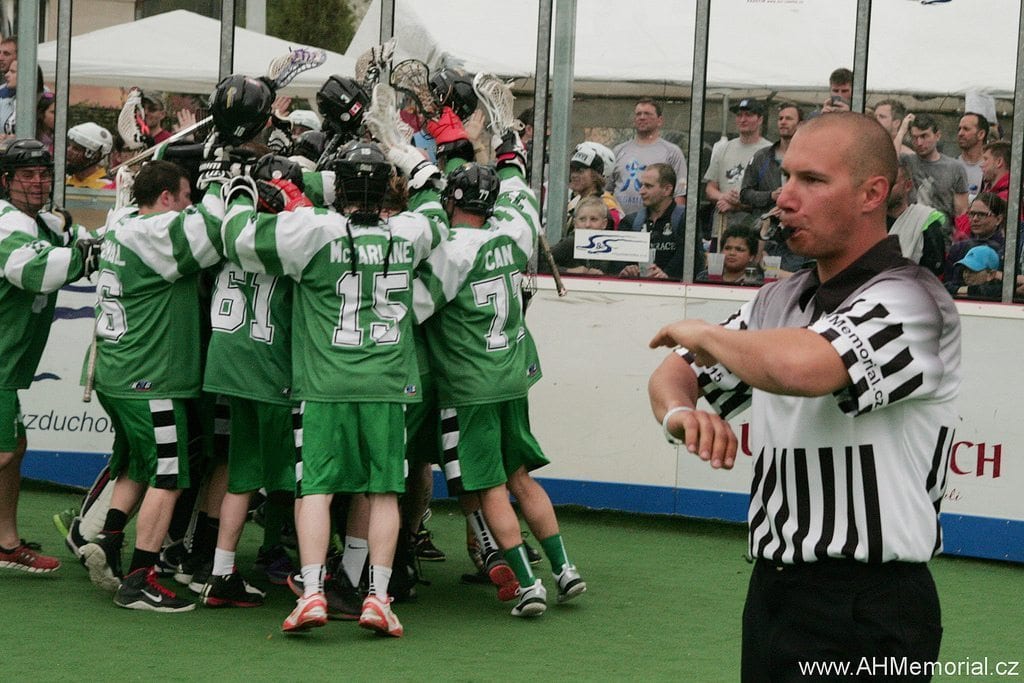 The Gaels blew out anyone in their path up until the semifinal thriller, winning five straight to notch their place in the East/West Canadian final.
Despite the silver medal finish, the Gaels are our winners of the "Grow the Game" award for the tournament, with the entire team volunteering at Friday's Kids Camp, and a strong contribution made to Every Goal Counts.
[mks_dropcap style="letter" size="52″ bg_color="#ffffff" txt_color="#000000″]1[/mks_dropcap]The Pioneers, following consecutive 5th-place finishes, cruised to a 4-0 record to notch their first semifinal appearance. On the big stage, they would stand tall, with decisive wins over Boston and Clarington to hoist the big trophy.
Jason Jones led the way with 12 goals and 4 assists, while Nathan Clare (8 goals, 8 assists) and Ryan Keith (7 goals, 7 assists) also chipped in. Travis St. Germain (8 goals, 6 assists) was a beast on transition, and Nathan "Chief" Wilson had an 86% save percentage for the tournament to lead Ladner to their first title on international soil.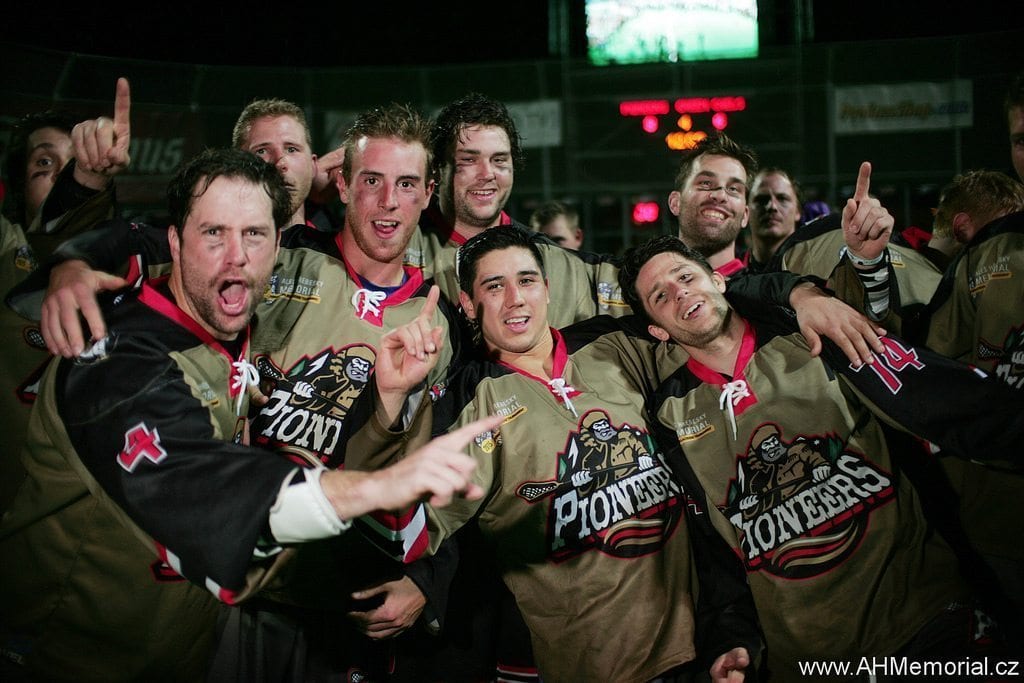 Congratulations to the Pioneers, the hosts (who broke attendance records), and all of the players, coaches and volunteers who helped make this week possible!
Check out the video above for awesome highlights put together by Joe from Throne of String, who suited up for the Privateers!
Photos provided by AHMemorial.cz