LASNAI is just one week away, and the team at Lacrosse All Stars is jazzed and ready to go for what should be an epic tournament. The tournament will be held on the Onondaga reservation in Upstate New York and is sure to be an exciting event.
We recently sat down with LaxAllStars Publisher and LASNAI co-creator Connor Wilson to talk about the tournament. A transcript of the email interview is posted below. Learn all about this young tournament that is attracting top talent from all around!
Note: This interview has been edited for clarity. 
Matt Anderson: For starters, what is LASNAI?
Connor Wilson: The LASNAI, or Lax All Stars North American Invitational, is an open box lacrosse tournament which brings teams in from across North America (and the rest of the world!) to the Onondaga Nation and Syracuse area for three days of games. There were very few OPEN box tournaments in North America, so Scott Neiss and I decided to create one. LaxAllStars.com was brought on as a partner and the event is now the largest open box lacrosse tournament in the entire world.
MA: How long has LASNAI been running for?
CW: The LASNAI started in 2016, and while 2018 is only the third year for the event, a strong foundation is in place, and it feels like the event had been going on for well over a decade.
MA: What has made LASNAI such a fun event?
CW: We focus on providing a great experience to every player, and we host the games in professional level venues. We use rules that everyone can agree on, and with teams coming from all over, this makes a difference. Teams are provided with locker rooms, there are tons of food options, amazing vendors and sponsors, and everyone is there for the same reasons – to play, compete, and connect. Hard battles on the floor turn into smiles and hand shakes right after the final whistle blows and amateurs rub elbows with pros, both on the floor and off it.
Above and beyond the tournament itself, the Onondaga Nation is an incredible host for this event. The local people come out to play, watch, and work at the event and the interplay between this amazing First Nation and all of the outsiders coming in for the weekend is something the entire tourney staff treasures. Through lacrosse we are able to help facilitate conversation, connection, and community, and every year that aspect of the tourney makes me the most proud. We are incredibly thankful to the Onondaga Nation for welcoming the tournament in, and we are incredibly honored to be able to play these games in the game's own home.
MA: Why is LASNAI unique?
CW: The size of the tournament immediately sets it apart from almost every other box event outside of the Ales Hrebesky Memorial, which is held in the Czech Republic each year in April. The AHM provided Scott and I with the inspiration and template for the LASNAI, because the AHM is more than just a tournament – it is an experience. We can not mimic the AHM completely, and we would never try to do that, but we have succeeded in making our event unique by hosting it where we do, and by getting so many of the world's best players to come play. The late September timing means that there is no pro lacrosse running — Canadian Senior 'A' is over, and NLL training camps don't start for another month or so. The chance to play against Poland in one game, and then cover Lyle Thompson or Austin Staats in the next game is a huge draw for any player out there, and to be able to do so on land where the game has been played for 1,000 years or more is pretty amazing.
MA: What has the growth of the tournament been like?
CW: In year one the LASNAI played host to 12 teams. It was the first time for the tourney, and really a trial run to see if we could make it work. It worked out well, the response from all the players was fantastic, and year two very quickly became a reality. This was working, and it was happening. Year two saw the LASNAI add on nine teams and hit the 21 team mark, making it the biggest open box tourney in the world, tied with the AHM, which had also recently expanded. Last year's AHM went to 24 teams, regaining the title of largest box tourney, but this year the LASNAI has exploded with 13 additional teams, and has gone to a 34-team format. 9 to 21 to 34 in 3 years is pretty solid, and in year four the tourney will expand again. So bring your squad!
MA: Who are some of the major players that are going to be at the tournament?
CW: The Thompson brothers put in their own team each year, have won the tourney both times, and they are loaded up with talent each year with players like Dhane Smith, Randy Staats, and Steven Priolo. While they've won both LASNAI titles so far, they don't win without other teams giving them a really good run. In 2016 Vaughn Harris was pretty much unstoppable. In 2017 Austin Staats was our MVP as he led Frog Pond to the Finals. Kyle Buchanan, Tyler Brown, Cam Simpson, and Marty Bowes have all been named past All-Stars. Bill O'Brien is out there crosschecking everyone each year. Brendan Bomberry got back in the box last fall to play, and so do some other current college players. The talent has been absolutely ridiculous.
And this year it gets even better.
With two Team USA groups coming you're going to see guys like Rob Pannell, Kyle Hartzell, Marcus Holman, Kieran McArdle, Scott Ratliff, Blaze Riorden (former LASNAI Sportsmanship award winner), Tom Schreiber, Joel White, and a ton of other high level pros stepping into the Onondaga boxes and going head to head with everyone else. This year's LASNAI will be used to help select the 2019 USA indoor team, and we're thrilled to have the groups playing! Beyond two Team USAs we have a couple more new teams that are absolutely loaded with pros and top level box guys, so make sure to tune in – the talent will be on full display.
MA: Where can people find the schedule for the tournament?
CW: There will be an interactive schedule with results and stats online, but for now check out the printed schedule, HERE.
MA: What kind of a production is it to put on this big of a tournament?
CW: It's a lot of work, and as the tournament has grown the amount of work has certainly increased, but with proper planning, trust, and teamwork it is possible to pull it off. Each year that we run the event we learn and use those experiences to improve and grow. Scott has run a number of large scale events before, and at this point we have the event production down to a pretty standardized process. There are always roadblocks and issues, but by dealing with them proactively and learning from them, the LASNAI rolls on bigger and better each year. It's a labor of love, but there is a lot of love for this game, so it's well worth it.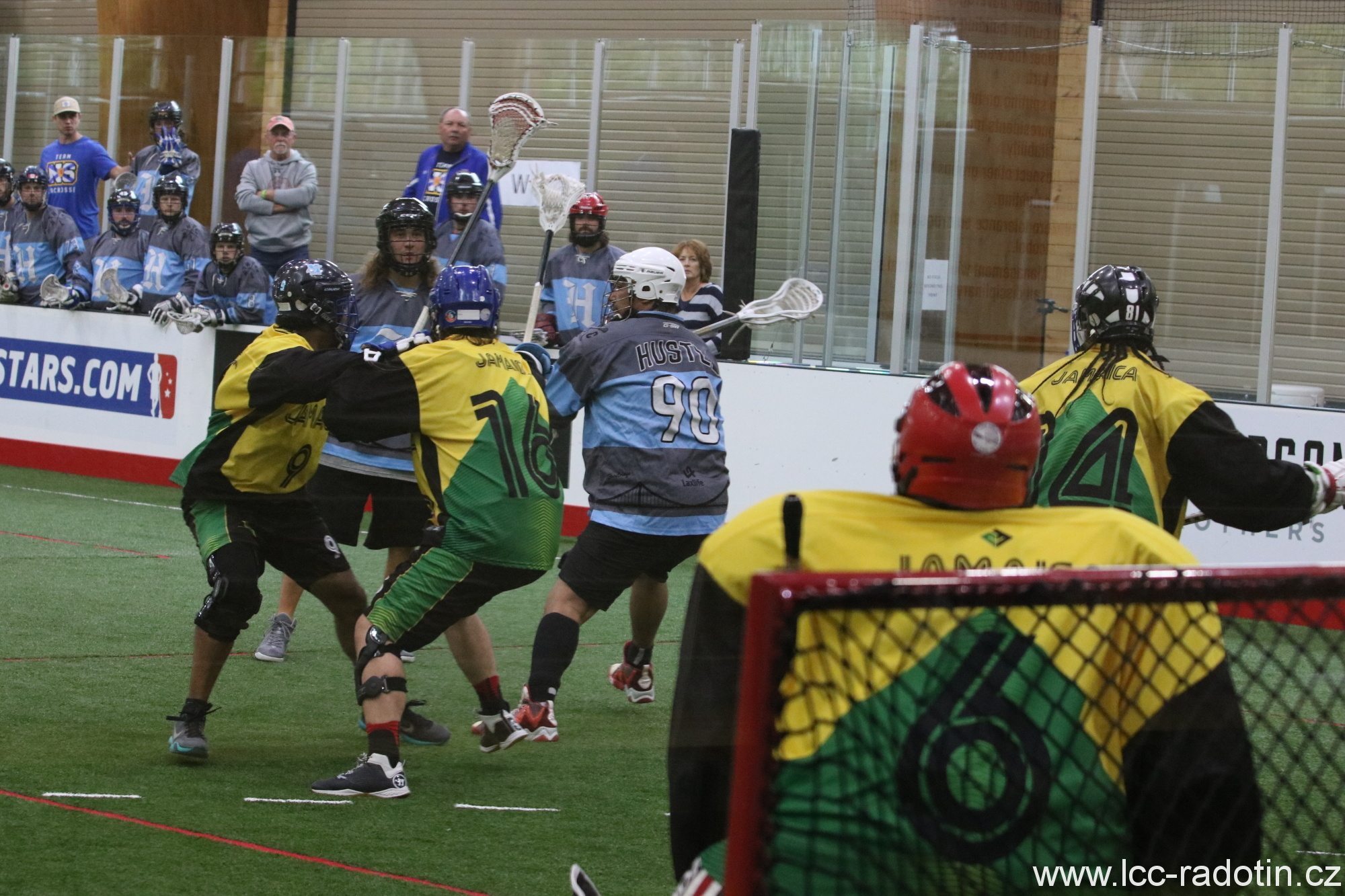 MA: What would you say to people who are on the fence about signing up for LASNAI?
CW: At a certain point in your life, you will be too old and frail to try new things, or to push yourself to new limits. I'm in my late 30's now, and it is starting to become a reality I wake up to every day. My prime has passed me by. But it's not a hard change to swallow because I went out and did the things I wanted to when I could. I went to Prague to play box when I was 32, having never really played before. I kept going back. Why? Because I knew my clock was ticking. I couldn't put it off. I needed to go play and learn and experience the world.
So if you have that feeling in the pit of your stomach like I did – that you KNOW there is only so much time left – then come play in the LASNAI. The box lacrosse is amazing, and the overarching experience is even better. It's not something you want to "wish" you had done, it's something that must be done. Also you can come say hello in person, meet all the big names in the game, and then slash them. Who doesn't want to do that?
MA: Any parting thoughts?
CW: On behalf of everyone involved with the LASNAI I just want to thank anyone and everyone who had made this event possible from the players and refs to the fans to the staff to the entire Onondaga Nation. It truly takes a village to make something like this happen, and the lacrosse village is something special when it comes to the LASNAI. Playing hard, meeting new people, learning, spending time with old friends and new, competing… smiling at the fact that you are able to play and enjoy this wonderful game – that's what it's all about.