Maverik United brought out the kitchen sink this weekend in Las Vegas. Coming off three heart-breaking losses in a row, MavU got the much needed win, to bring them back within two games of Team STX. It was a frigid night in Vegas, but the fans were rewarded with one of the hottest nights of action we've seen from the LXM PRO Tour.
Veteran middies, Whit McCarthy and Kyle "I broke your ankles" Harrison (see video), got the scoring started for Maverik United and Team STX, respectively. Following suit, Max Ritz banged one in early from a K18 feed and Peter Baum took it to the house after getting the full-field dish from goalie Matt Russell.
The game didn't sit at 3-1 for long, as Shamel Bratton got in the mix and put one away before Whit found the back of the net for the second time that quarter. Sam Bradman came up big for STX and Billy Bitter punched one in to keep the scoring flurry alive. The crowd was fixated on the action and both teams were more than entertaining for the fans.
With a 4-4 score to end the first, the crowd was anticipating another flurry of shots hitting the net. It didn't seem to be the case this quarter with Team STX goalie Matt Russell and Maverik United's Johnny Rodriguez acting as human walls, not allowing much to sneak through. As the quarter started to wrap up, MavU found luck with Aaron Prosser tallying one, followed by an incredible rebound goal from Erik Krum. With MavU now up 6-4, Sam Bradman took matters in to his own hands and brought STX closer going in to the half. Bradman's beauty of a goal ended the half with Maverik United still up, 6-5.
Leave it to Team STX to come out firing in the second half. Harvard product Jesse Fehr and Denver lacrosse pioneer (no pun intended) scored their first career LXM goals. Baum and Bradman weren't going to let the new guys have all of the fun. Peter found the net unassisted and Bradman tallied not one, but two goals to wrap up the third quarter for Team STX, now ahead 10-6. Billy Bitter snuck one in on Matty Russell to finish the 3rd, 10-7.
It seemed like the typical script of Maverik United coming out hot in the first half, then following up with a lackluster performance resulting in another Team STX victory. Momentum was in STX's favor, and it didn't appear that Maverik would have it in them to pull out a win in Vegas.
Goals are scored one at a time, and Maverik did all of the little things right to get them back in the contest. MavU's veteran defense used its wisdom and experience to keep Team STX away from the net. Hamilton Pollard, Jerry Lambe, and Scott Bollert held it down for Johnny Rodriguez as the offense got to work.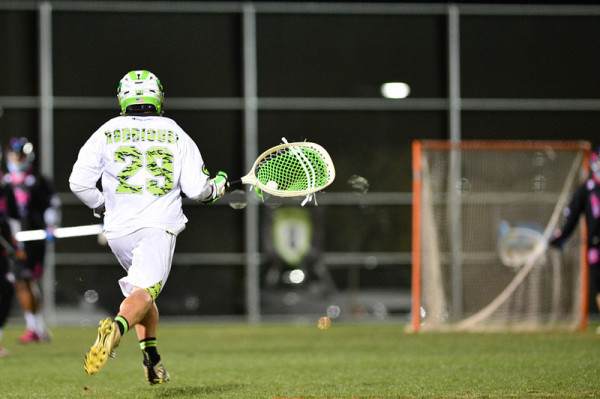 The Maverik United stars stepped up big at the end of the game. Erik Krum got a second goal as Billy Bitter and Whit McCarthy both secured hat tricks. An unforeseen five goal run by Maverik United changed the dynamic of the game instantly. STX did what they could to get the lead down to one after a coast-to-coast goal by defenseman Andrew Casimir, but despite a ton of final chances to score during the final minutes, the commendable efforts by Maverik United paid off, as MavU won the game 13-12.
Krum, Bitter, and McCarthy all finished with hat tricks, J-Rod had 14 saves and Russell blocked 13. Sam Bradman, again, was the leader for Team STX's scoring a team high 4 goals. LXM PRO 702 is an event worth going back and watching. This weekend they meet again in Cocoa, FL. Maverik United needs to keep winning to catch Team STX, who will be looking for revenge after the tough Vegas loss.
Watch it live at The Lacrosse Network where you can find the full games and other LXM PRO highlights for this season, and years past!