On Sunday morning the NLL will hold its combine, and on Monday the NLL Draft will take place. Who are some of the top picks for 2014-15? Which teams have big holes to fill? Who is only going to get better with a new draft class? With only nine teams, the average talent level is already high in the NLL, who's going to take it higher?
Top NLL Draft Prospects
1) Jeremy Noble – everyone is all about Ben McIntosh right now, which is fair, because he is extremely talented, but I'm going with Jeremy Noble as my top dog. Sure, he hasn't played a ton of box lately, but he did move from midfield at Denver to playing at X for Canada during much of the field lacrosse championships, and anyone who knows the field game knows that this is no easy task. If Noble can make that jump against the likes of Team USA, he'll make the move back to box just fine. He takes a beating, gets low and uses his somewhat diminutive size to his advantage, and he knows lacrosse. Even if Noble doesn't hit the ground running, and takes time to re-adjust, he will be a force that you want on your team. For me, he's still the #1 guy. Of course what I think means next to nothing, so Noble could go anywhere from #1 to #4. That would put him in Edmonton, Vancouver, Minnesota, or Colorado. If he's around at #4, no way Colorado doesn't take him, right? His brother, Jason, plays for Minnesota.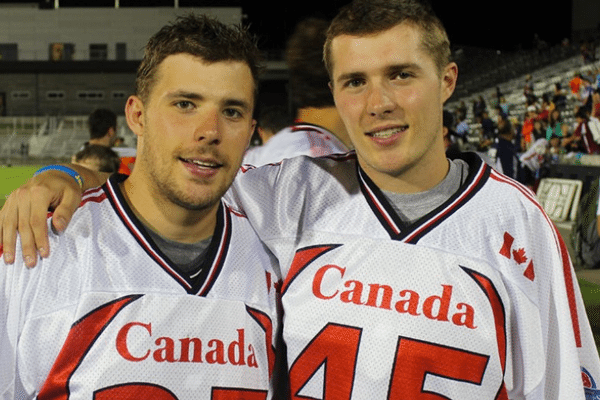 2) Miles Thompson – We'll get to McIntosh, I promise. But for now, let's talk about Miles Thompson! He's a scorer, proven in box and proven in field. He can finish inside as well as anyone in this NLL Draft class, and he's clearly dedicated to the game and making this his profession. All of that is good stuff! He tore it up this Summer and scored more goals than anyone else in Quebec Sr B lacrosse. Miles could go #1 as Edmonton has his brother, Jeremy, on the team already. They also have the #7 pick, where they could conceivably pick up Ty Thompson. 3 Thompsons on one pro team? That would be interesting. Miles is going to be a good NLL player. Someone should pick him up quickly.
3) Ben McIntosh – All three of my top players played NCAA D1 lacrosse, but none of them are from the US. Not that weird actually. The former Drexel Dragon played for the Maple Ridge Burrards this year, and did pretty well on the Sr A circuit, scoring 32 points in 11 games this past season. Maple Ridge did well, and McIntosh's 20 goals definitely helped that effort. McIntosh played his JR lacrosse for Coquitlam where he was a highly regarded player. He could go anywhere in the top few picks, but I expect him to go early no matter what.
4) Robert Hope – Hope seems to be the consensus #1 defender in the draft, according to everyone and their mother. He had a great Summer with Peterborough in the MSL, and is not a flashy defender who throws crazy checks or gets in your face. He just plays defense, and gets the job done. NLL GMs should love the skill set he brings to the floor. They will also like the fact that he has been training hard and playing D2 NCAA lacrosse, where he was an attackman. Yes, a D2 attackman plays defense in box. Stick skills? check. Oh, and he's also 6'5″ tall. Nice range and wingspan on this young man!
5) Eli McLaughlin – And now we see a lefty forward make the list. Finally! McLaughlin is one of the few JR players with no college experience in our top players list. He played the last few regular season games this Summer for Coquitlam after being traded towards the end of the season after two years with the Delta Islanders. He kept his scoring pace high, and then continued that trend in the BCJALL playoffs. In the Western Canadian Finals he kept it going as well, notching around 4 points per game. In the Minto Cup, he dropped 10 goals and 12 assists for 22 points in 6 games. Basically, McLaughlin was good for 3-4 points in every JR game and you never knew if they would be goals or assists. Now, can he do the same in the pros, and consistently put up points at the next level?
6) Mark Cockerton – Will it take some time for Cockerton to get back into the box game? Honestly, I doubt it. Sure he hasn't played a ton over the last two years, but he still plays a bit, and does well when he steps on the floor. He's been tearing it up in the NCAAs and then MLL, and he will be just fine. Someday someone will look back on this draft and say, "why did Cockerton go so low?" I'm not a believer that two years of less box makes you a less viable pro. Not one bit. Cockerton also comes from legendary lacrosse lineage as his dad, Stan Cockerton, is the President of the FIL, and a Canadian box legend. He also had quite the college career at NC State. Cockerton is a lacrosse guy, and will be an asset no matter where he ends up.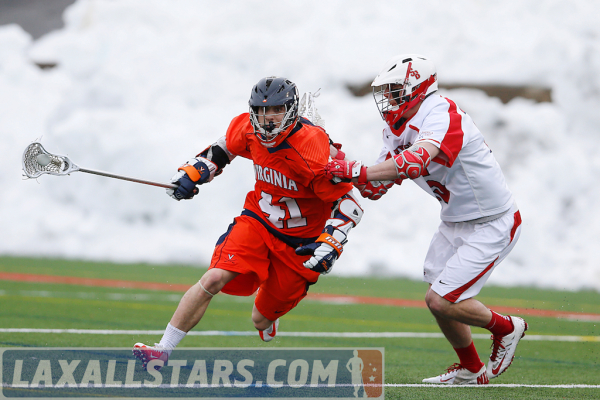 NLL Draft Sleeper Picks
Joe Fletcher & John LoCasio – You might think these two picks are crazy, but if you look at the past couple of years' NLL Draft classes, you'll see that athletic NCAA defenders often get picked up by NLL teams. Fletcher could be a Tucker Durkin-esque draft pick, while LoCasio kind of resembles Jordan Houtby. While neither guy is Canadian, they both seem like smart players, who would be capable of making the transition.
Will either of these guys get picked up in the first round? Unlikely. But if I were an NLL GM, I would take a look at both of these guys. Fletcher could be that stay at home athletic defender that every team wants. LoCasio could be a really solid transition player in the box game. Don't sleep on either of them!
NLL Draft Teams In NEED
If you didn't win the NLL title last year, it could be argued that you are a team in need, but that would be unfair, since, like Highlander, there can be only one. So who really has big holes to fill? Who suffered in 2014 and needs rookies to take up some of the slack?
Edmonton, Rochester, and Calgary all had fantastic regular seasons and they were the only 3 teams to finish the year with winning records. Toronto finished at .500 and Buffalo and Colorado we just behind The Rock, sitting at 8-10. All six of these teams were competitive and put on runs during the year where people had them slated as potential Champions Cup winners. Buffalo started out hot, Toronto was always a threat, and Colorado rebounded late. Calgary was a known threat, Edmonton was straight up dominant, and who could count out Rochester after they had won two straight titles?
Since each of those squads could again see success in 2015, let's focus on the bottom three teams from 2014: Philadelphia (now Connecticut/New England), Minnesota, and Vancouver.
Philadelphia/Connecticut/New England – I'm a little worried about this team because of their lack of offseason moves, late start to getting organized and more. That being said, perhaps this breath of fresh air and crush for time will force Philly/Connecticut to really take a look at their process. Their All American defense (literally, it's all US guys) is athletic and tough. Their transition play is solid and also athletic.  I like their group of forwards?
So why weren't The Wings that good last year? Honestly, it's hard to say. They had some newer faces on board and suffered a tough stretch of games in the middle of the season where they dropped six straight.
For more great lacrosse video, subscribe to the LaxAllStars YouTube Channel!
New England's first pick is 15th, then it continues quickly with the #17, 20 and 22 slots. They can take risks here and pick up four potential sleepers. They pick again at 31 and 34 – expect athletic American defenders to get picked up here, like my sleeper picks. It works! For Philly, I think the NLL Draft is a chance to help their cause, but the core of this team is nicely set already. 2015 might just be about better chemistry, and playing at a casino.
Minnesota Swarm – Behind Vancouver, Minnesota had the worst Goals For to Goals Against difference in the league. They gave up 219 goals in the regular season and scored 180. The 180 goals scored was a league low. The Swarm were actually pretty competitive in most of their games, and rarely got blown out, so there is clearly potential with the group they have. It's a young team, and they are loaded up with good prospects. If 2015 is going to be their break out season, I can't see rookies making a big part of the push. It's been their modus operandi as of late, but by now they have to be looking for their now veteran players to make the push.
If Minnesota drafts smart, they will just draft the BEST players they can, and then trade those players to other teams who have proven players that can fill Minnesota's holes. I think Minnesota has one of the best transition groups in the entire NLL, and if they can beef up their D or goaltending a little bit via trade, this could be a different team. I like their offensive group, but one or two more proven players wouldn't hurt. With the #3 and #5 picks, Minnesota could be in much better shape for the coming year, but it will continue to be an uphill battle.
Vancouver Stealth – The Stealth have probably been the most active team this Summer. They got Kyle Belton from Philly in exchange for Jamie Lincoln. Belton played in about half of the NLL games last year, but had a great 2013 full season with Toronto. I expect him to find a place for the Stealth. They also picked up Brandon Smith, Dane Stevens, Tyler, Haas, Tyler, Burton, Caleb Wiles, and Johnnie Rae for the coming year.
While the Stealth Offense was pretty brutal at times, Vancouver really needed to improve their D and transition play, as only Colorado gave up more goals last year, and it looks like they've been hard at work on that front already. Will all these moves equate to success? The Stealth have seven draft picks, and many are on the earlier ends of each round, so if they don't think these trades and pick ups will work out, the draft can really help them.
The NLL Draft Combine is going down this Sunday. The NLL Draft takes place on Monday. Watch it LIVE on The Lacrosse Network. That's instant access!