Three NLL games this past weekend, with three big results! The outcomes of the contests didn't force me to switch up my power rankings of goodness very much. So, instead, I want to talk about some standout performances from Week 5!
It's time to talk about some of the guys who are standing out early on, and what they're doing to take their teams to the next level. I'll look at each NLL team and talk about a couple of the guys who are really standing out.
Week 5: Creme of the Crop
Rochester Knighthawks
The Rochester offense looks really good, and it should only continue to click and improve. After only three games, the Knighthawks have 5 players with at least 12 points. Add in some rookies and transition guys making noise and Rochester is pumping in goals.
But for me, the real magic is on the defensive end of the floor, and while the whole group has been solid, Graeme Hossack has been an absolute joy to watch. His approach on ball, tenacity, and smart play embody inspired lacrosse, and while he's only one part of a larger defensive unit, Hossack seems to provide a spark whenever Rochester needs it.
Matt Vinc also deserves a ton of credit as his early season play has been nothing short of phenomenal in net. He looks so comfortable out there, and he's giving his defense additional confidence, just as they do the same for him. So far I have in awe of this defensive unit.
New England Black Wolves
The NEBW offense and defensive groups are coming together and there are moments when all the potential coalesces into some beautiful lacrosse. Shawn Evans has been erupting for big point nights since starting off slow, but of all the Black Wolves players I've been most impressed by Colton Watkinson and Joel Coyle.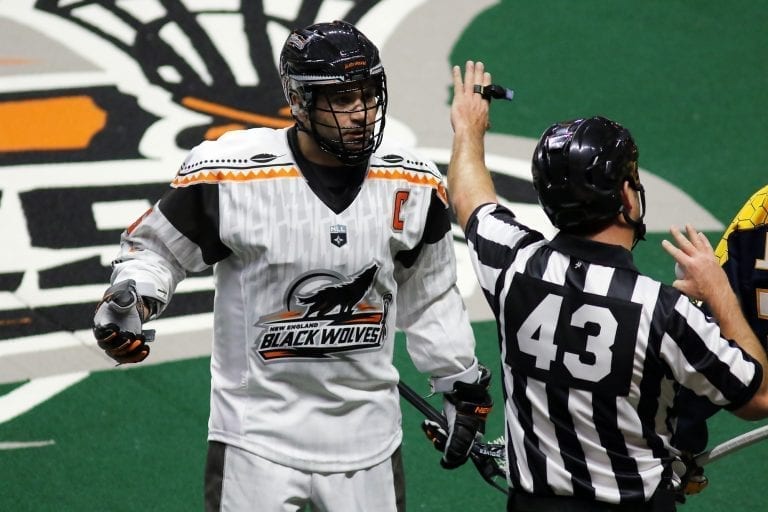 Watkinson is in his first NLL season, but he's got a big body, good wheels, and plays fearless lacrosse. He's limiting rookie mistakes and playing important minutes. Coyle is gathering a ton of loose balls and creating turnovers on his own. He's not the biggest player out there, but he's still able to impose his will on offensive players in only his second year.
Toronto Rock
I'm Dan Craig, don't act like you don't know my name! It seems like NLL scouts weren't sure that Craig would come back to box, but he did, and Toronto looks like genius city for picking him up with the 57th pick last year. After dropping to 0-2, the Rock made some changes and bringing in Craig was one of them. In the two games since he has dropped 9 points on 5 goals (on 15 shots) and 4 assists, while scooping up 8 loose balls.
His youth, athleticism, hunger and sheer talent have given the Rock another dimension on offense and if he gets better as the season goes on, Dan Craig could be a big time impact player in this league from the get go. Plenty of guys on the Rock have stepped their game up in a major way, but Craig stands out for me as a player doing way more than was expected of them in the early going.
Buffalo Bandits
At almost any moment it's pretty easy to just pick a team's top scorer as their most important player and move on. While I am picking Dhane Smith as my guy to watch, it's not JUST because he's scoring goals… it's HOW he's scoring goals. When Smith runs hard at his defender and commits to getting to the cage in a one on one scenario, he is unstoppable.
The goalie MIGHT save the shot, but the vast majority of the time, Smith is getting that shot, and it's going to be a good one. During the earliest games, the space wasn't always there for Smith, as the Buffalo O is still coming together, but during the Bandits last two games, Smith just decided to make the space for himself, and it was glorious. I love a player who can impose their will on the competition no matter what, and recently that guy has been Dhane Smith.
Georgia Swarm
Sure, Georgia has 5 players with at least 13 points apiece over their first four games, but the biggest player for the Swarm right now is on the opposite end of the floor in Mike Poulin. Georgia's offense generates a ton of shots right? 196 is a lot of 4 games. How many have they given up? 206. And Poulin has faced every one of them, making saves on over 75% of the chances.
Georgia needs to pick it up around Poulin on D, win more draws (all 3 players who have taken draws for GA are under 50%), and their offense needs to click, but a hot goalie makes a total turnaround a lot easier, and a great place to start.
Saskatchewan Rush
In only 3 games, five Rush players have amassed 15 points or more. It's ridiculous to have five guys on your team averaging five points per game or more, and the Rush's top 6 O guys look in sync to an amazing degree this early in the year. I could talk about pretty much anyone on the Rush roster as the defense is really doing just as well, but I'm going to focus on Jeff Shattler because he's the new guy… except he doesn't look like the new guy.
With 15 points, 14 loose balls, and a solid role on the power play, Shattler looks like he's been on the Rush for 2 years already. It's really pretty seamless. His shooting percentage is twice as high as it was last year and he creates a good kind of chaos for Sasky.
Colorado Mammoth
It's hard to deny Ryan Benesch the title of "guy to watch right now" because he's doing a LOT for Colorado. 22 points on 10 goals and 12 assists in only 3 games is obviously great, and 18 loose balls over the same 3 games is quite remarkable. But what really stands out for me is Benesch's pure grinder mentality.
Loosie in the corner? Benny is there. Someone forechecking like crazy? Good chance it's Benesch. Some putting the team on their back? RB is likely the guy. It's obviously a team game, but when players see their offensive "prima donna" grinding it out in the corners like a man possessed it helps to elevate the play of all.
Calgary Roughnecks
Calgary is playing more inspired lacrosse lately, and their two most consistent guys have been doing it all season long. Tyson Bell and Zach Currier have 25 and 32 loose balls respectively.
Bell has 7 points and Currier has 3, but both are generating a ton of looks, and both guys have produced 7 caused turnovers each. Calgary gets a boost from their transition runners, and if other aspects other their team comes together, it makes Calgary a real threat to put up points quickly.
Vancouver Stealth
Logan Schuss has been the brightest star for Vancouver when it comes to making good on potential, but Justin Salt is still showing major signs of life and fire. He may not be dropping goals like he can, but he is creating chances, pushing the floor, and trying to get something going for the Stealth.
Both guys are top 5 on the team for loose balls, and Schuss has 15 points to go along with the off the ground play. Chris O-Dougherty is also grinding hard out there and the Stealth looked better and more competitive two weeks ago even though this past week was a complete disaster against Toronto.