There's only one more sleep 'til NLL opening day and I can smell the sweaty pads and hear the fans cheering already. Saturday promises some exciting matchups, as the Bandits take on the newly revived Wings, the Black Wolves invade Infinite Energy Arena to put the Swarm to the test, and the marquee bout to round out the day will be the rebranded Vancouver Warriors going up against Christian Del Bianco and the Roughnecks. Expect this weekend to be explosive as rivalries are renewed and the big guns will be looking to lead their squads to the win column.

New this season is the league partnership with BR/Live, the live streaming service that has the potential to bring the game to an even wider global audience – as the league has worked with Twitter and Facebook Watch previously. BR/Live is offering a season pass for $39.99 U.S./$51.99 Canadian, and game passes starting at $2.99 U.S./$3.99 Canadian per game, and all three matchups this weekend will be free.

In addition to that, the NLL Productions studio has moved into the league office in Philadelphia and expanded their scope, with an emphasis on bringing wider behind the scenes content and relevant stories to the homes of fans wherever they live. It's a great move, because the more accessible the sport is, the greater chance there is that there'll be new viewers, new fans, and hopefully, new players.

So, without further ado, read on as I break down each game and the early implications for the 2019 season.
NLL Opening Day, Game No. 1: Buffalo Bandits @ Philadelphia Wings
Wells Fargo Center 1 PM EST
The Bandits and Wings have the pleasure of kicking off 2019 with this Saturday matinee, but despite the afternoon start, this game will provide all the fireworks and firepower of a primetime match. It's been four years since these two have faced off, and I know a lot of Bandits fans will be making the trip down to Philadelphia to mark the occasion. It was a sad day for the lacrosse world when the old Wings moved to New England, but having them back in Philly makes the league feel whole again.

The X-factor here will be Matt Vinc, the six-time Goaltender of the Year who recently signed with Buffalo after spending eight seasons and capturing three Cups with their I-90 rivals Rochester. He's an absolute game changer in net, and with a more complete defensive unit in front of him, including 3rd Overall pick Matt Gilray and offseason acquisition Bryce Sweeting, he's likely to be up to his brick wall ways again.

However, keep an eye on Wings rookie and 2nd Overall pick Chris Cloutier, who just this past year finished his NCAA career at UNC with 111 goals and was the MLL's Rookie of the Year despite missing most of the season for the Outlaws. He's big, athletic and his hands are lightning quick, which would make any coach happy to have him on the floor. Lucky for him that he has Paul Day to help him transition to the pros.

If the Bandits lose on NLL opening day, don't expect co-head coaches Rich Kilgour and John Tavares to lose faith in their guys too quickly. It's a group that will absolutely need to improve defensively over last year, and a loss to a first-year team will hurt but not undo all the work they've done in the offseason. That being said, the Wings have the most to gain from a win, and won't be pulling punches to get there. If Cloutier, Jordan Hall and newly named captain Kiel Matisz can find the back of the net, they'll have a chance. But the goaltending duo of ex-Bandit Davide Diruscio and Doug Buchan might prove to be the Wings' Achilles heel.

NLL Opening Day Final Prediction: Bandits-12, Wings-10

NLL Opening Day, Game No. 2: New England Black Wolves @ Georgia Swarm
Infinite Energy Arena 7:05 PM EST
There'll be a ton of young Native players taking the floor Saturday night, with the likes of Seth Oakes and Dougie Jamieson for the Black Wolves, and Swarm mainstays Lyle and Miles Thompson. These are two franchises that have always made an effort to feature and develop Native players and it's proven a highly successful strategy, especially in Georgia (who were Cup winners in 2017). With that in mind, these two East Division squads have always had great regular season battles and look for that to continue this year.

Stephan Leblanc will lead a Black Wolves offense that has seen a lot of turnover from last year, with guys like Shawn Evans and Kyle Buchanan no longer in the mix. But if Leblanc can reproduce or best his 25 goals and 70 points with New England last season, offensive woes shouldn't mire the team. On the other end of the floor, I'm excited to see how Johns Hopkins product and former Roughneck Holden Cattoni will fare in his debut with the Swarm. He saw an incredible 50-point increase from 2017 to 2018, and the move to Georgia might be what he needs to make the next step in his career.

My X-factor for this game has to be Lyle Thompson. He's the easy choice but he's the right choice, and while he's always been the face of the franchise, the departure of Kiel Matisz means he's their heart and soul now too. They go as he goes, and although he has plenty of guys around him to share the load, they'll be looking to him to steer the ship night in and night out, whether he wears a letter on his jersey or not.

In terms of down the road, the winner of this tilt will put themselves in good playoff position, despite it only being Week 1. Georgia won the season series between the two teams 2-1 last year, and was the top-seed in the East before falling to Rochester in the East Division Finals. Although, their 11-7 record was only two games better than New England's (9-9), and if New England had stolen one more game from Georgia, you're looking at a three-way tie for the Division. And that's what I love about this league: every game counts, whether it's opening night or two weeks before playoffs.

Both have a lot to gain on Saturday, and that will prove for some exceptional lacrosse.

NLL Opening Day Final Prediction: Swarm-15, Black Wolves-10

NLL Opening Day, Game No. 3: Vancouver Warriors @ Calgary Roughnecks
Scotiabank Saddledome 9 PM EST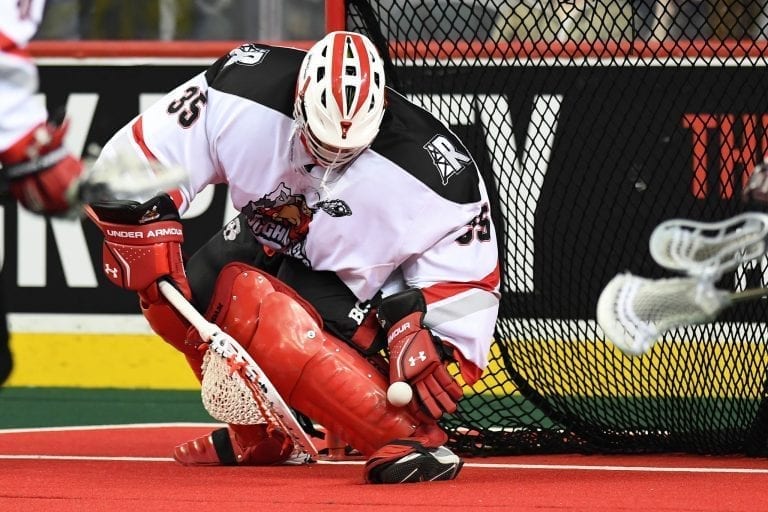 The nightcap. With fresh threads, new owners and a new barn, Vancouver will look to roll into Alberta and ruin the Roughnecks' opening night bash. Vancouver cleaned house this past offseason and are relying on a lot of BC boys to return them to the playoffs, after going an abysmal 2-16 last year. But Curt Malawsky and his Calgary squad will try to put the Warriors through the wringer, and I'm sure Rhys Duch will want to make a statement against his old club.

With the Warriors starting fresh, look to Aaron Bold to provide some consistency in net. The Victoria, BC native comes to Vancouver after only one year in New England, and can provide momentum if the offense can't get their feet under them right away. They've lost their top two scorers from last season, the aforementioned Duch and Corey Small, but also acquired Mitch Jones from Buffalo, who dropped 38 goals and 81 points in 2018.

But, this might turn into a battle of the net-minders, and not in a bad way. Most fans want to see goals, but when you're watching some of the best goalies in the world at the top of their games, it makes for a great night. That's why I'm going with the young guy in net for Calgary, Christian Del Bianco, as my X-factor. Although his W-L record wasn't exceptional last year (7-6), his numbers sure were (10.50 GAA, .793 SV%), and if he can start hot and stay hot, Calgary will be hard to beat.

The Roughnecks have the most to lose here simply because they don't want to drop one to fresh-faced Vancouver so early in the season. Calgary has a proven and established squad, and the Warriors want to play the spoilers. But if the Warriors can make the most of their offseason moves and changes, they're likely to at least make this rivalry competitive and fun again. Don't expect Calgary to put up 26 goals against Vancouver this season.

NLL Opening Day Final Prediction: Calgary-14, Vancouver-12
More from Ira Huff: Mammoth preview, Seals preview, Rush preview