Photo Credit: McAll-Star Kids 
Welcome to my new series Red, White and BOX!
Let's throw this up front, box lacrosse is Canada's game and I'm not going to deny that. Whether you want to call us renegades, wanna-be's, or noobs, we don't care, there is a small, but solid, core group of Americans who have experienced box lacrosse in one way or another and this is where we can band together to share information and successes of box lacrosse entities in the United States.
If we have to go north of the border to find our competition, so be it!
We know there is a bright future for box lacrosse in the United States, now it's time to educate. This is a series for all things box lacrosse taking place Stateside, "indoor lacrosse" just isn't going to make the cut.
[mks_separator style="solid" height="4″]
It looks like box lacrosse here in the United States is really starting to pick up. 2014 has already seen some great progress and we're just a little over halfway through year!
USBOXLA
Nationals
The USBOXLA Nationals took place the first weekend of this month and I've got to say that it's satisfying to watch the growth of youth box lacrosse here in the States year after year.
USBOXLA Academy took place on the Friday before the tournament and was led by some of the best box lacrosse coaching support in the USA. The kids saw instruction from guys like: Matt Brown, Shaydon Santos, Ben Prepchuk, John Gallant, Jamie Lincoln, Jamie Shewchuk and Dylan Sheridan.
Divided into two sessions, the players received top-notch and uptempo instruction while still keeping the kids prepared for the weekend. The event was littered with future Division 1 athletes and other NCAA recruits.
USBOXLA's Referee in Chief Steve Verba lead the USBOXLA Referee Certification Courses in the classroom which were attended by officials from Denver, California, Arizona and Maryland. They prepared themselves and mixed experienced officials with rookies and ran 3-man crews to ensure safety and that the exact standards of the USBOXLA Rule and Situational book were carried out throughout the event and at all USBOXLA events across the nation.
The tournament began later on Friday night and the nation's largest youth box lacrosse event was underway for the 3rd time in existence.
Home team Cali*Lax ALL-STARS were the first to earn a gold medal in the event by their PeeWee squad in a win over the Jr. Stealth. This gives the PeeWee Cali squad a perfect 10-0 record for the USBOXLA Nationals history books.
Matt Brown's Denver Elite program earned 3 gold medals, Bantam, Midget and High School as well the title as the US' box lacrosse powerhouse.
USBOXLA is fresh off an intermediate tour of British Columbia with the High School Elite division and the trips has proven to be beneficial already to the young men's skill sets.
Even Denver's Coach Bill Tierney got in on the action, he took the helm for the USBOXLA all-star games and showed his commitment to the growth of box lacrosse here in the States. To many it was already obvious as many of the high schoolers on the floor were future DU players and Denver has been a pipeline bringing popular Canadian box players to the US to play NCAA D1 lacrosse for years.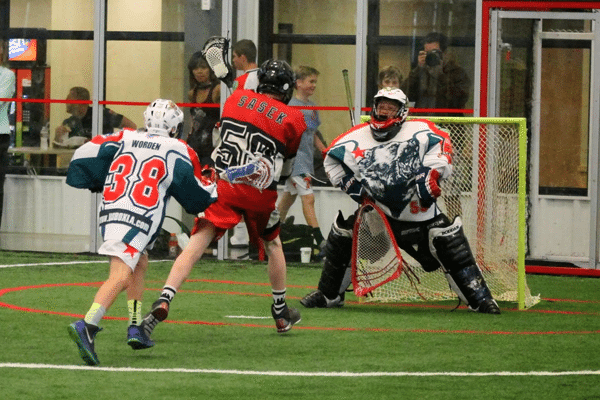 The United States was also proud to boast that no Canadian teams made it to any of the finals, a true testament for the growth and athleticism of US based box programs.
The invitation-only 2015 USBOXLA Nationals are set at July 31-Aug 2nd, in Los Angeles, California.
British Columbia Tour
TEAM USBOXLA BC Tour Results
USBOXLA 10 – Langley Thunder 14
USBOXLA 14 – PoCo Saints 14
USBOXLA 9 – New Westminster 13
USBOXLA – 11 – Delta Islanders 12
USBOXLA – 8 – Coquitlam Adanacs 14
Team USBOXLA Intermediate 'A' returned last month from their 7 day, 5 game, tour playing some of the best U18 talent on Canada's west coast. USBOXLA is striving to legitimize box lacrosse here in the United States by matching feet with Canadian standards.
Team team was almost mainly comprised of players from Matt Brown's Denver Elite program and the Cali*Lax ALL-STARS, led by Shaydon Santos. This also was not the first time these Americans have hit the box, each player had competed in box events around North America as well.
The Cali*Lax ALL-STARS players have found some success north of the border, going undefeated in the Midget A Calgary Canada Day Tournament in 2012 and 2013, and most participated in the 2010 Cali*Lax Ontario Tour competing against experienced squads from Whitby, Brampton and Peterborough.
Team USBOXLA Inter A Tour vs Coquitlam Adanacs 2014 from USBOXLA on Vimeo.
Intermediate lacrosse in Canada is no joke. Intermediate is strictly referring to the age of the players, not skill level. The league the team went to BC to face has produced some of the top players in the game such as; Kevin Crowley, Jessie King, Weleys Berg, Curtis Dickson and Jordan Hall.
It's a pro lacrosse setting in Canada, even at the younger ages. USBOXLA spent their days having light shoot-arounds at outdoor boxes in Port Coquitlam and games at night were played in historic Canadian arenas like Queens Park, home of the New Westminster Salmonbellies. Announcements, anthems, all eyes on the floor, it is all part of the recipe to help legitimize the sport.
Team USBOXLA is looking to return to Canada in 2015 with a few more of the US' top tier athletes that are looking for more than the States have to offer. To learn more about the 2015 tour, visit the USBOXLA website!
CILL
The Continental Indoor Lacrosse League (CILL) is well underway in it's 4th year of existence. The first game of the season of the year took place in Chicago on August 2nd with a 14-12 Chicago Outlaws win over the Grand Rapids Dragonfish in a tight matchup.
The weekend of August 8-9 was highlighted by a home round-robin weekend for the Dragonfish who came out undefeated in the league's first full weekend of the year taking out Lansing 29-5, Chicago 14-12 in a penalty ridden game for the Outlaws and Milwaukee 22-8. The Chicago Outlaws finished the weekend 2-1 as did the Milwaukee Marauders while the Detroit Coney Dogs finished 0-2 and the Lansing Hotrods 0-3.
Last weekend we saw another play day, this time in Lansing, MI. Grand Rapids again came out the top dogs with convincing wins over the resurrected Cleveland Demons and the Pittsburgh Octane. Cleveland and Pittsburgh both found wins over the Hot Rods as well.
This past weekend, the Outlaws found wins in Wisconsin of Milwaukee and Lansing, while Lansing dropped another match against the Marauders. Lansing is pulling most talents from Michigan State and Indiana Tech. The infancy of the club results in under-protected players and goaltenders, but a mentality that is relentless. We hope some bicep pads, a good set of Boddams and some rib guards could help to get the Hot Rods on their feet. This league is not the glorified pickup league it may seem to be, many of these clubs take this playing opportunity very seriously.
Here's a little word from Chicago Outlaws' netminder, Des Bailey, on gettin' off your butts to come watch some CILL action!
League Standings (as of Aug. 26)
Grand Rapids Dragonfish 5-1
Chicago Outlaws 5-1
Milwaukee Marauders 3-2
Cleveland Demons 1-1
Pittsburgh Octane 1-1
Detroit Coney Dogs 0-2
Lansing Hot Rods 0-7
NLL
Although the historic Philadelphia Wings are no more, we didn't lose a team to a Canadian city!
Not that Canada doesn't deserve more lacrosse, but I would hate to see more NLL franchises picking up and heading north of the border, cough, cough, Stealth, cough.
Connecticut is getting pro lacrosse, because the state was sure that women's basketball wasn't going to be enough.
The Wings are headed to the Mohegan Sun Casino in CT, where they will become the second pro sports team to operate out of the Casino's facility, with the other being the Connecticut Sun, a WNBA franchise. At first, this move doesn't make any sense… but as you look a little closer, the lights start to come on, and then you get blinded by the obvious: NOT making this move wouldn't make any sense. It simply had to happen….READ MORE.
House Leagues
Philadelphia, PA
The PBLA has been holding it down in Philly for about 28 years or so and this year was no different. The boys from the City of Brotherly Love were grinding it out again this summer and more most, the league did not disappoint.
Guys like RedBeard, aka Travis, travel all the way from central New Jersey to throw down in Philly. Even with all of the travel requirements, there remains no complaints and endless smiles. Although he is spending around 20 hours traveling to play in these games, this is only his second summer playing in this league and likely not his last.
The Philadelphia Box Lacrosse Association calls Rizzo Rink it's home. This is "The League" in the Philly area from what we're told by guys in the area. There are 7 teams this season; Beer Wolves, Grim Reapers, Lacrosse Wear, Outlaws, Thunder, The Edge, and Wawa.
The Thunder just knocked off the Outlaws, the team which Travis is the goaltender, 10-9 in a sudden victory OT win to claim the Doreen A. Menschner Memorial Cup.
//
If you were to compare it to Canadian box, it's pretty similar to Sr. B or so. The league plays 3 periods and goalies can use the big sticks which have to be within 17 inches, most of the guys use the Gait Web but a couple goalies, including Travis, use the Warrior Wall.
Some rules are modified for the size of the rink since it's significantly smaller than a full pro rink. There is a "no over and back" call, nor is there a count to get it over the mid-line unless there is a penalty. The penalized team has 10 seconds to get it over, but once crossed, cannot go "over and back" to prevent the team from killing the penalty in the corner of their defensive zone.  Other than the modifications because of the rink, it is a full check league. Cross checking and diving are not just "allowed" but encouraged.
Its fast, competitive, physical and a hell of a lot of fun. – Travis "RedBeard" Sandin
There are a few former PLL and NALL players in the league competing with a bunch of converted field guys. Evan Swiker from the Reading Rockets and Patrick Crosby who kept goal for the Kentucky Stickhorses, along with a bunch of guys that have gone to Prague for Ales Hrebesky Memorial Box Lacrosse Tournament really help to boost competition and help others pick up box faster.
The cost to join is very affordable, somewhere around $120 with a team jersey done by this years supplier UnCommon Fit. Players are given 12 regular season games and the top 4 teams make it to playoffs to be topped of by the championship game.
Learn more about the PBLA by visiting their website or liking on Facebook!
Cincinnati, OH
This year, the Cincinnati house box leagues were bigger than ever! At the youth level, all divisions had 4 teams in each league for 4 different age groups: Novice (U10), Pee Wee (U12), Bantam (U14), and Junior (U18). Each age group had one game, as well as one practice, each week.
At the men's level, the league DOUBLED in size to 8 teams for 2014! In addition to the returning teams (teams based on players from Loveland, Ohio, Moeller High School graduates, University of Cincinnati players, and the Cincinnati Men's Lacrosse Club) 4 new teams joined the league (Cincinnati Slowbreakers master's team, St. Xavier High School Alumni, Mariemont High School Alumni, and a mixed team organized by Laxland Sporting Goods) and at least 2 other teams were turned away once the league was declared full!
The league featured an extraordinary mix of talent and experience, and it was interesting to see the different styles that teams brought to the box. The UC team, 2013's last place finishers, came in strong. They played much the same fast-paced, field-based style as last year but with a deeper bench, strong goaltending, and enough speed to rack up wins in 2014. The Laxland and Moeller teams emphasized offense, with considerable talent from a wide range of college programs including Delaware, Bellarmine, John Carroll, and Manhattan. Both teams also featured strong goaltending with Mike Riggall returning for the league runners-up Moeller team and local product Jason Susshine playing solidly in his first season of box goaltending.
The season began & ended with rematches of 2013's premier matchup- Loveland versus Moeller. Although Loveland defeated Moeller several times the previous year, all of the games were tight, tense, 1-goal games. This year, Loveland added bodies and box knowledge to win games more decisively. Loveland's defense, in fact, proved the deciding factor in games against teams with stacked offensive talent.
For the tournament at the end of the season, Loveland held off a determined Laxland attack to advance to the finals, while Moeller easily dispatched the Cincinnati Men's Club, despite a late rally. The finals was another classic Loveland-Moeller battle, that remained within 2 goals until midway through the 4th quarter. A breakaway goal on a long outlet pass by Loveland goalie Sean Murphy to tie the game sparked a surge by Loveland that saw them take their 2nd consecutive title 11-8.

Photo Credit: www.nrcwpix.com
Since the end of the season, 3 local players have seen time in the CILL with goaltenders Dustin Gregory (St. Xavier), Sean Murphy (Loveland), and Drew Eppley (Cincinnati Men's Club) all seeing playing time for the CILL clubs in Detroit and Lansing. Open play will continue at the Loveland Box (the only Stateside dedicated outdoor box arena west of the Appalachian mountains) until late September, or as weather permits. Long-terms plans for Cincinnati-area box lacrosse are to resurrect the winter indoor season and hopefully start a winter game series against the Box Night In Kentucky players in nearby Louisville, Kentucky.
BLA
YBL – Elite & Develpomental
Box lacrosse is exploding in Minnesota and it's being driven by the NLL's own Minnesota Swarm. On top of having organizing one of the most well rounded youth box lacrosse teams in the nation, the Swarm are also proud to boast about the Youth Box League (YBL) which saw over 1,000 participants this past spring.
The Elite League featured two age groups, U13 and U15. Players from communities like Woodbury, Anoka, Oakdale, Jaxx and towns from around the Twin Cities made their way to participate in the Elite division.
From the Elite division, tryouts were held in which the 2014 Jr. Swarm team was chosen. Full update on the BLA and YBL in Update #2!
Jr. Swarm
The Jr. Swarm is currently en-route to Toronto, to once again compete in the Jr. NLL Championship hosted at the Toronto Rock Athletic Facility. Learn more about last year's event and the progress Minnesota made in their first Jr. NLL event!
We will have a full rundown on the Jr. NLL Championship in Update #2 as well!
Jr. Swarm Camp
Editor's Note: Blake Dickson is a young buck but helping to lead the American box lacrosse charge and it all began with Blake competing with the Junior Swarm and playing in the YBL in Minnesota. Blake is back to walk us through the Junior Swarm camp and what he has seen, heard and experienced while at camp this week.
Day 1
The first day of Junior Swarm camp was very fun. Everyone was really excited to have the teams together preparing for our next Junior NLL Tournament. We did a lot of drills and exercises that we very fun, and very difficult at the same time. We started the morning off with a lot of footwork and conditioning.
In the afternoon, we did drills to improve our endurance a lot, and endurance is a requirement for box lacrosse. We did a lot of really fun stick and dodging drills that improve so many parts of your game.
With Aime Caines, Callum Crawford and Corbyn Tao coaching, it makes so much more fun participating.
Day 2
The second day of Junior Swarm camp was challenging and fun. Callum Crawford worked us very hard and had us do a lot of drills that will help improve our speed and agility.
We also did 2 on 2 drills so we can improve our 2 man game and pick and rolls. Pick and rolls lead to helping you score many goals in box lacrosse, it is very important that you know how to do them properly.
Day 3
The third day of Junior Swarm camp was a blast!
We worked on using our strong hand to our advantage in 2 on 2 situations, and making sure we had the best angle possible while shooting close range. Callum Crawford is one of the best shooters in the game and it's very cool that he is able to teach us the techniques we aren't as familiar with yet!
Day 4
I learned so much in the fourth day of Junior Swarm camp. Coach Crawford taught us the term 'the stick has eyes' which means that your stick can see parts of the net that your eyes can't see.
It comes in handy when the goalie is cutting off the angle so you can shoot over him. I'm definitely going to practice it. I encourage everyone to pretend that their stick head has eyes and explore what sort of angles your stick might have that you don't typically see.
Day 5
The fifth day of Junior Swarm camp was a blast. Our coaches focused more on having fun than working us extremely hard. We played a bunch of different lacrosse related games and there were contests too. It's always a blast to do those with the team.
Wrapup
The Junior Swarm camp was a great learning experience and a ton of fun. I learned so much from coach Aimé Caines and Callum Crawford. I'm so thankful that I was able to be a part of the experience. I know we are better prepared for the 2014 Jr. NLL tournament in Toronto!
[mks_separator style="solid" height="4″]
Got the lowdown on anything box? Tell us about it in the comments below! We would love to feature your team, community or anything your passionate about when it comes to box lacrosse in the United States!