After 15 years, the Tewaaraton Award has only gotten stronger, and now that the Tewaaraton Scholarships program is off the ground and running, the Tewaaraton is positioned to make continued gains. I always liked the idea of the Tewaaraton Award. I loved the annual hoopla surrounding the Heisman as a kid, so to see that for NCAA D1 lacrosse as an adult… well, it brought me back to my younger days of fandom. And that's a good thing!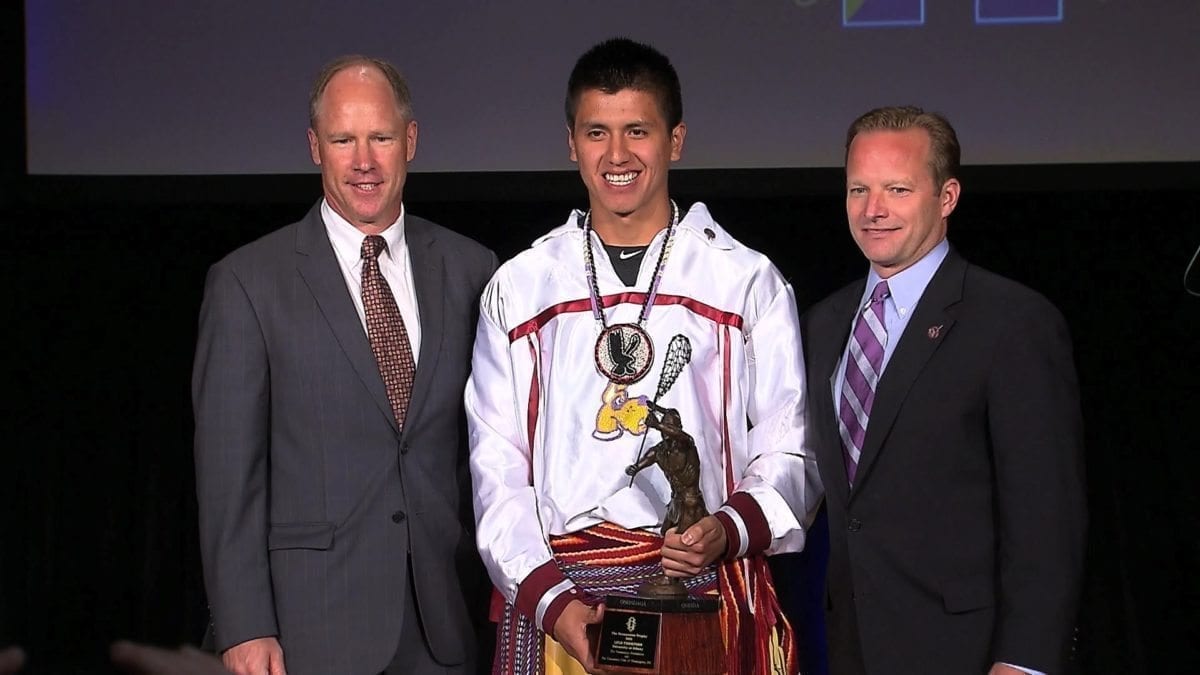 On February 23rd, there is a Tewaaraton Fundraiser and Watch List Announcement in New York City, which should be a fantastic event. You can still purchase tickets for the event HERE, and they start at $75, which isn't too bad for a night out at Cipriani in midtown NYC! Former trophy winners, lacrosse legends, and old friends will all be in attendance. It should be quite the night out!
The big news for many is that the watch list for the 2016 Tewaaraton Award will be announced, and while this is obviously big news, the real driver here (for me at least) is the scholarship aspect of the night's festivities.
2015 marked the first year where the Tewaaraton Scholarship was upgraded from $5,000 to $10,000 per recipient, and a male and female recipient still receive the award each year. The goal for the Tewaaraton is to increase the scholarship amounts, and the overall number of scholarships given out, over time. Of course they will need your support to do so! So if you're in NYC, come to the event on Tuesday!
Of course if you're not in NYC and still want to support the scholarships, you CAN! The Tewaaraton has a silent auction website set up, and while there are some serious big ticket items like trips, there is also some Under Armour/Tewaaraton limited edition gear up for grabs, and since they sent me a sample of all the stuff, I can vouch for its awesomeness. The gloves and shaft are excellent, the t-shirt is super comfortable and the jersey is cool… but the vest? Oh, the vest. This became an instant staple in my wardrobe overnight!
You can access all the auction items right HERE!
But maybe you want to know what you're supporting first, or you want some testimonials? Totally fair. Here is what the Tewaaraton looks for in scholarship candidates:
The Native American Scholarships recognize and reward exceptional academic achievement, athletic performance, and ambition. Applicants are asked to articulate what lacrosse means to them as a student-athlete and a member of their community. As one of the primary goals of the scholarships is to honor lacrosse's native roots, the selection committee weighs heavily on this aspect of the application. Students must be a member of the Iroquois community, enrolled in a secondary school and be in good academic standing to be eligible for this scholarship.
Over the program's multiple years, over $100,000 have been handed out to scholarship winners.
Past Winners – Tewaaraton Scholarships
2015 – Lynnzee Miller, Mohawk Nation, Wolf Clan; Chaunce Hill, Six Nations Seneca, Turtle Clan
2014 – Alie Jimerson, Cayuga Nation, Bear Clan; Kason Tarbell, St. Regis Mohawk Tribe
2013 – Cassandra Minerd, Onondaga Nation, Eel Clan; Robert McMicking, Cayuga Nation, Wolf Clan
2012 – Marissa Haring, Seneca Nation; Bradley Thomas, Tuscarora Indian Nation
2011 – Kristiana Ferguson, Tuscarora Indian Nation; Christopher White, Oneida Nation
2010 – Taylor Hummel, Tuscarora Indian Nation, White Bear Clan; Kyle Henry, Tuscarora Indian Nation, White Bear Clan
2009 – Issac "Ike" Hopper, Onondaga Nation, Trenna Hill, of Mohawk Descent
2008 – Emmett Printup, Tonawanda Seneca, Turtle Clan; Corinne Abrams, Tuscarora Indian Nation, Turtle Clan
2007 – Alexander Jamieson, Seneca Nations of Indians, Wolf Clan; Mia McKie, Tuscarora Indian Nation, Turtle Clan
If you've been paying attention to college lacrosse since 2010, you know who most of these student-athletes are! And to illustrate how big of an impact the Tewaaraton Scholarships are having, here are a bunch of quotes from some of the recent winners:
Kason Tarbell – "It was a great honor to be a recipient of the Tewaaraton scholarship. Financially, it has really helped me out a lot. I also had a great experience at the Tewaaraton ceremony, and I had the opportunity to meet a lot of people."
Alie Jimerson – "It meant a lot to me that I was able to win the Tewaaraton scholarship because I was able to travel to Washington, D.C and go through the experience of a lifetime. It's not every day that you are able to receive such an honor, and the feeling you get when you are on that stage receiving the award is a once-in-a-lifetime feeling, that is unless you are able to be nominated for the collegiate award! It also was awesome because I was there to witness history, with two Native Americans receiving the award at the collegiate level, so that was awesome too."
Robert McMicking – "It was a great honor to receive this scholarship. I am proud to not only represent myself, but my family, my school, and my people. Hard work and dedication allowed me to be successful and experience this amazing event."
Cassandra Minerd – "My experience with the Tewaaraton showed me that if you put in the hard work and dedication, you will be rewarded at the end. The Tewaaraton has inspired me to continue to do my best academically and to keep playing my hardest for not only myself but for other native players."
Antoinette Roger (Chaunce Hill's mother )- "I would like to extend my gratitude to you and the foundation directors and members for this prestigious scholarship. These monies took a tremendous weight off of our shoulders as parents. We always push our 8 kids to do their best in everything, and we always tell them to do it and we will do everything in our power as parents to help them achieve their dreams. This scholarship has helped Chaunce's dream of playing lacrosse and attending college at UAlbany come true!!! There are no words to describe how thankful I am for what the foundation has done for our family and Chaunce. Thank you from the bottom of our hearts. Nyaweh gowah!!!"
The opportunity to give back to the sport is not lost on the Tewaaraton board either. Steve Stenersen, CEO of US Lacrosse and also a Tewaaraton board member had this to say:
"Native American scholarships are an integral part of the Tewaaraton Foundation's mission, and US Lacrosse has been honored to invest in such an important program. But there are so many more deserving Native American student-athletes who could use our help to fulfill their dreams, and it's our goal to secure the additional financial support required to expand this wonderful program."
So while the Tewaaraton Award itself continues to grow, improve, and progress, the Tewaaraton Scholarship Program looks to do the same. Get on board, and support the Tewaaraton Scholarship by attending the event on February 23rd, or by participating in their online silent auction!
If you're looking for "Tewaaraton" pronunciation help, look no further. We've got you covered!