Editor's Note: Welcome to the first annual Drew Jenkins Award post! Ryan Conwell approached us with the idea of creating an award for growing international lacrosse, and we were on board from the first minute. The idea is to acknowledge people from the US and Canada whose efforts to Grow the Game internationally deserve some love! Take it away, Mr. Conwell…
The phrase "Grow the Game" means many things to many different people, myself included. The recent World Indoor Lacrosse Championships in Syracuse exemplified that fact. While the 2015 WILC was actually the first world games that I was able to see in person, it only got me more excited for the future of the new world game.
Just about every lacrosse fan knows where the Canadian, American, and Iroquois teams stand in terms of talent, experience, and organization prior to any event like this. What often remains a mystery until the games start up is what to expect from all those other teams from around the world. These other nations are always at the forefront of my mind when I think about where the game is growing. It takes some truly dedicated people to start and grow lacrosse in various parts of the world. The obstacles they face in terms of facilities, equipment, coaching, and talent pool are almost beyond comprehension for many in North America.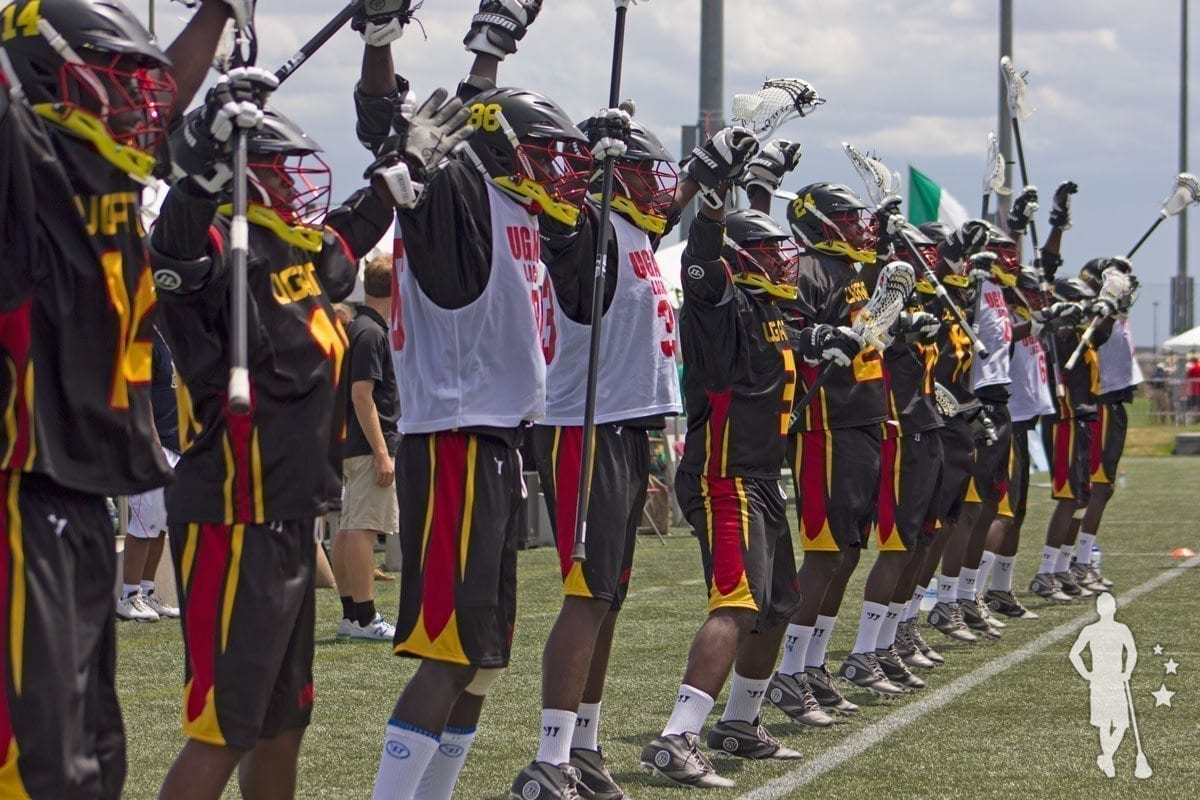 What I loved so much about being at the 2015 WILC was seeing all the stuff that doesn't show in a webcast. Seeing a full section of Czech fans chanting and singing though a game. Walking into the Onondaga pavilion to a near capacity crowd where 80% of them are wearing Ireland jerseys, shirts, and colors. Seeing players from teams who play next walking off the bus and going through the familiar process of taping ankles, stretching, and warming up before the previous game finishes, just as you would see for any college or pro team in the US.
Of course there is also the constant reminder of how small the lacrosse world can be, as players and coaches that went to the same college, play for the same pro team, play in the same pickup league, or just remember each other from previous tournaments catch up or exchange a brief handshake before facing one another.
All these things together drive home how much lacrosse is growing around the world.
The WILC had six teams enter the indoor tournament for the first time (Finland, Germany, Israel, Serbia, Switzerland, and Turkey) while last year's field championships had nine newcomers (Belgium, China, Colombia, Costa Rica, Israel, Russia, Thailand, Turkey, and Uganda). When thinking about how difficult it is to grow lacrosse outside of the United States and Canada, you must realize how daunting the first big international competition is for these young teams. They have very little experience on their side and they can run into some of the best players in the world who have played their entire lives, often while paying their own way to play!
I know this is controversial to some, but I am a big proponent of players who are eligible for the US or Canada playing on these other teams if they meet the proper requirements. There is much to be said about a 100% home grown team. I truly believe that each country will need to develop and foster their own talent in order for lacrosse growth to be sustained well into the future. With that being said, giving them the boost of experience and lacrosse IQ from someone who learned in the US or Canadian systems and worked their way up the NCAA, CLA, or pro levels can help make that large mountain of competitive imbalance much more manageable.
For smaller countries and those who are just starting international lacrosse, one or two key players can make all the difference between being competitive and struggling to score a goal. The burden that these players carry can be immense. They don't have to be an NLL or MLL all-star to make a difference, either. When someone with a high skill and fitness level gets put into this situation, amazing things can happen. For me, these attributes were personified in the 2014 Championships by Drew Jenkins for Bermuda.
Drew Jenkins Award – The Story
Jenkins had just finished his college lacrosse at Syracuse a few months before the tournament in Denver. With All-American honors and a New Jersey state championship to his name out of high school, he entered into a highly competitive environment at Syracuse. His freshman year was 2011, which was a very senior and very talented team for Cuse. This was the team featuring eight All-Americans: three first teamers (Joel White, John Galloway, John Lade), two second teamers (Stephen Keogh, Jovan Miller), one third teamer (Jeremy Thompson), and two honorable mentions (JoJo Marasco, Josh Amidon).
Despite that amount of talent on the field, Jenkins found himself thriving in a role as a short stick defensive midfielder. He would stay is this role for all four of his season in orange. Being just 5′ 6″, he was always the player on the field whom opposing offenses would focus on and try to exploit. Time after time however, he held up and learned how to play the angles and use leverage to his advantage. He also was always a constant threat on fast breaks when he could use his speed to set up the attack for a quick goal. Why mention his college career? It's worth bringing up because there are no eye-popping stats, no national postseason accolades, and no highlights reels floating around YouTube. He simply played one of the most unheralded roles in lacrosse very well for four years… at Syracuse.
That makes what Jenkins did when put on the world stage with a small program was nothing short of remarkable.
Jenkins was all over the field for Bermuda, being a central part of their offense, their defense, and taking their face-offs. To really emphasize how central he was to this team on offense, and what was also a fantastic display of irony, the commentator on the webcast mentioned at one point after a great defensive play something along the lines of: "He's not just an offensive threat folks, he even plays defense too". Yes, he certainly can play defense!
Over the course of the tournament, while playing ironman lacrosse, Jenkins went on to lead all players in face offs won, ground balls, and led his team in shots. It isn't just that he led in these categories, either. He completely dominated them. His 95 ground balls topped the next highest total by 26. That's almost 38% more! His 115 faceoff wins were also 24% more than the next highest total. To go along with these numbers, he recorded an average of just over seven shots per game.
As I mentioned before, some in the lacrosse community are critical of players without strong ties or sole citizenship in a country playing for those national teams. While Jenkins never lived in Bermuda, his grandmother was from there, and that is how he qualified for the team. He had visited there a few times growing up but did not find out until high school that they even had lacrosse on the island. For him, playing for his Grandmother's country actually helped create a stronger relationship with her and gave him ties to another lacrosse community. While his history was not intertwined with that of Bermuda Lacrosse's, he has every intention on helping them grow in the future. The past has to start somewhere!
2015 WILC Award Winners
All of the above is what brings us to a new pair of awards I'd like to give out this year.
Thinking back to Jenkins' performance last year and the effort I saw this year at the WILC, I decided to make up some awards of my own. The first one is what we'll call the Official Unofficial Drew Jenkins Award.
This award will go to a player in an FIL tournament who played in either NCAA or CLA, but joined another country for the games and put forth an extraordinary effort for that team. Ideally, this person led or was near the top in at least one statistical category in the tournament and played the vast majority of shifts. The other award will be new for 2015 and go to the player from North America who now calls someplace else home. It's for the player who not only travelled abroad, but also settled down, and brought their love of lacrosse with them. This award is called the Transplanted Game Grower Award.
To avoid spoilers, I'll hold off the name of this one for a few more paragraphs.
2015 Drew Jenkins Award Winner
When looking back on all the games that took place at the WILC, the individual performance that really stood out was that of Anthony Terranova for Turkey. While watching Turkey play, I noticed that Terranova rarely left the floor all week. Out on the floor, he also led the entire tournament in points (67), goals (42) and was tied for second in assists with 25. This is even more remarkable considering that in his NCAA career at Rutgers as a midfielder, he was never higher than fourth on the team in points, and ended only with second team All-Big East honors in 2014.
Similar to Jenkins at Syracuse, if you paid attention to Rutgers or the Big East, you knew Terranova, but he wasn't setting NCAA or even team records with his offensive production. This did not stop him from playing an almost unfathomable number of minutes in the tournament. It was mentioned to me that while all players were exhausted at the end of the games, he could barely walk. He was a late addition to the team and does not even live in the country, but he just took advantage of this international stage and seized the moment, helping Turkey make waves.
Honorable Mentions
Nick Rose, England: The Toronto Rock goalie led the tough Blue Division in saves with 275 and helped England to a 5th place finish, which should keep them in the highest division going forward.
Chad Culp, Israel: Tied with Terranova and tournament MVP Shawn Evans for second in assists. Helped first time Israel get into the Bronze medal game against USA.
Stephen Keogh, Ireland: Was top 10 in goals, assists and points, helping Ireland to a sixth place finish.
2015 Transplanted Game Grower Award
This award is to recognize a player on a team who settled down to live in another country and has been integral in growing lacrosse there. They also should be instrumental in their team's performance on the floor/field.
This inaugural award will go to Germany's Jamie Plunkett!
As LaxAllStar's Connor Wilson said "Germany probably wouldn't even have box right now if it weren't for Plunkett." While he led the team in overall points with 31, his goals and assists were relatively even at 19 and 12 respectively, which meant he did not lead the team in either of those categories. He played some defense, helped run the offense, and provided the team with some great overall leadership, while also spending a little time on the Ireland bench.
It looks worse than it was, but that photo is too funny to leave out.
While Germany did not finish very high in the standings, this tournament provides a solid base to grow from in the future. Plunkett should also be recognized for organizing the German U19 box lacrosse team this year. Plunkett is now living back in North America, but his many years in Germany deserve official recognition, so here it is!
Honorable Mentions
Dominik Pešek, Czech Republic: While he truly was the offensive firepower for the Czechs (15 more goals than the next highest scorer), he also did so while shooting 28% in the Blue Division. This accuracy put him in the company of Canada's Ryan Benesch and Dan Dawson for comparison. He also happens to actually be a Czech Native, so while he doesn't quite fit the profile I'm looking for, he definitely deserves the ink! A big benefit is that Pesek has played in North America 3-4 times, and always brings his experience back with him to share with others.
Sean Gibson, Ireland: Originally from Canada, Gibson now is an Irish citizen and has been instrumental in the growth of box in the country. He only recorded a single goal (which was an OT game winner!), and took a few face-offs, so he didn't pop off the stat sheet much. Still, without the efforts of people like him, the box game won't be growing like it is.
Thanks for reading up about a number of lacrosse players who are spreading the game around the world! We'll be back in the future with more Drew Jenkins Award winners. International Lacrosse for the win.