Canada 12 – England 6
Authored by Justin Meyer
A few weeks ago, it was unclear who would represent Team Canada in Israel. After the announcement that the original roster would be making the trip, some wondered if the drawn out controversy would affect the team's play.
Friday night it did not.
The reigning gold medalists took care of business against England from the opening whistle, cruising to a 12-6 victory on ESPN Field.
While one game a repeat championship does not make, getting one out of the way is a nice first step.
"It's been a process," said Canada head coach Randy Mearns about the last few months. "We're excited to get this win out of the way."
Eight of Canada's 12 goals were assisted, and the team's ability to move the ball and probe from all angles opened up the field for the North Americans.
"Everybody's got to eat, so to speak," Mearns said. "It's great when you have a lot of guys sharing the ball."
Attackman Mark Matthews led the way in assists, dishing four dimes to cap off another positive night for the Canadian star.
"We're more of a one-more team than probably most countries," Matthews explained. "We like to finish the ball in front of the net and take the best shot possible. When that's the case, you're due to get assists."
To share the ball, you have to have the ball, and if Canada had it, England didn't. England head coach Tom Wenham said the lack of possession and turnovers were too great to overcome.
"We just didn't see enough of the ball, and when we did, we weren't making the best decisions with it," he said. "We found out today that mistakes get punished, and if you turn the ball over on the offensive end, the ball comes down very quickly."
Although there were some things Mearns and Matthews said they would like for Canada to clean up for Saturday's game against Scotland, grinding out a victory is all that matters.
"The great part about it is we've got that great ol' Canadian girt and heart, kept after it and got the W," Mearns said.
Canada will feature again tomorrow at 6 p.m. versus the Scots on ESPN Field, and England will get back at it Saturday at 6:45 p.m. against the Iroquois Nationals on Epoch Field.
Hong Kong 9, Poland 7
Authored by Mark Donahue
Emotional. The simplest way to describe the contest.
Support crews on both sidelines stayed standing, belting out chants for their respective sides. Coaches turned away from the field to shield their eyes and their stress from the benches. The players, on the other hand, had no chance of reeling it in. Each separating goal would erupt the Hong Kong bench as Poland responded with screams in frustration.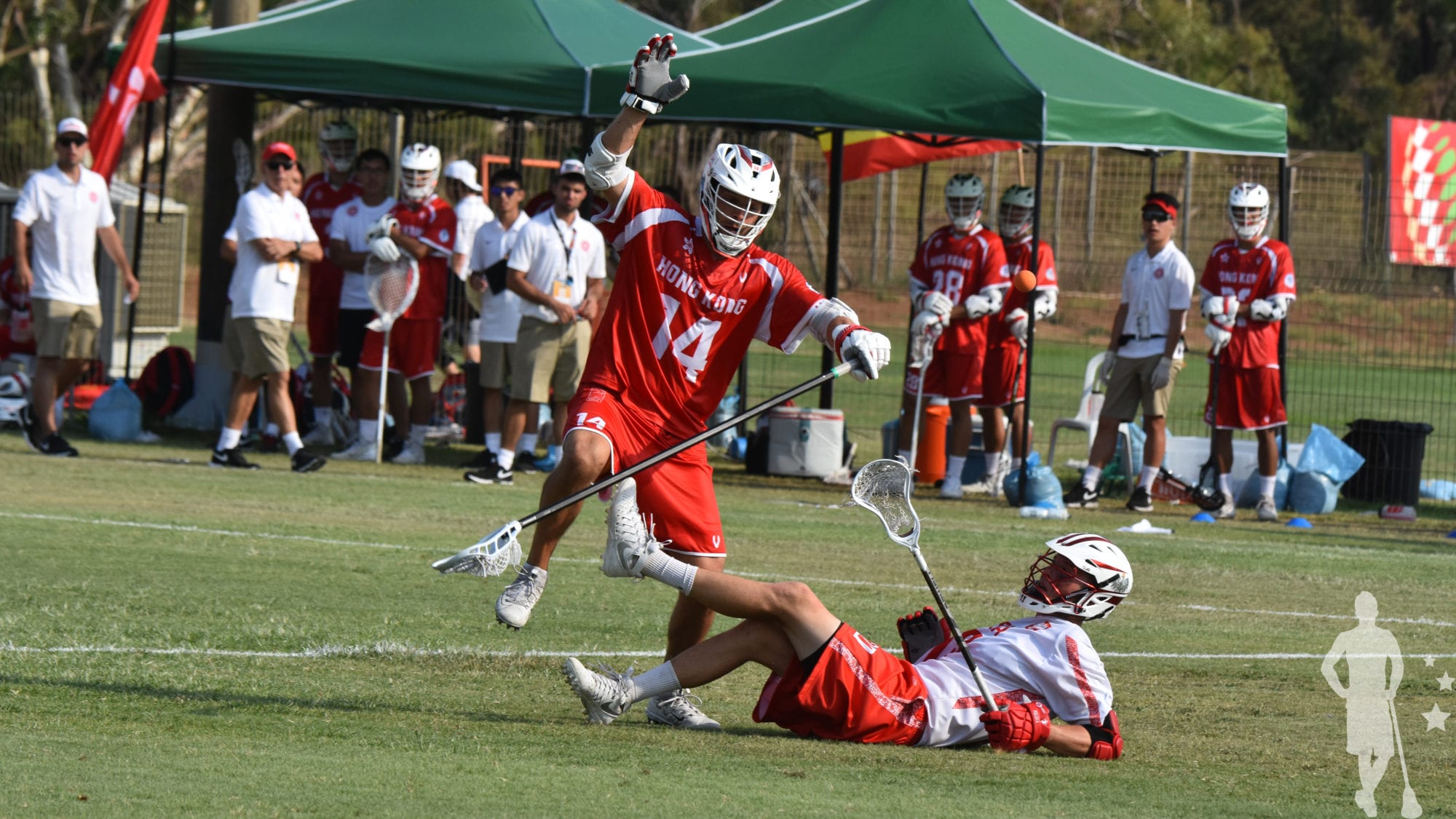 While the Polish never really lost their cool until the final horn sounded, it was the level-headed nature of the Hong Kong staff that kept their team from going too high, or too low, to stick to the plan and seal the deal, 9-7.
"I don't necessarily feel quite so calm on the sidelines and we certainly had some substitution problems. It may look calm but it's not always calm, we have some work we need to clean up." Coach Scott Browning reflected on their ability to keep cool.
Poland versus Hong Kong was one of our most anticipated showdowns of the entire 2018 World Championships. Our crew at LaxAllStars.com has grown close to both programs, spending time in country with each. This game was guaranteed to be a know-down drag-out war, as both teams have been grinding to drive themselves to the top of the lacrosse world non-stop since Denver.
The first half was jam-packed with back and forth runs, showing off speed, team play, and grit from the two squads in red and white. The second half narrative started to change a bit for Poland. It tough to judge the perspective of the officials, but it was clear that when the whistle happened to blow, it was typically turning up Hong Kong. Little things, like a missing end cap, were being held against Poland, while Coach Browning and the Hong Kongers stayed level and committed to their plan.
When the Polish could execute a well-timed double team, or goalie Christian Dzwilewski robbing Hong Kong of another attempt, it was the clearing issues that really shot them in the foot. If HK could get the ball on the ground, it was coming back up in their pockets. Possessions for Hong Kong meant getting the rock around the horn for minutes at a time, chipping away at the clock, methodically working toward the cage when the matchups allowed.
But that's the funny thing about Hong Kong, they're nearly impossible to find those matchups with as their depth chart and skillset is nearly uniform across every athlete. Speed, talent, and abilities seem identical for the majority of the roster, as the program all nearly started playing at the same time and are involved in practice 3-5 days a week.
Poland has their stars, but the balance between ego and winning the game for their team seemed to get in the way of a full game. The issues came in those 50/50 plays, including on the face-off. Even if the ball would be ripped out by Poland, Hong Kong was seeking out the loose balls with laser-focus.
Read more…
Spain 12, Croatia 9
Authored by Ryan Conwell
The game between Croatia and Spain was between two teams in very different parts of their history. For Croatia, this was their first world championship. For Spain, they are a program in the midst of a rebuild.
After a disappointing 2014 showing, they (in the words of their head coach Mike Bartlett) want to make sure that "Spain is on the lacrosse map" by the end of the tournament. Given their opening-round loss to New Zealand, this game was going to be their next best chance to establish that path.
The game started with a quick, 3-0, lead by Spain before Croatia was even able to answer back. But as the cliché goes, lacrosse is a game of runs, and Croatia put together three straight of their own. Most impressive for Croatia were midfielder Ryan Gorup and attackman Harry Kucharczyk. The two of them had a hand in nearly every Croatia goal, whether it was setting it up or scoring themselves.
A string of penalties by Croatia, however, turned the game in Spain's favor. The first was following their third goal when they were called for a high hit, causing them to go down a man for two minutes. Then there was a miscommunication that left six defenders on the field, causing them to be down two men. Spain predictably capitalized on that by scoring quickly off a nice feed inside to Josep Casuto Kittle.
Following that goal, Krunoslav Cvitaš for Croatia was called for a late hit, sending them down two men once again. Another Spain goal off an assist from team captain Carlos Rodríguez Romero gave them a 5-3 lead. Jonas Nienau then scored another quick goal to put Spain up, 6-3.
A penalty by Spain gave Croatia the opening they needed for Gorup to feed Kucharczyk for a time-and-room bullet from the top while the defense was rotating. They pulled within one while in transition, Kucharczyk scoring again by cutting across the middle while the defense was still unsettled. Spain answered back, but a pair of goals by Croatia tied things up at seven just before halftime.
In the second half, Spain made the adjustment they needed to take things over. They traded goals early on, but another three-goal run from Spain was enough to seal things out. While Croatia did score a late goal to pull within two (11-9) off a goal from Brian Mattessich, Spain clinched their win with a very late goal from Romero, leading to the final score of 12-9.
After the game, Croatia's head coach Dino Mattesich was describing how this was the first real test for much of their team and how their lack of depth was the reason behind their late-game fatigue. While Gorup and Kucharczyk were still making plays, Spain's defense made their halftime adjustments to balance them out. Ion Rodriguez and Darrel Hunter were both wreaking havoc on defense throwing takeaways checks nearly every other possession. Spain used the first half to identify their ideal matchups and really made a strong effort to exploit those in the second.
As Spain's coach Mike Bartlett summed it up perfectly by saying "we tightened things up."
Next up for Croatia is New Zealand.
As Mattesich said, "It will take a gallant effort for us to stay with them."
They can gain quite a bit of confidence from this game as it helped introduce much of their team to what's needed going forward. They have some great pieces to build around and Spain recognized their goalie Ivan Sever as the game MVP for the number of fantastic saves he was making.
For Spain, their march towards rebuilding continues with the first win under their belt. Their goals for this tournament are:
"To make history and finish in the top half of the table…" according to Bartlett.
What I liked most is how they really did play as a team. It allowed the coaches to make changes as needed and adapt to what their next opponent shows them. In a tournament like this, that can be an incredible asset to have.
Puerto Rico 16, Wales 4
Authored by Ryan Conwell
As one of many teams playing in their first FIL event, Puerto Rico was a total unknown. Most first-year teams need to take a game or two to get their bearings and figure out what FIL play is all about. But when you saw their roster with names like Ricky Pages, JT Giles-Harris and Scott Bieda, you knew things were different for this squad. Having them play a team like Wales right out of the gate was also a perfect test for the new team. Wales is not a team known to be dominant by any means, but they are a team that is fundamentally sound, has been playing for years, and has players coming from the same teams that produced two Blue Division squads in England and Scotland.
Once the game was started, it was quickly Puerto Rico's game to lose. Their speed was very noticeable both on defense and in clearing. They were playing fast and intense, which set up their offense quite well. Once their offense had the ball, they were incredibly efficient early on. That's a big reason why they were able to close out the first quarter 4-0 and were actually at 5-0 before Wales was on the board.
Not to take anything from Wales, they were just not having the luck they needed early on. They actually were doing a great job moving the ball around and getting open looks. Unfortunately for them, the post was apparently double or triple the size when they shot the ball. There was even one shot where they were right on top of the crease and the shot hit the post and went out of bounds on the sideline without hitting the ground.
Later in the game, Puerto Rico dominated possession of the ball, and Wales had few opportunities to score. Despite these missed shots and limited offensive possessions, the Welsh team never gave up. The defense in particular was active and aggressive throughout the game, giving their fans much to cheer about even when a comeback was out of reach.
As the game wore on, the real story became penalties as this game turned incredibly physical. There were 15 penalties between both teams, with five going to Wales. Six of the penalties were some combination of illegal body checks, cross checks, or unnecessary roughness infractions. The intensity of the game resulted in a brief skirmish between the two teams.
For their next stop, Puerto Rico will get to play another somewhat nearby island nation in Bermuda, who Wales topped by 4 the day prior. It's likely that Puerto Rico will be the one to advance from their pool, which is also a great first step for any new program.
Greece 13, Mexico 8
Authored by Stuart McGregor Dallas
As Greece lined up for their first game of these World Championships they were very much an unknown element who might be able to create a stir. Meanwhile, Mexico are now attending their third World Championships having elevated themselves to 23rd position in Denver 2014. This game was an absolute must-win for both teams, as they aspire to a strong ranking at the end of this tournament.
With an early opening goal from number 55, Nathan Lewnes, Greece certainly showed Mexico that they were not going to be a pushover. Trading goals in the first quarter, Mexico put up a strong fight to end the first quarter just two goals down before Greece found another gear and stretched out a 9-4 differnetial by half time.
Both benches were animated and send out instructions to their teams as they each applied pressure. The goalies for both teams making outstanding saves from all ranges, with notable credit going to Greece's 48 year old Academy Award winning goalie, Anthony Katagas.
In the sweltering afternoon heat both teams struggled to maintain the same tempo we saw in the first half.
Greece losing one player to injury, following a heavy hit to his right shoulder. That said, Greece were still able to stretch their lead as Mexico gave up slew of costly penalties as they desperately chased a game that was slowly ticking away. The constant cheering from the Mexican bench was heartwarming but nothing was going to stop the pairing of Lewnes and Korinis as they proved themselves as Greece's key play makers.
Even two final Mexican goals from Tim Gonzales and Ernesto Melero was not enough to swing the game, which ended 13-8.  A total of seven goals and two assists from Greece's Nathan Lewnes makes him one to watch as we progress further into this tournament. Greece face Latvia next and will need to come out strong to be take victory against the proven European powerhouse.
Australia 18, Scotland 6
Authored by Justin Meyer
Four years ago, Australia opened up its World Championships with an overtime nail-biter against Japan. In 2018, its start was much more comfortable.
The Aussies lashed Scotland 18-6 on Friday at ESPN Field after a dominating second half in which the Australians outscored their opponents 11-3.
Australia jumped to an early lead, going up 3-0 in the first 12 minutes, but Scotland responded, scoring three of the game's next four goals to cut the margin to one. That's the closest the Scots would come.
The Australians scored seven-straight, blowing the game open by the time the fourth quarter rolled around amid the traditionally boisterous cheers from their fans.
"We've had a really intense fitness program these last 24 months," Australia head coach Glenn Meredith said. "I think as long as we can stay with teams early, we can run over top of them in the end."
Defender Callum Robinson was a prime example. About two hours before the game, he was leaving urgent care after running a high fever and throwing up last night and this morning. It isn't clear what it was, but it couldn't keep Robinson off the field.
"Didn't get too much sleep, spent time on the toilet, bit of a fever, but I managed to get myself right," he said. "These are big games. We do a lot of prep leading up to these games. It's going to take a little bit more than that to keep me out of a Blue Division opener."
This was Scotland's Blue Division opener as a program, having finally finished in the top six in 2014 after getting so close multiple times before. Scotland head coach Brian Silcott said the difference between the two teams was apparent.
"I think we played a bit like we were a new team in the big boy division, and they played like a team that has finished toward the top of every World Championships that have ever happened," Silcott said. "Our guys made uncharacteristic mistakes over and over again. Against a team like Australia, you can't do that. They're too good, and we paid for it."
The win, particularly the way it came, provides a confidence boost for Australia, Robinson said. In 2014, the Aussies failed to medal for the first time in decades at a World Championships. They knew starting this redemption tour off strong would be important to the team's 2018 campaign.
"We had to come out with a real statement win. We did that," Robinson explained. "The boys have a lot of confidence moving forward. We have USA in a big game for us tomorrow. It's about time we come out and prove we've a worthy opponent in this Blue Division and that we should be in medal contention. I think tonight we proved that, and then tomorrow we have a big challenge in front of us to do it again."
Australia faces USA on Saturday at 2:30 p.m. on ESPN Field. Scotland will look to bounce back Saturday at 6 p.m. against Canada on ESPN Field.
Philippines 11, Czech Republic 6
Authored by Ryan Conwell
The Philippines opened up their international play with a match against a young Czech Republic squad. On paper, despite this being their first appearance, the Philippines roster was loaded with experience. By far the two most notable names on the roster were attackman Mario Ventiquattro, who most recently played for the MLL's Florida Launch, and goalie Dan Morris from Maryland. For the Czechs, they were going to need to find ways to match what the Philippines were sending their way. Eventually they were able to, but the damage was done by the time they did.
Things started off somewhat quickly for the Philippines on offense. They took their time initially to settle in and figure out which matchups they needed. While Ventiquattro was definitely the focal point of their offense, they did a great job working the ball around to see how the defense was reacting to different looks. Once they established themselves, they reeled off three goals in under two minutes on way to a 4-1 first quarters. What was most impressive was their ability to eat up large amounts of clock without stalling. They were very deliberate in what they were doing, which is what really allowed them to milk the clock and dominate time of possession.
Being on the other side of the possession clock were the Czechs. While the ball spent a ton of time on one end of the field, it was never a game that really felt like it was out of their league. They were still able to take advantage of the opportunities given to them, once they did have the ball on their own end of the field. Even with Dan Morris in goal, the Czech offense we finishing at a reasonably high percentage when given the chance.
The second half was really where the Czechs were able to come into their own a bit by scoring four goals while only allowing four goals as well. While they did have several extra man opportunities, they did not directly convert on a single one of them. But, they were able to score in one of the more dangerous situations for a defense, which is in the transition from man-down to even. They pulled this feat off in half of their man-up possessions.
Next up for the Philippines is Belgium, who had already lost to the Czechs. For the Czech Republic, their 1-1 record in the pool should have them in second place. These teams are definitely on very different trajectories, though.
While the Czechs are trying to bring their younger players up to be at the same level as their indoor counterparts, but Philippines squad is already prepping for a strong run at the top portion of the table. That's not a bad spot to be in your first major event.
Uganda 7, Luxembourg 6
Authored by Rien Zabor
With short turnaround from their opening games, Uganda and Luxembourg took ESPN field to battle it out. From the stat sheet, these teams are evenly matched and the crowd knew they were in for a show.
Luxembourg came out of the gate firing, scoring off the initial face-off within a matter of seconds.
They clearly showed up ready to play as Max Rubin took control by navigating through the Ugandan defense with deceptive face dodges. But, the early action did not deter the Cranes as they struck back by the middle of the 1st quarter with a set play that shows their game has advanced since their 2014 World Championship appearance.
Although these teams are not known for the high level stick skills, they certainly made up for it in aggressive play. So aggressive at times that each team landed in the penalty box for a list of slashes, crosschecks and late hits. On a questionable number of those occasions, each team served simultaneous infractions pushing the teams to play more 5v5 than normal.
Luxembourg continued to flex their strength as they pushed their lead to three with a 5-2 score at halftime.
The Red Lions' goalie stood tall as the Cranes made a handful of attempts on the doorstep only to be denied. But, as time wore on and the heat set in players on the Luxembourg side were visibly wearing down. Coming out of halftime, the Cranes put together a 3-0 run giving them the lead and a revitalized energy. Similar to their first, these 3 goals came off set plays isolated an attackman at X to dodge and feed in front of the cage.
Moving into the 4th quarter Luxembourg was gassed and eager to sit on the ball, but the Ugandan defense did not let up on their man-to-man strategy, forcing the ball out of Luxembourg's hands. With just under 4 minutes left in the game, Uganda doubled up on their lead resulting in an explosion of excitement on their sideline.
However, their cheer was soon subdued when Luxembourg knotting another goal making this game a nail-biter.
In the end, the Cranes held onto their lead and rushed the field in jubilation after securing their first group stage win. Having drawn the group of four teams with Poland and Hong Kong, there's no days off as both teams fight to emerge in the top half of the pool.
Peru 18, Turkey 11
Authored by Rien Zabor
Physical and fast. That's how you would define the Turkey vs Peru game on Day 2. From the opening face-off to the final whistle, both teams did not give an inch.
Within the first minute, Turkey blew past Peru's defense to net the first goal of the game. Unfortunately, that 1-0 start would remain Turkey's only lead, as Peru mounted a comeback burying 3 straight goals.
The physical play started to get out of hand when body checks turned to trash talking. Thanks to the refs, tempers were cooled and the battle continued. Peru's tough ride and Turkey's sloppy passing on clears opened up the game for the Peruvians, as they quickly built a 6 goal lead putting the score at 6-3 going into halftime.
Peru enjoyed the mid-game break by boosting each other up with lively banter while Turkey got off their feet and tried to regroup. Their low-key huddle was necessary with only six subs to Peru's 12, but it came back to bite them and they started the 3rd quarter flat footed.
Peru owned the first three possessions of the second half, scoring on the first two and launching their lead 12-3 that included a coast to coast long pole goal. Even with the growing deficit the Turks did not get down on their luck. A couple of isolation plays, dodging through traffic gave them a chance to net two goals, but their run was soon disrupted as they picked up an unreleasable penalty. Peru took advantage of the opportunity and racked up three-straight goals at the start of the 4th quarter.
"We care about each other, right? Then let's take care of each other and take care of the most important thing in the word right now, the ball." Turkey Head Coach Ryan Danehy reinstated, which bolstered their morale and a new beginning.
Even after a 3-0 run by Peru, Turkey resurged to land their own 5-0 run putting the game within reach at a 15-10 score line. Another costly unreleasable penalty on Turkey helped Peru build up another three goal run and securing their victory. But, just as they started the game Turkey finished fighting until the very end scoring their last goal with 7 seconds left on the clock.
With an 18-11 score line, some might think Peru controlled this match, but lacrosse is a game of runs and Turkey's unwavering spirit kept them in it until the final whistle.
Jamaica 17, Russia 7
Authored by Stuart McGregor Dallas
After a tough opening game against Israel, punctuated with error, Jamaica were looking to redeem themselves and score a win against Russia. Whilst this might be the Jamaican's first World Championships, Russia are already ranked 30th after Denver 2014, and 16th in Europe following the 2016 European Championships in Budapest after losing their final three games.
Jamaica certainly looked the stronger team from the first face-off, whilst Russia on the other hand, failed to capitalize on the chances they had. The Russians often gave away the ball through unforced errors and allowed Jamaica to punish them on with lightning fast transition plays.
With greater pre-tournament preparation and a game already under their belt, Jamaica took a commanding 5-2 lead in the first quarter following some clever play and two goals from Jalen Paul. Russia refused to go down without a fight and it was midfielder Alexander Wheat who took charge when needed to help Russia stay in touch at half time, 7-4, even after a flurry of careless personal fouls.
The second half was a very different story as Jamaica took charge and scored six unanswered goals. This just added more frustration as Russia struggled to maintain possession and create meaningful goal scorer opportunities. The mounting pressure soon settled in as Alexei Sukhanov and Mikhail Kozlovskiy took penalties for cross-checking and slashing respectively, handing Jamaica some breathing room.
The final quarter saw goals from many of Jamaica's younger less experienced players, including young LSM Courtney Morgan as they put up more points against the lackluster Russian team. It was heartening to see Donnie Howard take the initiative in the final quarter and score three unassisted goals for Russia; their only goals from the second half of this game.
Even that wasn't enough to bridge the gap created by players such as Evan Redwood, who helped his team with six assists and three goals, power through to a 17-7 victory. The following team celebrations with Uganda were something special to witness as both teams celebrate their first wins of the 2018 World Championships. Don't skip this…
Austria 13 – Colombia 7
Authored by Ryder Cochrane
This game turned into a laundromat from the first whistle, with the first flag thrown only 23 seconds into the game. It continued to rain flags throughout the game, as both teams suffered through bouts of man-down defense. With three early penalties on Austria, the Colombians struck for the first four goals of the game, with Jiovany Alejandro, Zapata Rendon, and Marcus Adams Winn both netting two apiece as Colombia built an early first quarter lead.
The turning point for the Austrians came at the least likely of times. Goalie Cedric Gfrerer was sent to the box for an illegal body check late in the first quarter, but a turnover from Colombia's man-up unit led to a shorthanded transition goal for Austria's Klaus Hauer. Throwing the team on his back, Hauer followed that up with two additional straight goals, putting up a hat trick 
in seven minutes
 and dragging the Austrians back into the game.
Perhaps inspired by Hauer's #PlayoffLebron performance, or perhaps just the beneficiary of seven straight flags against Colombia, Austria woke up in the second quarter. By halftime, the Austrians led 6-4 and racked up a 10-0 run that stretched into the final minutes of the third quarter. Colombia attempted to kickstart a comeback late in the third. An and-one goal from Alexander Joshua Mandel Franco broke Austria's run, as the Colombians would pull the game to within 3 at the final water break.
In the end, chemistry killed Colombia's chances. A screaming match broke out between Colombian goalie Oscar Andres Cifuentes and defenseman Charles Arthur Suarez, and in-fighting over a few key turnovers led the Colombian attack line to lose cohesion in the fourth quarter. Austria rolled to an ultimately comfortable 12-7 final, with Colombia picking up a pair of late penalties to deny them any chance to come back. Game ball belongs to Hauer, who racked up six goals and an assist for the LacrAustrians. Hauer also snagged four ground balls and personally killed a handful of penalties. He finished the group stage with ten goals.
Argentina 14, Hungary 6
Authored by Matt Anderson
It was a little unclear what exactly to expect from Argentina heading into the 2018 FIL World Lacrosse Championships in Netanya, Israel.
If tonight's game against Hungary was any indicator, good things are to come for this country.
However, Argentina would use a major run in the second and third quarters to put the game away for the Argentinians, scoring nine unanswered throughout the final quarters.
Despite the lopsided ending score, Hungary was able to keep it close throughout the first quarter, which ended in a 4-3 score.
Goals from Dylan Portnoy, Jason Rozembersky and Tyler Martin helped Hungary remain within striking distance of Argentina. Oliver Hollo was fantastic at the LSM position, disrupting both the Argentinian offense and defense as he also doubled on the team's man-up unit. Hollo scored one goal on an absolute rip from outside that hit the Argentinian goalkeeper's body and still went in. What made Hollo's feats even more impressive was that he is only 18 years old.
Portnoy finished with three of Hungary's six goals for the contest on a seventy-five percent shooting night.
Argentina had major contributions from Alexander Webber, who totaled eight points on the night with five goals and three assists. Another notable performance for the Argentines was Octavio Bernabo, who finished the game with three goals on fifty-percent shooting. Argentina registered 41 shots to Hungary's 22.
Jun Yen struggled in cage for the Hungarians, allowing fourteen goals while only posting five saves in the first two quarters.
A great play for Argentina came when former Johns Hopkins star Mike Gvozden threw a perfect outlet up to Webber past midfield, who then took a few steps and buried it in the back of the net. Gvozden finished the first three quarters with a fifty-seven percent save percentage before Agustin Gonzalez Lopez came in for clean-up duty.
The game was a physical one, as both teams accounted for 17 penalties with numerous illegal body checks and unnecessary roughness calls. That style of play seemed to favor Argentina, as they had the deeper bench. It was certainly chippy, as there were a few unsportsmanlike conduct penalties called as well.
Argentina finished their group in the no. 2 slot and will take on the Philippines on Sunday. Hungary will finish seeded no. 3 and will face Puerto Rico that same day, but not before facing the group favorite Sweden Saturday at 3:15 p.m. IDT.
Denmark 14, China 4
Authored by Rien Zabor
In a battle of the yellow group, Denmark met China on Trusted Choice Field to duke it out in a cultural clash. Coming off a few recent summer tournament runs, the Fighting Pastries were eager to show off their strength against a disciplined Chinese squad.
The game started as an even match up, as both teams knotted two goals apiece in the first quarter. A new atmosphere would arise in the 2nd quarter. The discipline in the Chinese team soon turned to rigidness as they started dropping passes leading to a handful of unsettled transition goals for the Sons of Gorm. Those transition goals mixed in with tremendous individual effort pushed their lead to 7-2 by halftime. As they netted goal after goal, the Denmark players were heating up adding to the pressure on China to step up and compete.
During halftime, the mood and discussions in either huddle could not have been more different. Denmark was loose, having fun and building each other up.
The frustration was mounting on the Chinese bench as players and coaches were becoming more critical of every move and decision. One clear cause of the stress came from a lack of hydration causing cramps on field and gassed players transitioning through the box. Even as the Chinese players fought through the pain, the Danish defense stood tall and denied every attempt at the goal shutting them out in the 3rd quarter and only allowing two goals in the second half.
Regardless of the heat impact, the Chinese players fought until the end cheering on their teammates as they gave it their all. But, the Danish proved to be too strong as they walked away with a 14-4 victory.
Was it their positive energy on the sidelines that fueled them? Definitely!
It also helped that 11 of the 23 man roster plays on the same club and trains together team back in Denmark, giving them an edge of familiarity that most national teams do not possess. That family mentality bled into the post-game handshakes as the Danish players handed off small gifts to each Chinese player. The display of sportsmanship facilitated a group photo showing off the fact that we are all a part of the lacrosse family. No family is more welcoming than the Denmark Lacrosse community.
Japan 24, Norway 3
Authored by Matt Anderson
After a disappointing seventh-place finish at the 2014 FIL World Championships in Denver, Japan was left trying to figure out how to prove they belonged in the elite Blue Group at the 2018 games. Whatever the Japanese planned for, it is certainly working. Japan looked every bit the part in their game against Norway, firing off eight unanswered opening goals en route to a 25-3 victory over the Norwegians.
The Japanese came out firing when Jun Motoshita took the feed from X from Satoshi Seike only seconds into the contest. Another quick goal for Japan from the long-pole Isao Yoshida ricocheted off of a defender's helmet and blew past the Norwegian goalie Ragnar Harr.
Japan's face-off unit had themselves a day, as Kinori Sugihara (Rosnow) went 13-for-15 at the X, while Masumi Jinno went 9-for-15 for an eighty-six percent face-off percentage.
Japan's success at the face-off X, combined with a suffocating defense that harassed Norway all game long and an explosive offense, helped to announce the arrival of Japan to the tournament.
Jun Motoshita would finish the day with three goals and two assists on a perfect shooting night to go along with Ryu Matsushita's four goals. Hiroki Kanaya also chipped in two goals and an assist for the Japanese.
Shunsuke Hattori went largely untested in cage for Japan, as he saw only seven shots on goal in the first half. He registered six saves and allowed one for an eighty-six percent save percentage before being subbed-out at halftime.
Norway had its moments as Lars Rysst scored two goals and Aksel Louis Legouy Kvaal had one goal. Two of Norway's goals came late in the fourth quarter after the game had already been decided.
For Japan, they will take on the Netherlands at 11:15 a.m. IDT and look to continue their momentum in the White Group. Winning tomorrow will lock up the No.1-seed from the group for Japan.
Norway finished 1-1 in the group tournament and will get the White Group No. 2-seed, due to the fact that they have the tie-breaker with the Netherlands from their game on Friday. They will play the winner of Finland versus Colombia tomorrow.
Many doubted Japan's abilities after their poor showing in Denver. However, Japan has been obliterating the competition in Asia since 2014. Japan will look to earn their way back into the Blue Group for 2022.
France 10, Korea 6
Authored by Ryder Cochrane
Spurred on by two boisterous fan bases, France and Korea played out as a passionate, often chippy affair. With fans berating referees left and right, and the players racking up a fair number of illegal body check calls, the atmosphere of this one certainly had the World Championship feel.
The teams spent the first quarter feeling one another out, trading goals in a tightly contested, 3-3, period that saw France repeatedly gain a goal advantage, only for Korea to come storming back to tie things. Alexandre Morghese completed a hat trick just twenty-nine seconds into the second quarter, and from there France finally found the separation it had been looking for, peeling off a four-goal run in the span of ten minutes to take a lead they would not relinquish. The French sealed the deal, 10-6.
While total shots were a near-equal 28-26 in favor of the French, Les Bleus managed to put 17 shots on target, compared to Korea's 11. With the French defense only allowing 11 shots on cage, the offense faced far less pressure to score, and 10 goals proved to be more than enough. French goalie Joseph Varela chipped in seven saves for good measure, posting a strong 64% save rate on the day.
Kevin Bertrand had a markedly efficient day leading Les Bleus, scoring three goals on only four shots. Combined with Morghese's hat trick in the first half, the pair provided the majority of the offense in the game. Korea was paced by Andrew Kim and Alex Millin with two goals apiece. Korea finishes group play in Green 0-2, while Germany awaits for France in their group finale.
Video EXPLOSION!