Lacrosse is an incredibly expensive sport.  Even at its most basic, the simplest elements required to play (a couple sticks and a ball) can cost hundreds of dollars.  When one steps it up to full field lacrosse, uniforms, goals, field space, and padding all enter the equation.  The costs can spiral out of control quickly.
So we have identified FIVE key areas where teams across the spectrum can cut costs, but still play a lot of lacrosse at as high a level as possible.  Not all of these aspects of the game will be applicable to every program.  And for some programs out there, NONE of them may apply.  So if you have other ideas on how to cut costs but still play a lot of lacrosse, let us hear about it in the comments!
1 – Play Local
Long car or bus trips and flights not only cost money, but they also take up valuable time.  If you can play local teams, do it.  Playing a great team from another area is fun, and for college teams it can mean a lot for making the tournament, and be required because of conference alignments, but at the lower levels playing far from home is certainly something that can be limited.  For college teams, they often pack a couple of games into one trip to lower costs.  If you have to travel, that's a great way to cut the pain in your wallet down a little.
The bottom line is that excessive traveling costs a lot of money.  Hotels, gas, tickets, meals and more can all add up quickly.  And then you add in the time spent going from one place to another, and it's definitely something to avoid.  9 hours in a car for an hour long game is rarely, if ever, worth it, from both a monetary and time point of view.  9 hours of wall ball would have served the player better, and cost the family a lot less money and time.
2 – Learn To Work With What You Have
I am NOT advocating for people to use old helmets or gloves, and leave themselves open to injury.  Get a good helmet.  Get good gloves.  But don't feel like you have to purchase the best of the best.  If you are a parent, your kid will outgrow their gear quickly, and they simply don't need $200 gloves.  If you are a high school or college player, and you buy your own gear, try to be reasonable.  A higher mid range glove is often just as good as a top of the line glove when it comes to protection.  If the team has gloves from the season before, and guys don't want NEW, let's say green, gloves, then let it slide.  You have them already, work with them.
But this point is really most true when it comes to sticks.  Many clamor for the new head on the market when their old head is just fine. Kids will say, "this stick throws bad," and they might be right.  But it's probably not the head, or the shaft, but the pocket.  Involved with a team?  LEARN HOW TO STRING.  BUY STRINGING MATERIALS.  This small investment of time and money will save you endless dollars in the end.  A new pocket in an old "crappy" stick can give it a whole new life, and no one has to lay out $100 for a new head.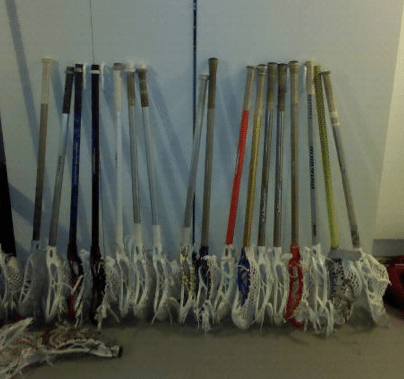 3 – Dial Back The Swag
Listen, most people out there love gear.  I'm no exception.  But it can't be purchased to the detriment of your team.  Want to look like a team?  Matching black shorts and simple jerseys is STILL a viable option.  UMass has done it for years, and they're NCAA D1.  So you can do it too.  If you think you NEED swag to play lacrosse, you're in it for the wrong reasons.  It's an added benefit to the game, and a lot of fun.  But if costs are an issue, dial the dollars on sublimation and team socks and numbers on everything.  In the end none of it matters, and is just for fun.  So don't break your own financial back just to look good.  Play good, and you'll look good.
4 – Partner Up
Find a local group to partner with and see how they can help you, and how you can help them!  Maybe the local firehouse or police station has some former lacrosse players in their ranks.  Or perhaps the local religious network is looking to get involved in youth sports.  Talk to local car dealerships, businesses and even the municipalities.  Go to town meetings, meet people, and see how you can get involved.  Remember, if you don't ask the question, the answer is always NO!
5 – Pass it on!
Let's face it… you're looking for help right now.  Otherwise, you probably didn't make it to the end of this post.  But if you have, then you hopefully you picked up a couple of simple and useful tips.  But this next one is a little different.  It's about reaching out to OTHER programs that need help, and helping them, without asking for anything in return.  It's something we all pray for, at least from time to time, but it doesn't happen unless someone steps up and makes it happen.  So BE that person or group, and maybe the giving will come full circle.  Karma is a funny thing like that!
So there you have it!  5 Ways To Cut Costs And Still Play Lacrosse!
Do YOU have any thoughts on this subject?  Something we missed, or didn't consider?  A totally outside the box idea?  We want to hear it in the comments section!