Home
Authors
Posts by Connor Wilson
Connor Wilson
Lars Tiffany, the head coach of the Brown University men's lacrosse team, joins Ryan Danehy and Andy Towers for episode 9C of the In Your Face LaxCast!
One final push is being made to fully fund The Spirit Game: Pride of A Nation, and time is running out to get involved!
NJCAA Lacrosse is so hot right now, it's almost scary. We've enjoyed a fantastic season so far, and the excellence is showing no signs of letting up.
This week's In Your Face LaxCast is a THREE parter and this time around we've got Yale's Andy Shay! On Thursday we welcome Brown's Lars Tiffany.
Maximum Lacrosse is a new company making box lacrosse padding, but they have more experience making box pads than almost any other company out there...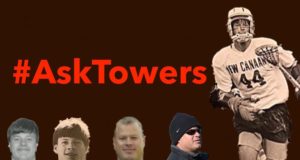 Welcome to #AskTowers! Ryan Danehy takes questions from our listeners, and he puts those same questions to the legend himself, Andy Towers.
You won't see any flip flopping or hear any white noise from me. Whatever my opinions are this week is what they have always been. Top 20 poll votes time!
Danehy and Towers bring you a BRAND NEW LaxCast, and it's a doozy! They cover the Chris Bates firing at Princeton, and preview the big games coming up!