Chile Lacrosse is here!  Lacrosse in Chile?  You don't say!  Isn't that where they had the earthquakes and that thing with the miners a couple years ago? Yes, but there is so much more to this beautiful lengthy and narrow stretch of land, and best of all, lacrosse is being added to that scenery!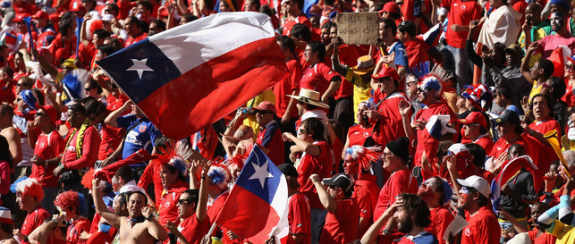 As of only a few weeks ago, Chile was selected as the 8th and final team to compete in the first ever Copa America de Lacrosse taking place this October in Colombia. The team has about ten players as of now down in Santiago, and is looking to fill up the rest of the 24-man roster with Chileans play lacrosse around the world. So here is the official call out to all Chilean lacrosse players abroad, email lacrossechile@gmail.com and let us know you exist and want to be part of the first ever Chilean national lacrosse team!
If you have that one crazy guy on your team that just so happens to be Chilean, let him know this is going on, he needs to be a part of it. (I know there's a bunch of you Chilenos hanging out in Canada too.) So if you want to be the Ivan Zamorano of lacrosse in Chile you need to get a hold of us and make arrangements to try out for the team. By rules of the tournament only four (4) players can be born outside of the country (being Chilean by parental decent) so there will be some competition for you Chilean Paul Rabils out there. You don't have to have a Chilean passport or citizenship (I sadly gave mine up some time ago). But there you have it. Chile lacrosse is in fact up and running, looking to stick it to those darn Argentinos come October at the Cup.
Most importantly: if you are or know someone who works for a lacrosse company that might want to sponsor a national team for the fraction of what it would cost to sponsor an obscure DIII team back east, let us set up a partnership! (I'm talking to you STX, Brine, Maverick, and Nike) All equipment has had to be imported or shipped in to the country, which only makes it more expensive, so the donation of any piece of equipment really goes a long way in our efforts to globalize lacrosse!
!Viva Chile!
Be sure to FACEBOOK US and don't forget to email us at lacrossechile@gmail.com!!!!