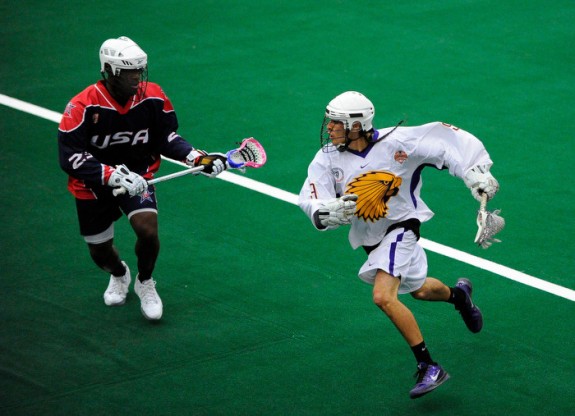 I'm loving box lacrosse.  I don't think it's better or worse than field, I just think it's awesome.  And I'd love to see some real deal college teams start to pop up.  I actually can't believe it doesn't happen more often!  Sure, there are a lot of barriers to entry, and reasons that college box lax isn't going to happen in a major way anytime soon, but the idea definitely has potential.  And for teams looking to gain an edge on the field, it just might be that Scott Bakula-esque Quantum Leap so many are looking for.
Looking down the list of top scorers and offensive players in the NCAA, and MLL, you can see the box influence.  Travis Moore, Kevin Crowley, Mark Matthews, Bryan Neufeld, Robert Church and a number of others are all in the top 20 and the skills they developed in box lacrosse are definitely paying dividends on the field.  In the MLL, there are less "pure" box players, but many of the guys in the top 20 also play pro box, and they all say that playing box has greatly helped their field game.  Paul Rabil, Brendan Mundorf, Casey Powell, Joe Walters, Ryan Powell, Stephen Peyser, Ryan Boyle, Kevin Buchanan and a host of others play a lot of boxla, and it's clear that they have improved as players because of it.  Even defensive guys like Mitch Belisle of Trilogy Lacrosse tout the benefits of box.  It's the real deal.
So why aren't college lacrosse coaches and programs pushing for more box lacrosse right on campus?  After all, where there is a will, there is a way.  So when opportunity knocks, you'd better be ready to answer the door.  And it's knocking.  Ok, enough of the cliches.  Let's talk college boxla.
First things first, before we get to addressing the constraints, and how we can find solutions, I'm going to talk about why this is a good idea just a little but more.  Box lacrosse is tough, it's fast-paced, and it requires huge amounts of skill to truly play well.  The skill sets from box lacrosse translate well to field lacrosse, especially on the offensive end, and provide new ways of attacking the cage, running offenses, and even defenses.  We all know that Zones are en vogue right now, and the backside of a boxla defense, aka "the wall", uses and teaches many of these pass and recover principles and techniques.
The tight spaces mean stick skills must be sharp, and the limited number of players on the floor means that every player out there has to be pretty well-rounded and able.  There is no hiding in box lacrosse.  Defenders are forced to use a short stick, which makes them play better defense with their feet, and it forces them to be more comfortable and skilled with a ball in their stick.  Goalies may present something of an issue, as the debate is still raging as to whether or not field goalies can make the transition, or if it will even help them.  All I know is that Ginny Capichionni may be the best active US box goalie and she played women's field lacrosse in college, and all the goalies in our box league last winter said it made them better field keepers.  But like I said, the jury is still out there.
Even if the goalie situation is a loss, it's still safe to say that the majority of players on field teams would benefit from playing box lacrosse, so since it SHOULD happen, let's look at why it's not happening, at least not in a major way.
Title IX is the first thing people will bring up.  Colleges and Universities simply can't add additional sports teams for men without adding women's teams, and box doesn't have a counterpart on the female side.  The other issue is that many schools already offer a disproportionate number of athletic roster spots to men, so creating a new men's sport becomes even less likely.  Add on to all that the current economic situation isn't exactly rosy, and the outlook becomes even more dire.  But lacrosse has proven time and time again that it doesn't always follow the standard path, and many of the solutions are already out there.
Other issues surround costs, places to play, coaching, rules, expectations and eligibility issues.  So I'll try to address each with possible solutions, and get around Title IX budget issues at the same time.
The MCLA, and a number of other smaller college leagues provide the perfect example to follow.  The schools that now have MCLA teams didn't want to add programs for one reason or another, and yet here they are.  Lacrosse people simply made it happen.  Of course, MCLA teams couldn't exist at schools where NCAA teams existed, but that didn't stop the NCLL from getting more popular either.  When Boston high schools couldn't add programs, MetroLacrosse created a league of its own.  There are a number of leagues like this all over the country at many levels.  When lacrosse people want to play, we make it happen.  If there isn't an option where we fit in, we create one.
This may seem like a simple answer, and that's because it is.  But it's also been proven true time and time again.  So if a group of college players out there decided to create a box team at their school, you can bet they'll find a way to make it happen.  The costs will be considerable depending on how a team approaches it, but it's definitely doable, especially if they start small.  In fact, the first go-round could be accomplished by having the regular team form a "box lacrosse club" through the student assembly or recreational sports office.  Play in the gym at first, and keep it open to any student that wants to play.  Your school now has an intramural box lacrosse league.  Costs are relatively low, the school is involved, and there is no travel budget.  Plus people already have equipment.  All you'd really need are goals and goalie equipment.  Do it to it.
Now I understand that playing in a gym or on a tennis court might not be ideal, but don't let that get you down.  Everything has to start somewhere.  Once there is enough interest, you'd probably want to find an indoor soccer location nearby, or hope that your school takes the ice off its hockey rink for the fall.  Maybe your school has an old hockey rink they don't use anymore?  Or this is one nearby?  Raise some money to convert it to a box lacrosse facility!  This may seem like a crazy expectation or potentiality, but like I said, when lacrosse players decide to get something done, they can often find a way.  Schools in warmer climes could conceivably build an outdoor box  or multi-use facility, and that could drastically cut costs.  I've played box outdoors before and it's awesome.  Maybe a local rink is getting new boards… buy their old ones!  Find a way to make it happen. Be creative!  In NYC we use an outdoor roller hockey rink and it's great, so don't doubt it!
As far as coaching goes, this is one of the tougher areas.  There aren't a ton of Yanks with box experience, but again, one only has to look at some pretty successful field lacrosse coaches to see that this shouldn't matter.  Mike Daly of Tufts was a college BASEBALL player at Tufts.  In 2010, he led the Tufts Jumbos LACROSSE team to an NCAA DIII national championship.  Want another example?  Ok.  Erin Quinn, the legendary coach at Middlebury (now their AD) never played lax in his life.  He learned the game as a coach, and he learned it well.  Well enough to win a bunch of rings!  So all you need is a good coach with enough drive to learn and improve and you should be set.  It's not like they grow on trees, but if we broaden our search criteria (e.g. ex-baseball/football/hockey players, coaches, refs, etc), you might just find a not-so-hidden gem.  And that brings new people in to the game.  BONUS!
The last major obstacle in my eyes probably surrounds eligibility.  I'm sure there would be some concern that a lax coach couldn't also coach a box lacrosse team, or that the two sports would be viewed as the same, since they are both lacrosse.  But indoor track is different from outdoor track, and many of those coaches coach BOTH teams.  Athletes in those sports win two varsity letters (and some of the cross country guys win 3) every year, so it's pretty clear that precedent is set here in lacrosse's favor.  This can happen.
There are certain teams and schools out there that should be doing this already, and off the top of my head they are: Manhattan College in NYC, ASA Junior College in NYC, Adelphi, CW Post, NY Tech, and Dowling, on Long Island as well as MCLA Briarcliffe.  WHY do I single these teams out?  Because I know that there is a box league nearby that runs before their seasons start!  All they'd have to do is enter a team!
I can't imagine any of the school coaches would frown on their players organizing their own winter lacrosse team.  And I can even see the schools supporting their students initiative.  Everyone would get to play more lax, and it would be a great way to stay tough before the field season truly began.
In the end, most people will dismiss this as a waste of time or money, but if done right, collegiate box lacrosse could do a lot for any program.  People probably just won't believe it until some team pulls it off and wins a national championship.  And when that happens, you can come back here and tell me how right I was.