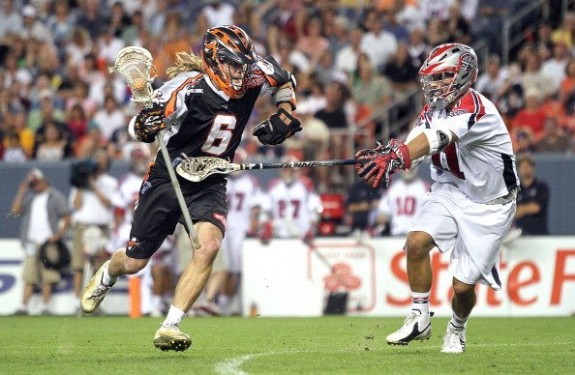 Photo courtesy MajorLeagueLacrosse.com
I rarely congratulate a team when they lose, but the Denver Outlaws are definitely deserving of a big ol' "Congrats!" for their effort over the 4th of July weekend.  Sure, they lost to Boston by a couple goals at home, after beating the Cannons in Beantown earlier in the season.  But the show they put on for their fans?  Unreal.  At least that's ALL I've heard from a bunch of people who were at the game.  And not all of them were die-hard lax fans!
You knew Boston-Denver was going to be good before the season even started, so it was fortuitous, or genius, for these two to meet in Denver on this big weekend.  Two best teams in the league?  Check.  We're off to a good start.  But the draw of an MLL game is not enough for most people on the 4th, they want something more.  And they don't just want a concert, or more lacrosse, or giveaways… they want a show.  They want a PATRIOTIC show.  And Denver nails it with the fireworks display.  Kids want to see fireworks on the 4th.  It's exciting.  But there has to be something else, which leads up to the big event.  And a lacrosse game is perfect.
Parents know where their kids are, but don't have to be right next to them the whole time like they do in your usual fireworks crowd.  There is a reason to get to the venue early, and it also allows for the inevitable familial delay with a grace period, if it is needed.  You know, lost keys, squabbling children, spilled milk.  The usual stuff.  Once the families get there, the kids are entertained, and before you even know it, it's dark!  The game ends, the fireworks go boom and everyone leaves happy and satisfied.
The only thing that was really too bad about the game was that it wasn't broadcast on ESPN2.  For some reason, the programming execs determined to NOT air what was going to be (and was) the most highly attended MLL game ever.  Instead they showed boring stuff on ESPN AND ESPN2.  Poor effort there, but other than that, a very awesome effort.
It's clear that Denver is doing it right when it comes to owning and operating an MLL team.  Maybe they should hold a symposium for some of the other MLL franchises, and most of the NLL, save for Toronto and the Mammoth.  It's an idea.  Either way, WELL DONE, Denver!  Moments like this make me believe pro lacrosse has a very bright future.