And the Lax All Stars Fireside Chats continue! On Monday, Connor interviewed Daniel Shields of Onondaga Community College and yesterday Peter chatted it up with Cal Poly's Matt Graupmann on 412 Lax.
Today, we draw our attention to MCLA power BYU. Dan Crawforth is in his senior season with the Cougars. This defensive threat fills us in on their progress through fall ball, what it's like under the new Schneck era, and much more. Check it out:
LAS: If I recall correctly, you were an attackman in high school. What inspired the switch to longpole?
Dan Crawforth: I've always wanted to play defense but I lacked the size necessary to compete at a defensive position in high school. I gained a lot of strength and some more weight when I started playing for BYU. So, when Coach Lamb approached me at the beginning of my sophomore year and suggested that I try out long-pole, I was happy to make the switch. Not to say I didn't enjoy offense, it's always a good feeling to put the ball in the back of the net, but crushing guys on the defensive side is fun too.
How have things been so far with Coach Schneck at the helm? Is fall ball different than it was under Lamb?
Dan Crawforth: Coach Schneck has been doing a great job running the program. It has been fortunate for the team to have someone like Coach Schneck, who has been with the program for years, take control. In that aspect, fall ball has been pretty similar to when Coach Lamb was the head coach. The coaching staff put together a great fall ball schedule and has been working us hard at practice. The biggest differences have been the practice times and the format of practices. We practice at 7:00 am now instead of 3:00 pm and have been able to make practice more efficient by players collaborating with coaches on the best drills to focus on in order to improve our performance.
As a senior captain, what are your personal goals for 2010? What BYU's team goals for 2010?
Dan Crawforth: It has been a privilege to voted captain by my teammates and personally, my goal is to help lead the team to win the MCLA National Championship in 2010. I believe it is a given that winning the MCLA National Championship is a team goal as well. Apart from that, the team has committed to continue creating an exceptional reputation for the program both on the field and off.
You've had 3 solid years as a Cougar so far. Up to this point, what has been your favorite part about playing for BYU?
Dan Crawforth: My favorite part about playing for BYU over the years has simply been having the opportunity to play lacrosse at the collegiate level. The coaches and administration at BYU have provided the means to run a first-class lacrosse program. Although we are not an NCAA Division 1 program yet, you would have a hard time recognizing that if someone didn't tell you. It has been great being part of team that is backed by such a large amount of support.
Is there a game or road trip you are most excited for this spring?
Dan Crawforth: I cannot wait to play Michigan and Chapman this spring. These two teams have both beaten us in the semifinals of the MCLA National Tournament and because of that, I have developed a bit of a grudge. I look forward to playing them again and hopefully leave with two victories.
You guys are headed to Canada this season. I think that's a first for BYU. How was playing SFU in fall ball? Did you feel good about the outcome?
Dan Crawforth: It will be a great experience to go to Canada and play SFU on their home field. They go through a lot of effort to travel to the United States every year in order play teams in the MCLA. SFU has consistently been a strong team the last couple of years and has often been a close game for us. When we played them this fall it was great to come out with a win. I felt that we as a team played well, especially in the first quarter, but there are some areas we need to continue to work on and that is what fall ball is for.
Since you're originally from Idaho, we gotta ask: How would you describe the high school lacrosse scene there?
Dan Crawforth: The lacrosse community in Idaho is growing extremely fast. When I was a freshman in high school there was only a varsity team and only schools close to the Boise area had a lacrosse team. Now there are teams all over the state and some schools with varsity, junior varsity, and freshman teams. That being said, playing lacrosse in an area where it is fairly new comes with the fact that there are less experienced players and coaches compared to other places where lacrosse has long been established. It is my experience that the level of athleticism found in Idaho lacrosse is the same as teams found in lacrosse hot spots, but Idaho teams are still catching up when it comes to stick skills and game strategy. By no means am I saying Idaho lacrosse players and coaches are no good, I know guys from Idaho that have been successful in NCAA D1, D2, and D3 lacrosse programs as well as club programs across the nation. I'm just saying that there is still a bit of a learning curve when learning to play lacrosse in Idaho.
Your bio on BYULacrosse.com says you're going to become a Navy Seal after graduating. Is this something you've always wanted to do?
Dan Crawforth: Becoming a Navy SEAL has not always been a goal of mine. In fact, if you had talked to me in high school about the armed forces I would have told you it wasn't for me. As I have progressed through college, I believe I have matured a bit and some of my perceptions on life have changed. It wasn't until over a year ago when my cousin, who had been in the Navy for a while, sparked the interest. The SEALs are highly motivated individuals that represent the highest level of self-discipline, honor, courage, and commitment. Not only that, but they maintain the highest levels of physical fitness. The lifestyle and ethics the SEALs represent is something that I highly value and admire. I think it would be a tremendous honor to count myself among them and that is why I have committed to the challenge of becoming a Navy SEAL.
Hearing that, I think we can all agree that Mr. Dan Crawforth is quite the stud. Way to go man, and good luck this season. Thanks for the great interview.
This has been another Lax All Stars Fireside Chat. Stay tuned to the LAS Network for more interviews throughout the fall.
Other Chats:
Chris Davis, Founder of Striker Danger
Alex Capretta, Princeton Tigers
Bear Brink, Trinity Prep (HS), Florida
Matt Graupmann, Cal Poy Mustangs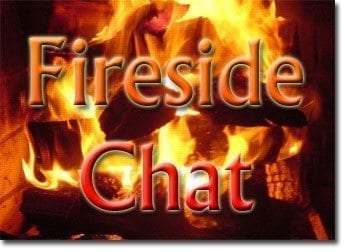 The Fireside Chat series gives players and fans an opportunity to get to know influential people and players from around the United States. From coast to coast, LAS is interviewing players to get you an insider's perspective on the upcoming 2010 season.