Editor's note: Jungle Athletic Group, or JAG, is based out of Western Massachusetts and they love lax. Connor Wilson grew up in Eastern Massachusetts so he was the perfect man to interview Paul Jones of JAG. They talked about lacrosse in W. Mass, tournaments and the growth of the game, amongst others things. An interesting conversation with one of the big timers in a relatively new, high-growth area. Illuminating!
___________________________________________________________________________________________________________________________________
Connor Wilson: JAG is doing interesting things out in Western Mass!  Explain to our readers about one of your events and make sure to hit on why it's different from other events…
Paul Jones: One of our events is the Gorilla Invitational, held on the Campus of UMass.  Dick Garber was the founder of UMass Lacrosse and his players were referred to as Garber's Gorillas.  We used the Gorilla because it fit both the original attitude of UMass Lacrosse, as well as being a Jungle animal (so it fit with Jungle Athletic Group).  We went a step further and invited Coach Garber's grandson, Brett, to be the 'host' of the tournament…as a former UMass All-American and a professional players (now with the Rochester Rattlers).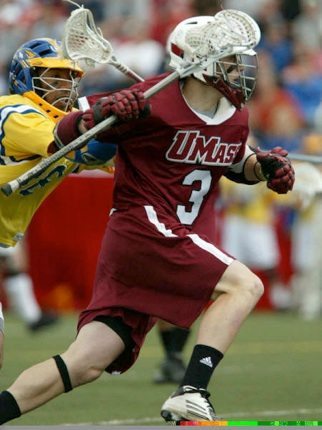 As parent and coach of lacrosse players (Ryan 15, Logan 7) I've been to numerous tournaments, and saw what worked and what didn't.  We've tried to take the best of events we've been to…we're not trying to reinvent the wheel, just make it better.  From our field markers (11 foot high flags with the field numbers on them) to the vendors we bring in…we've tried to take everything and everyone into account.  We even had a local make-up company come to the Gorilla last year, to teach make-up application to the moms!!
What is the "Purpose" you all are playing for?
Paul Jones: Each event has it's own purpose attached to it.  The Gorilla is to benefit Lymphoma/Leukemia research.  The Cheetah Challenge (girls) is to benefit Breast Cancer Awareness.  Last year we collected food and monetary donations to benefit a regional food pantry.  The overall purpose is for us to be able to use the game we love to give back…because it has given us so much.  It is also a way for kids to start to learn about being part of something bigger than themselves and their teams.
What is the farthest a team has traveled to play in one of your tourneys?
Paul Jones: Last summer, for our Beast of the East tournament, we had True Lacrosse (u13) come out from Chicago!!  I spoke to their director and parents prior to them leaving at the end of the weekend, and they had a blast!!  They are already planning on bringing a number of teams out for Summer 2011 too!!  I'd love for any or all of these events to become national events, and that could happen over time.
Why do this?  What is driving you to put on events like this?
Paul Jones: My pure love for the game is what drives me to do this.  I'd been volunteering as coach/board member/president of our town youth league for years… and when the opportunity to combine my passion for the game with a regular paycheck… I had to jump at it.  This really is my dream job.  I have to admit that I had never actually run a tournament before last summer… and it was eye opening to realize how much is really involved in running a quality event.
What's your history with the game of lacrosse?  How did you get into it?
Paul Jones: I grew up and went to school in the early and mid 80s.  In 8th grade we had a kid move to town from Baltimore, who came to school with his stick every day.  I started taking to him about lacrosse, and convinced my parents to get me a stick of my own.  He taught me how to catch and throw at recess.  By the time that school year ended, we had 4-5 kids who could throw the ball around.  I played all 4 years in high school, and made varsity as a sophomore, and was a captain my senior year.  Although I was recruited to play, I chose to go to Syracuse, but chickened out when it came time to try out…was intimidated by a couple brothers from Canada who were NASTY!!
Turns out they revolutionized the game and became a household name (does Gait ring a bell?).  I continued to play summer ball in a men's league and started coaching high school JV at 19 years old…and have been coaching ever since.  I do go back and play a reunion game every fall with the Westfield Cranx, but my focus is coaching… 3 different levels; my youngest son's Mite team (1st & 2nd graders), my older son's travel team (Western Mass SharpShooters) and the Westfield State University Men's Club lacrosse team.
What has the change in Western Mass lacrosse been like?  There used to be 3-4 good teams in Longmeadow, Minechaug and S. Hadley, but now along with those teams, some others have popped up with legit programs like West Springfield, Northampton and Westfield amongst other.  How has this growth been promoted?  How has it been achieved?
Paul Jones: When I played, Longmeadow was IT!!  I played for Westfield, and we lost in the Western Mass finals 3 years in a row to them.  The rise of other programs has been entirely due to the implementation and growth of the youth programs.  It used to be that Longmeadow was the ONLY town with a youth program.  That changed about 15 years ago when Connecticut Valley Youth Lacrosse (CVYL) started.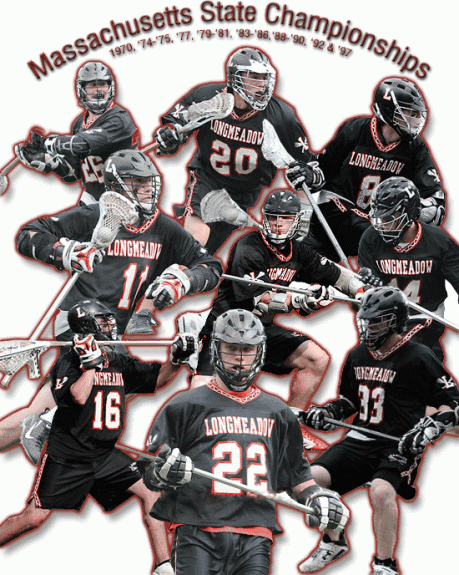 Now ALL of the towns you mentioned have youth programs, along with others that have new high school programs.  I coached in the Westfield Youth Lacrosse program even before I had kids… because they deserved to have people who knew the game coaching it.  I still find that is the biggest problem, however… not enough guys who played going back to teach the game to the next generation.
Is there a lax store in Western Mass?  How do you guys get your equipment?
Paul Jones: There has been one lacrosse-specific store in Western Mass.  Stixx-N-Stones was in Western Mass, but recently moved to northern Connecticut.  In Avon, CT (about a half hour drive) there is a Lacrosse Unlimited and a store called Sartorius Sports.  There are plenty of places to buy gear… but nowadays, a lot is just done through the internet
What about jerseys and uniforms?  Is there a go-to place in W. Mass?
Paul Jones: Our youth program still goes through Stixx-N-Stones for all of their uniforms.  I personally tend to branch out more.  For the high school travel team we used Atlantic Sportswear, and I think the college team may be using a company called PopTops out of Eastern Mass.  I like to go outside the box, which usually means going outside the immediate area.
Where is the game of lacrosse going?  What is its biggest obstacle?  What is its biggest selling point?
Paul Jones: The game of lacrosse is going UP!!  It seems to be growing every year still.  Around here, it is a big draw for hockey players/parents because of the speed of the game, and the contact.  Baseball used to be huge up here, but lacrosse has taken over.  At the youth level, I think the biggest obstacle is the cost to start playing.  Our youth program has created a used equipment turn-in program to help outfit new players, so they can try the sport before their parents have to take out a second mortgage to buy their gear.  We also provide rental helmets, which has been a huge success.  Once parents learn they can have their child start, and we try to minimize the cost, they jump at it… and a kid will almost NEVER go back to baseball!!
At the next level, the biggest obstacle is Title IX.  When the football 'bowl schools' can't start a Varsity Lacrosse Program (like Michigan) because they have to keep participation equal among mens/womens sports, it stunts the growth of the game.  When that changes (hopefully soon), watch out!!
If you could make ONE rule change in lax, what would it be?
Paul Jones: I'm not sure what I would change regarding rules.  I think I like the idea of a shot clock, because I prefer a more up-tempo style.  It bothers me when teams will get the ball into the box on the offensive end, and then deliberately take the air out the ball while they sub in offensive middies.  I grew up in a time when you had to play both ends as a middie, and the specialization of middies bothers me the most.  I understand using a LSM defensively, but why change all 3?  The slow down style takes away from lacrosse being the Fastest Game on Two Feet.
________________________________________________________________________________________
This has been another Lax All Stars Fireside Chat. Check out our full list of interviews here.