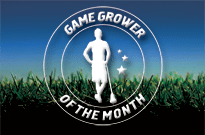 Today we're excited to announce our September Game Grower of the Month in collaboration with Easton Lacrosse. It is our hope that the GTG Award will inspire others to give back by recognizing those that already do!
Now without further ado, the September 2012 Game Grower of the Month is…
Roan Gideon of Rhinebeck, New York
Many consider New York to be the epicenter of lacrosse in America, despite that, there is still plenty of room for growth and reaching out to others to help their program develop and succeed. Roan Gideon is doing just that in his community as he works to bring lacrosse to local high schools and youth programs in Rhinebeck, New York.
Congratulations to Roan Gideon, LaxAllStars.com's September 2012 Game Grower of the Month! To reward Roan for his efforts, Easton Lacrosse will be supplying him with a Stealth HS Head and his choice of the Stealth Scandium+ Shaft or the Stealth RS Ultralite Shaft.

Recently, we sat down with Roan to learn more about what he's doing to help grow the great sport of lacrosse in and around his current residence of Rhinebeck, NY.
LAS: Can you describe the state of lacrosse in your area?
RG: Lacrosse is in an up-and-coming situation in my area. Situated in the Mid-Hudson region in Dutchess County, NY, Rhinebeck is a small school. Many local high schools have been forming teams in the past five years, such as neighboring schools Red Hook, Millbrook, New Paltz, Highland, Rondout, and more. Lacrosse is a young sport in my region, and I am incredibly happy to bring the game to the Rhinebeck High School and to continue growing the game in the northern Mid-Hudson Valley.
There are many youth programs springing up in the area to complement the new high school teams. One of my primary reasons for founding Friends of Rhinebeck Lacrosse and establishing high school lacrosse at Rhinebeck was my involvement with Northern Dutchess Youth Lacrosse. I began assistant coaching the 3rd/4th, 5th/6th, and 7th/8th grade teams during my eighth grade spring. I realized that many of the Rhinebeck players I coached did not have a venue to play in during high school, thus inspiring me to help them by establishing a team at Rhinebeck.
In what ways are you involved in growing the sport in your area?
After playing lacrosse since 5th grade and becoming completely hooked, I moved to a school that didn't have lacrosse. I spoke with the athletic director about forming a merger team with another school district before I even enrolled at Rhinebeck High School, but this proved unfeasible. I then approached the AD, Mr. Boucher about forming a new team at Rhinebeck that would be completely student-funded, with no financial support from the school district. Thus began the saga of Friends of Rhinebeck Lacrosse, one of the most valuable experiences I have ever had in my life.
Throughout my freshman year, I held many meetings with school administrators, including AD Mr. Boucher, principal Dr. Davenport, superintendent Mr. Phelan, and assistant superintendent Mr. Burnell. These preliminary meetings were held in order to determine the feasibility of adding a new spring sport. The school decided to hold a lacrosse intramural program for both the high school and middle school to determine student interest, which proved to be rather high. The next step was for me to appear before the Board of Education, at that time comprised of President Paul Slayton, Vice President Deirdre Burns, Karen Hatter, Laurie Rich, Dean Vallas, Elissa Cascio, Mark Fleischhauer. In the public comment section of several meetings, I spoke about my plan for fund raising, the great opportunities lacrosse would provide for Rhinebeck students seeking an alternative spring sport, my work with the school administrators, and more. Before I could begin my fund raising efforts, however, I needed approval from the Board of Education for two things. First, the Board needed to approve the previously unprecedented raising of funds by a "booster club" to establish a high school sport. Second, the School Board needed to approve a boy's lacrosse team itself. Finally, in late June of 2011, the Board of Education approved these two motions.
The projected budget for the first year team was estimated at $12,000, a daunting figure to raise in the few short months I had before the funds were due. Previously, I had met with the President of The Community Foundation of Dutchess County, Andrea Reynolds. Ms. Reynolds was more than enthusiastic about my ideas, and soon signed Friends of Rhinebeck Lacrosse as a Project Fund of the non-profit organization The Community Foundation of Dutchess County. I became Founder and President of Friends of Rhinebeck Lacrosse, and immediately began the fund raising process.
The first few steps were coin drops. Many weekends throughout my rising sophomore summer I would go into town, sometimes accompanied by fellow Friends of Rhinebeck Lacrosse student-members, and set up a table on the sidewalk in between CVS and the Farmer's Market. This helped to provide the base funds we needed in order to host larger fund raisers.
I began working on Friends of Rhinebeck Lacrosse's largest fundraisers: youth lacrosse tournaments for teams from all over the greater Hudson Valley region. Months in advance, I continuously contacted coaches of over forty youth teams in the region to organize the tournament. On August 13 and 14, 2011, Friends of Rhinebeck Lacrosse hosted a 5th/6th grade tournament and a 7th/8th grade tournament featuring teams from Milbrook, Red Hook, Rhinebeck, Hyde Park, Monroe Woodbury, Warwick, Highland, Goshen, Pawling, and more. I organized a silent auction with various items, from lacrosse equipment to jewelry, donated by local businesses, as well as an item draw for lacrosse gear and a shootout on a post-collegiate goalie. For several months leading up to the tournament, I frequented the Rhinebeck shops and businesses soliciting advertisements for a tournament program. I additionally approached many businesses in our area for corporate sponsorships, giving the businesses many ben efits in exchange for their support. Our current corporate sponsors include Topricin, The Haven Spa, Northern Dutchess Youth Lacrosse, Mid-Hudson Medical Group, Orthopedic Associates of Dutchess County, The Heart Center, Hudson Valley Urology, Rhinebeck Soccer League, Montgomery Row, Pet Country, Kumon, and Mr. Fred Zinn. Overall, the tournament netted over $8,000 for the lacrosse program.
In the next few weeks, I organized a large rummage sale. Friends and family, as well as other prospective lacrosse players, donated items for the sale, which was held Labor Day weekend of 2011. Through these fund raising efforts and the support of my community and peers, I successfully raised and donated $15,000 to the school district to establish a Rhinebeck High School Boy's Lacrosse Club Team, exceeding the initial budget. Additionally, I applied for and received a U.S. Lacrosse Equipment Grant, outfitting the team with all necessary equipment. The club team competed at the varsity level, practicing for several hours every day and playing against highly competitive travel teams and prep school teams.
Fund raising for Friends of Rhinebeck Lacrosse is an ongoing effort that I work at every day. The team, which will become a varsity sport this spring of 2013, is completely student funded and will likely not be financially supported by the school for many years, if ever. I organize two tournaments each year, the Mid-Season Medley in April and the Summer Sizzler in July or August, and have raised over $22,000 total. A portion of these proceeds are going to support the Ryan McElroy Children's Cancer Foundation in an effort to further give back to our community for its incredible support of our efforts to bring lacrosse to Rhinebeck.
I have learned many life-long lessons from my experiences with Friends of Rhinebeck Lacrosse. Persistence always pays off, and anything can be accomplished when you work hard at it. I look forward to what Friends of Rhinebeck Lacrosse will not only bring to our school in the upcoming years, but also what further lessons I will glean from my service.
What is the biggest obstacle for lacrosse growth in your area?
For the Rhinebeck team specifically, the biggest challenge has been meeting the budget requirements for a high school program. The Rhinebeck lacrosse team receives absolutely no funds from the school district, leaving that responsibility entirely to the student-run and self-founded organization Friends of Rhinebeck Lacrosse. After raising the necessary funds for its first year, I was able to play on a Rhinebeck Club Varsity team during my sophomore year. Each year, however, the budget needs to be refunded, making my work with Friends of Rhinebeck Lacrosse a continuous effort that has become comparable to a full-time job.
In the area as a whole, the biggest obstacle for lacrosse growth has been the late start players have had in their lacrosse experiences. More and more players are learning the game at younger ages, however, because of the youth teams springing up in our region. This helps to make our region more competitive in the high school post-season against other regions, as well as at summer tournaments. One way Friends of Rhinebeck Lacrosse has helped to promote youth participation in the game is through our bi-annual youth lacrosse tournaments. As fundraisers for our high school team, Friends of Rhinebeck Lacrosse hosts the annual Summer Sizzler in either July or August and the annual Mid-Season Medley in April. 5th/6th and 7th/8th grade teams from all over the greater Hudson Valley area, including Millbrook, Northern Dutchess, Highland, Goshen, Pawling, Warwick, Monroe Woodbury, Pine Bush, and Greeley, compete in these events. This not only helps us with our fund raising efforts, but also gives younger players fun and competitive venues to play in during the spring and summer.
How did you get involved with the sport? Who taught you the game?
I first began playing lacrosse in 5th grade at Dutchess Day School. There, I was taught my Coach David Belisle, who taught me the fundamentals of the game such as catching and throwing. I continued to play at Dutchess Day through 8th grade. My 8th grade season, Coach Sean "Mully" Mulholland took over as coach, and this is when I became completely hooked on this great game! Coach Mully played at DII Pace University and played a year of professional lacrosse. He taught me more advanced tactics and skills, and encouraged me to tryout for the regional all-star team Hudson Valley Express.
What has been your biggest accomplishment when it comes to growing the game?
My biggest "Grow the Game" accomplishment has been starting a new lacrosse team at Rhinebeck High School. It has been a project that I have worked on since before I even started in high school, and will continue to work on through the rest of high school and even once I graduate. I began high school during one of the worst economic recessions in the history of the United States, and the school Board of Education and Athletic Director had no intention of starting a new team at Rhinebeck. Through hard work, perseverance, and dedication to the game, however, I have overcome these struggles and established a new sport, lacrosse, at Rhinebeck High School, giving current high school students a new sport to learn and love and giving up-and-coming youth players a venue to continue their love of the sport.
Who or what inspires you most to help grow the game?
What inspires me the most to grow the game is simply a deep passion for the game. For years, I have played non-stop lacrosse with no offseason and have loved every minute of it. I want to be able to share this love of the game with my friends in school who had previously never picked up a lacrosse stick in their lives. By starting the Rhinebeck team, new players at my school have found themselves so completely hooked on the game that they are trying out for all-star teams and leading offseason team practices and workouts. One of the best feelings is to walk outside after school and to see a couple of players having a catch or shooting on the field, and knowing that I helped to make that possible.
Who inspires me most to grow the game is the Northern Dutchess Youth Lacrosse team. Having coached them for three years now I am incredibly satisfied to give them a place to play in high school. The majority of the Northern Dutchess team is comprised of Rhinebeck students who would not have been able to pursue high school lacrosse were it not for my work with Friends of Rhinebeck Lacrosse. This upcoming spring is the first year that some of the players I have coached will be playing with me on the Rhinebeck varsity squad, one of the greatest feelings I have ever known.
What is your favorite thing about our sport? What has drawn you to lacrosse the most?
In terms of playing, I love the fast-paced nature of the "fastest game on two feet." It combines all of the best aspects of different sports, making it an exciting game to play and watch. Whether it is the agility of soccer, the explosiveness of football, the skills of ice hockey, or the tactics and strategies of basketball, lacrosse holds some of the most fun and exhilarating parts of many sports.
I find the heritage of our game particularly fascinating; my favorite story is of Pontiac's rebellion in 1763, when the Ottawa chief Pontiac led a lacrosse game outside of Fort Michilimackinac near Lake Michigan and Lake Huron. The British soldiers cheered the Ottawa lacrosse players on as they chased a ball into the fort, locking the British out and capturing the fort without a drop of blood.
When I was four years old, before I even knew what lacrosse was, my family was fortunate enough to be invited onto the Narragansett and Pequot reservations. There, my family discussed with many of our new friends, observed, took part in, and documented some of the sacred traditions passed down by these two different tribes in Rhode Island and Connecticut, respectively. I find it interesting that over a decade later I have been so drawn to, enthralled by, and addicted to lacrosse, which has Native American origins.
Do you have a favorite lacrosse team? Favorite player(s)? 
My favorite lacrosse player is Kyle Harrison because of his athletic and skilled style of play. I follow him on Facebook and he seems like a very personable player. He is always hosting caption contests for gear from him and gives shoutouts to certain fans, making him a great role model as a player and person.
What do you do outside of the sport? 
Outside of lacrosse, I play soccer for my varsity high school team and the Rhinebeck Soccer League travel team. I enjoy snowboarding and other activities as well.
I am also an active member of my school's Interact Club. Interact is a humanitarian organization sponsored by Rotary International. We fund raise for many domestic and international projects. One such project I took part in was the Nicaragua Delegation. Throughout last year, I and my peers fund raised to build a classroom in La Ceiba school district in Leon, Nicaragua. In late February, around twenty of us traveled to the rural area to build the classroom ourselves. This was a profound experience that has changed my life, and I look forward to participating again this year.
Musically, I am very interested in traditional Irish tunes. I play the uilleann pipes, or "elbow' pipes. Uilleann pipes are the Irish version of the bagpipes and are much more melodic than the Highland pipes. Through learning this instrument, I have also learned how to play the Irish Low Whistle and penny whistle. In school, I am also a percussionist in my high school band, pit band, and Memorial Day marching band, playing such instruments as drum set, marimba, xylophone, glockenspiel, timpani, and more.
If you could change one thing about our sport, what would it be and why?
My least favorite aspect of lacrosse is the hotbed nature of our sport. I hope that one day the term "hotbed" will be out of the lacrosse player's vocabulary, as everywhere will be a hotbed. I think the best thing for lacrosse is increased diversity around the country, with more players from "non-hotbed" areas assuming greater roles in the lacrosse community. This will be helped by the continued growth of the game, something that I have participated in and hope to participate in for the rest of my life.
In terms of the game itself, I think that the development of the shot clock at all levels of the game will help increase excitement and speed of play. I am looking forward to seeing how the increased stall warnings will affect the college game this spring and hope that a full shot clock will be implemented in the next few years. I think this would help to increase the excitement of the game and increase spectator support.
Congratulations again, Roan! A well-deserved honor. Keep on Growing The Game!
Do you know someone who deserves recognition for Growing The Game in your area? Click here to fill out the Game Grower of the Month nomination form. We'll be announcing the October 2012 winner very soon.