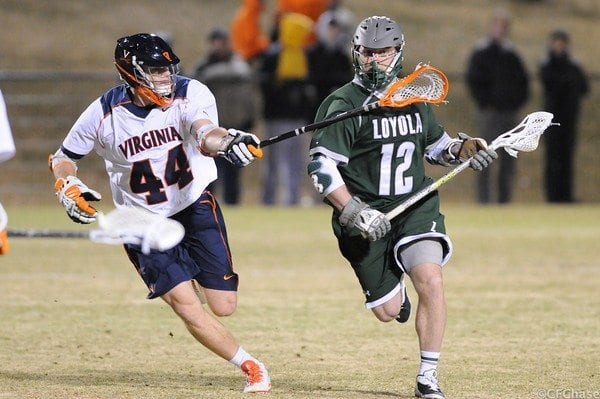 Craig Chase took in the season opener for Loyola and Virginia at UVA's Klockner Stadium last night. Virginia emerged with a 14-13 OT win over the Hounds, and James Pannell scored the game winner (one of four goals on the night for Pannell).
Photo Credit: Craig Chase
The two teams traded runs of goals and the first quarter ended at 4-4. UVA then went on a dominant run of play through the second and third quarters, giving the Cavs a 12-4 lead entering the fourth quarter. Loyola then went on an impressive run of 9 straight goals  in under 15 minutes to take the 13-12 lead. Ryan Tucker scored a goal with less than a second left in regulation (off a James Pannell pass) to give Virginia just one goal in the quarter. It was enough to tie the game back up though, and then Pannell made good in OT for the Cavs.
Loyola got very balanced scoring and had five players with two goals (Pontrello, Sawyer, Schultz, Albrecht, and Dennis) while three others added a single goal. Assists were very similarly distributed. UVA was led by Pannell, Tucker and Mark Cockerton (hat trick).
UVA showed they have the ability to come out hot and play well. If they can improve their late game play, they are as dangerous as they come. Loyola proved early on that you CAN NOT sleep on the Hounds… even if you're up by 8 goals in the fourth quarter. The Hounds have a bunch of guys who can score and a defense that can be as shutdown as any in the country.
One thing is for certain: it's going to be a great year of college lacrosse!