[rwp-review id="1″]
Company: Nike / Product: CEO U Lacrosse Head / Price: $84.99
I have almost zero experience with Nike lacrosse equipment so I was excited to get my hands on this head. With zero experience when it comes to Nike lacrosse heads, I am completely un-biased to the big brand name that is Nike and thus, I focused 100% on the performance of the head.
Nike has been slowly getting its foot in the door of the lacrosse industry for a couple of years now, and I think the explosion in popularity of the Lakota head is what helped the brand really get exposure. Now with the CEO U, I'm hoping there is nowhere to go but up. Let's get down to brass tax.
Appearance: +10.0
One of the first things I look at when looking at what head I want to use is the shape. I tend to avoid heads that gradually get wider towards the scoop. With the Nike CEO U you can see that it has a longer throat portion of the stick then it sharply widens towards the top of the head. Also who doesn't love volt? With the combination of a great shape and the volt color, this Nike CEO U has to get a 2.0 on Appearance. It's an aggressive looking lacrosse head.
Stringing: +10.0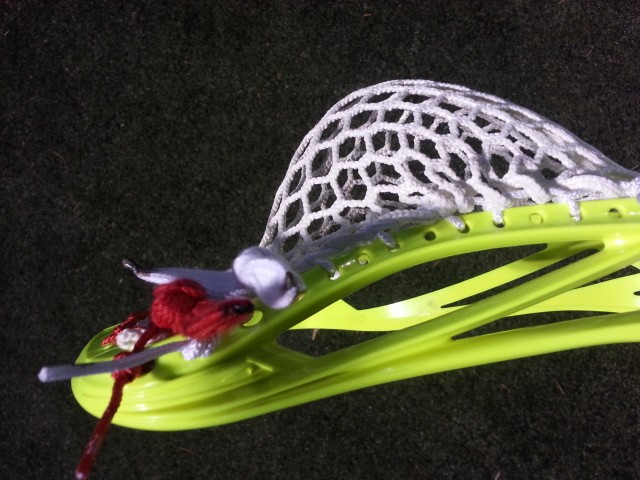 As a self-proclaimed stringer, I always look for the head with the most stringing holes. With 8 holes on the scoop, you could easily string up a traditional, or any top string you can think of. As you can see in the picture above, there are an immense amount of sidewall holes, so it's a stringer's dream. The possibilities are endless with this head,and  you can string it however you would like. I strung this with ease because of all the different options.
Stiffness: +3.0
When I was first stringing up this Nike CEO U, I was working on the sidewall interlocks, and I pulled the sidewall string as tight as possible and it felt like the head almost folded in half. This is one of the most, if not THE most, flexible head I have used. I found myself straightening the head a lot after ground ball scrums and what not. I would avoid this head if I were a FOGO or defense man, but since I play attack, I found it be fantastic.
Durability: +7.5
To truly test the durability of a head I think it needs to experience an entire lacrosse season. Since it is the off season I have just been beating the crap out of this head to simulate the season. I have smashed this head over steel beams, poke checked trees, tried to bend it beyond belief, and played a couple fall ball games and practices with it. And through all that, it has help up wondrously. The fact that this head is so flexible adds to its durability, in my opinion. It gives when under a ton of pressure. I was very impressed. This head is the Gumby of lacrosse heads.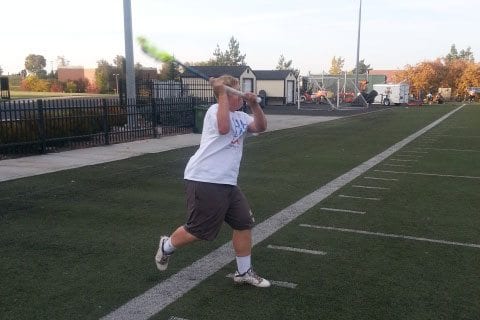 Value: +7.5
The price of the Nike CEO U is right on the average of what lacrosse heads are costing in today's market, $84.99. If you are looking for a new head on the market and you find one under $100, it is a great deal. I haven't seen a top of the line lacrosse head released with a price of lower than $95 in a very long time. So at $85 the Nike CEO U is a pretty fantastic all around head for an offensive player.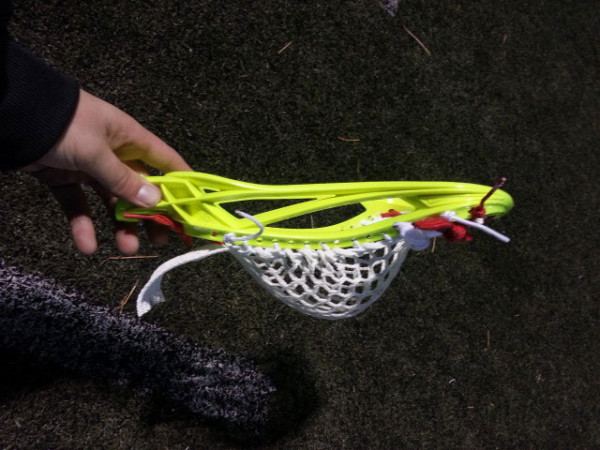 Overall: 7.4/10
Overall this lacrosse head performed fantastically for an offensive player like myself. I would NOT recommend it whatsoever for a defenseman or a FOGO. It is definitely an offensive head made for attack or offensive middies. I say this because of how flexible the head is… it will simply warp way too fast if used for defense or face offs.  The shape of the head also favors an offensive player, it is not wide by any means, which is what most defensive players look for in a lacrosse head. But if you like to score goals, and have some attention drawn to you by the volt color, the Nike CEO U is the head for you!