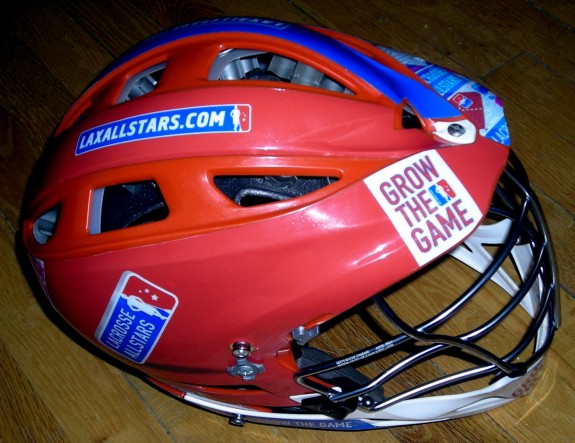 I've seen a LOT of Head Wrapz this year.  Some have been truly unbelievable, so when James Gravitt offered to send over a surprise LAS Wrap for one of my Cascade CPro7s, I had very high expectations.  I appreciate anyone sending their product over to try out, and am more than happy to give anything a good look, but I only use the stuff I personally love, and this Helmet Wrap passes with flying colors.
When I first saw it, I was a little nervous about putting it on my orange helmet I got through the Southampton Lacrosse Club.  Ideally, it would look best on a white, red or blue helmet, and I didn't think orange would work.  But it definitely did.  The slight contrast between the red and orange actually looks great, or I'm possibly color blind.  Some might not like it, but I'm a fan.
The one side with mashed up LAS logos and Grow The Game Logos is busy but interesting and is well balanced by the simpler red side on the right.  The split visor is always a nice touch.  I really love the large Grow The Game logo on the visor, it's who we are… and Head Wrapz put that front and center.  This helmet can help me spread the gospel that is lacrosse, so I'm all for it!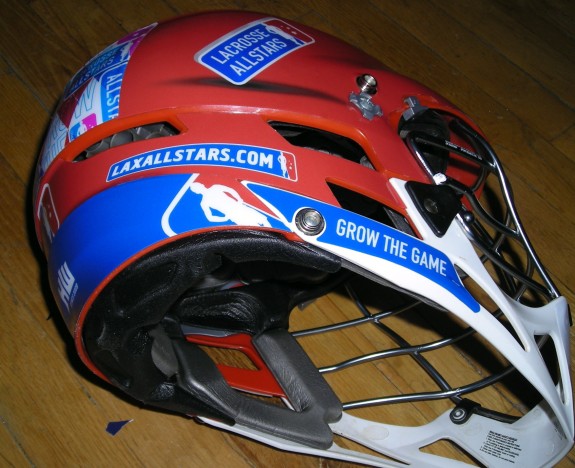 The panels were sized correctly, and they were easy to install on the helmet.  It took me less than 15 minutes to get the Wrap on, and work out any remaining bubbles.  The instructions were simple, but precise and made the process a lot easier than if I were to try to guess how to properly install the wrap.  By starting in certain places, I was able to make sure the panels lined up nicely and air bubbles were minimal.  I was able to work out the remaining bubbles without using a hair dryer and they all lined up nicely, even though this was the first time I'd ever tried this process.  I chalk that up to well measured stickers, good instructions and a little patience.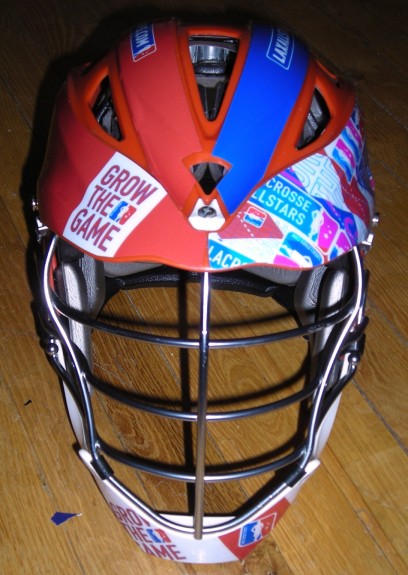 Finally, the chin panel is a neat little added feature for the lid, and I'm glad my helmet had a white chin piece.  It blends in seamlessly and hits the message home.  I'm pumped to rock this lid as much as possible now that it has our company logo all over it.  The fact that it looks so good doesn't hurt either.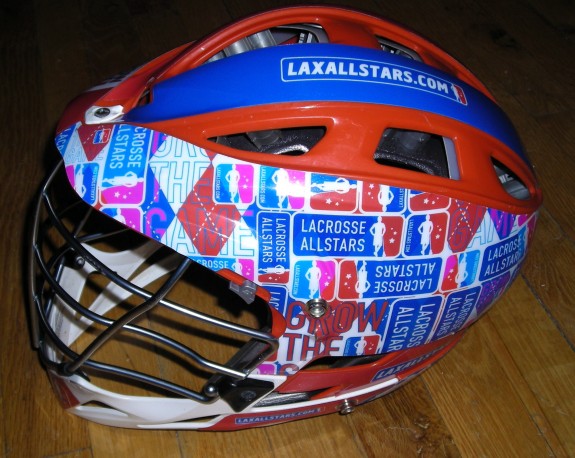 A lot of companies are getting into the Helmet Wrap game, and if you want a guaranteed great product, you can't go wrong with Head Wrapz.  Yes, they sent me a free Head Wrap, but the fact is that it's high quality, and well designed, and I'll actually use it.  That's as honest an endorsement as you can get.