This is a touchy subject and I won't even pretend to know what I'm talking about, but last night I was watching Real Sports With Bryant Gumbel when performance-enhancing drugs were brought up. This was the end of year episode in which Bryant and his crew of reporters were sitting around a table discussing their top investigative stories of 2010. The stories being discussed were about drug-testing marathon runners and steroids in Women's Bodybuilding. While drug testing is mandated immediately after any professional running race, there are no rules for women bodybuilders. Doping is socially (yet silently) accepted amongst the female bodybuilding crowd.
Of course, this all got me thinking… Do lacrosse players dope?
The short answer is yes. Unfortunately there are athletes using PEDs in every single sport, no matter the restrictions or testing policies.
The long answer is too complicated for me to unravel on my own.
Every coach, every specialist, every reader will have a different view – a different belief – about this topic, and it really is all very complicated. As I was running that question above through my head, I tried to refine it and make it more specific. Do high school lacrosse players dope? I'm sure there have been cases. I recall reading about an instance in Connecticut a few years ago. Do college lacrosse players dope? Well, the NCAA drug tests athletes, right? There is no testing in the MCLA, nor is there a published policy. Do pro lacrosse players dope? There are probably some who do, and right now all I can hope is that the NLL and MLL have both adopted similar rules to those of the other major professional sports.
As I was searching around YouTube for a clip of the Real Sports episode I had been watching, I stumbled across this open letter from Mr. Bryant Gumbel to "Baseball's Usual Suspects":
I hope our league commissioners don't fall asleep at the switch, too.
__________________________________________________________________________________________
On the lighter side,
In yesterday's Hot Pot I shared my new kicks and made an open request for someone to design us up a snazzy Sweet Sweet Lax pair. Reader Matt Foote answered the call.
The guy has an eye for design!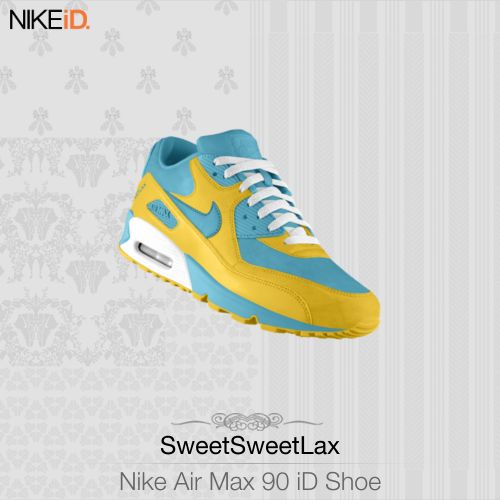 Thanks to Matt for the clean design. Now to convince those guys at Nike to make the drop.
Also in the sneaker department…
Reebok "ZigSlash USA" submitted by Krieg Shaw. Patriotic AND LAS-worthy.
We'll take 'em!
__________________________________________________________________________________________
IN CASE YOU MISSED IT
– 1 Lacrosse Launches Custom Shaft Design Lab | Sweet Sweet Lax
– Gear Day at Towson | 412 Lax
– TLA's Friday Quick Chat | Thailand Lacrosse
– Kanye West's "Monster"… With Muppets | Spoon Feed
– A Connor Wilson Instant Classic –> DIY Lax Tip: Improving Your Gloves