On Thursday night (Feb 21st), Team LAS will take on the Syracuse Stingers at the Oncenter War Memorial Arena in Syracuse, NY at 7pm and our team couldn't be more excited to take part in this exhibition match. But to be completely honest with you, I also have little to no idea as to what to truly expect.
Sure, I know we're going to play box lacrosse, and I know that there will be at least 1,000 in attendance. I know who we're playing, and I know who I am playing with. I know Neal Powless, of the Stingers, is a great guy, and I can even now say that I know box lacrosse pretty well… but none of that really keys me in to what this experience will be like once it really begins.
This air of uncertainty actually makes me more excited than anything else.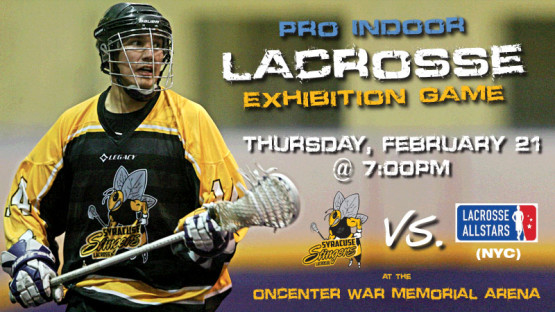 I used to go to Summer field tournaments and get this feeling. I got it my first year playing goalie in sixth grade. I felt it my first year of high school varsity. The feeling of uncertainty was highest during my first year of college lacrosse, but it crept back in to my life when I lived in Australia for six months, and played down there. I felt it a little bit on the way to Thailand, and I felt another tinge when I went to Prague.
But I haven't been as unsure about a scenario, and yet still so excited, to just go play lacrosse, as I am right now. At 32 years old, I'm going to play in a new place, against a new team, in a version of the game I don't know as well I'd like to think. And it's giving me a feeling I haven't felt in a while.
My only recommendation is that YOU find your "game in Syracuse", and get excited and nervous about the sport all over again. It will be the best thing you can do for your love of the game.