Kyle Harrison was in New York City last night to promote his new Beats by Dre headphones, but before he headed to downtown Manhattan for the event, he traveled out to Ocean Hill, Brooklyn to meet with some kids I coach at Eagle Academy.  Eagle is a relatively new school in Brooklyn, which currently offers the 6th through 9th grades.  Each year they add a new 6th grade class, and in 2014 they will graduate their first class of Seniors, some of whom are currently freshmen on the lacrosse team.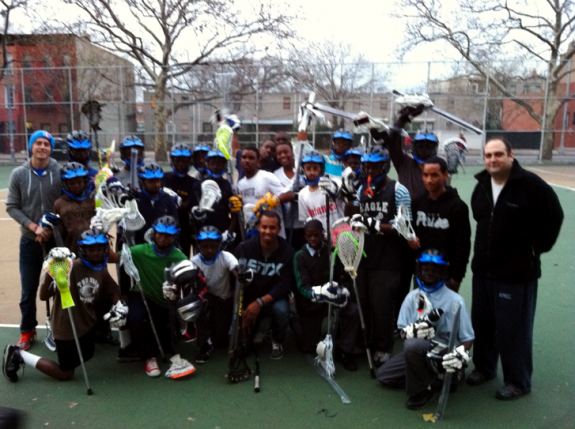 I head out to Ocean Hill and coach these guys on Saturdays, and I will be working with them in the Spring as well. The head coach, Mike Skrilow, and his assistant, Joel Taliento, do a fantastic job of taking the kids through the paces throughout the rest of the year.  Having Kyle Harrison out there leading the way for even a day was truly a treat for us all.  It's great for the kids to be able to learn from one of the best to ever play the game, and Kyle makes sure the energy level is high and the feedback is always positive.  In only an hour and a half we got a lot in, and I definitely saw kids improving as the clinic went on.  Most importantly, the kids had fun, gaining a greater appreciation for the game and where it can take you.
Evan Kay (LXM PRO, NALL draftee, UMBC) also came out for the clinic. He helped with demos and dummy defense, and we all really appreciated him making the trip out to assist!  At the end of the clinic, Kyle gave out a ton of STX gear to the kids based on a little trivia and whether or not they needed a new stick.  As of today I think every kid at Eagle has a pretty good looking setup stick-wise (for now), and the STX donation by Kyle really helped the team get there.  Next up is helmets and padding!
I didn't get a ton of video or photos because I was either coaching or shagging balls most of the time, but check out the quick video below and be on the lookout for more on this from STX in the near future!  I can promise you it will be much better than my rough behind-the-scenes footage.  It was truly a great day of lacrosse in Brooklyn!