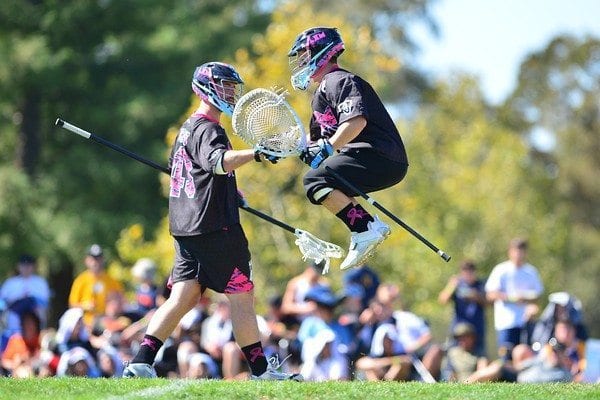 Did you watch the last LXM PRO game? If not, you missed out on what was quite easily the Lacrosse Performance of the Year! Thankfully, The Lacrosse Network has you covered with a tape of the game over on YouTube.
You see, Matt Russell was back in goal for Team STX after suffering a broken thumb a few weeks earlier, and before the game in Cocoa Beach, FL had seen a full quarter, Russell took another shot off the thumb, and had to leave the game. Russell looked like he was in an incredible amount of pain, and I had to wonder who would step in goal if Matt were unable to return?
We got our answer only a few minutes later, as Maxx Davis gave up the short stick and stepped in between the pipes. Usually Davis is playing D-mid, taking face offs, and doing the dirty work, so it should come as no surprise that he was willing to step in goal when his team needed him. He let in a couple of soft goals (who wouldn't?) to start things out, but quickly turned it on, and began making some breathtaking saves.
Team STX's defense really stepped it up, and made it hard for Maverik to get off a shot many times, but when they failed, Davis was up to the task more often than not. You could tell he had Maverik shook, and MavU didn't really start to pour in goals until the game was out of hand late in the fourth quarter. The win secured LXM PRO bragging rights for Team STX, and the fact that Maverik really needed this win made it even more impressive.
Maxx Davis owns the Lacrosse Performance of the Year, there is no question! It was also cool to see Maxx's cousin, Kyle Harrison, go back to taking face offs… and WINNING them! He has a super old school approach to face off work, relies on fast hands, a good box out, and body position. It was like 2003-2005 all over again!
Props to Maxx Davis for stepping in goal, getting the win for his team, and for rocking the LAS pose once in a while!