7:30AM – Alarms sounds. GAMEDAY!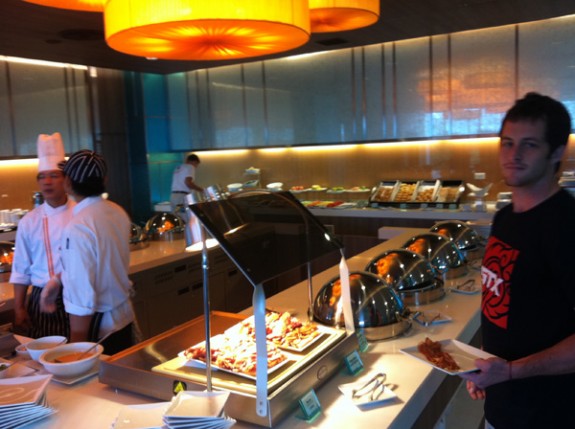 8:00AM – Breakfast at "the SQUARE" in the hotel with the referees who just arrived from Japan. Turns out two of the refs called the USA vs. Canada World Cup Championship game.
9:00AM – Trying to get some extra rest at the hotel. We leave at 10AM for a local market that fills 35 acres.
10:00AM – Jumping in the vans and heading to the Chatujak Weekend Market.
The market offers a wide variety of products including household items, clothing, Thai handicrafts, religious artifacts, collectibles, foods, and live animals. For tourists, there are a number of onsite companies who will send purchases abroad.
11:00AM – We arrive at the market and absolute tourism ensues. Each of us bought at least a bag full of clothing and souvenirs. Me? Ray Bans that fold up, a watch, shorts, tank, an LAS ninja and a thank you gift for my sister who's watching Bear this week.
2:00PM – Leaving the Chatujak Market.
2:30PM – Back at the hotel for a tour of the IMPACT Complex.
4:00PM – In our rooms with 1.5 hours to rest and relax before we head to the field. Connor and I meet Payu in his room to go over teams and distribute shorts, etc. Payu surprises with a sweeeeeeeeet souvenir.
5:30PM – Heading to Yamaha Stadium. Energy is high. This is a going to be a blast.
5:45PM – In the locker room with all the players, suiting up for pre-game shenanigans.
5:55PM – Out on the field tossing and shooting around. The sun is shining brightly on the stadium as it begins to go down.
6:30PM – Thirty minutes until game time. Jerseys are being passed out. I'll be on the blue team, Team "Grow", with Connor, Dave, Dan Willson and Phil. Our defense will consist of me, Dan W, Big, Kol, Patrick and Steve Hess.
7:00PM – GAME TIME. Thai national anthem begins. We'll be playing with International Rules, so quarters will be 20 minutes long with a running clock. No time limit for clearing.
7:55PM – Halftime score: Game 5, Grow 4.
9:00PM – Game over. Game 11, Grow 7. An unreal experience. We could care less about the final score – winning was not the goal. What an honor it was to play in a game like this. The first round of game photos can be found here.
9:05-9:30PM – Post-game photo session.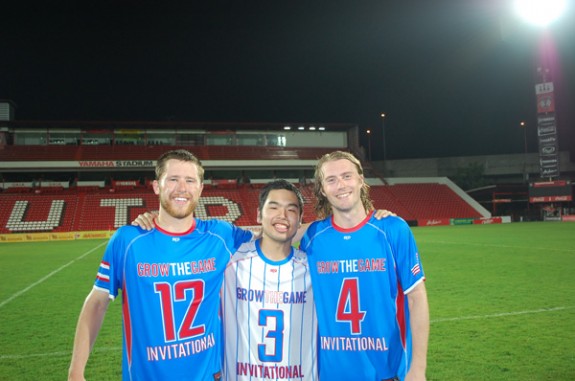 9:30-10:00PM – Showering up at the hotel.
10:00-11:45PM – Celebrating at an Irish Pub in the IMPACT Complex. All players from both teams are here. Glenn found his #1 fan waiting for him outside of the bar.
12:00AM – Hanging out at the hotel lobby bar.
12:30-2:00AM – Working on editing video from throughout the week. Coming soon, promise!
2:00AM – Passed out.