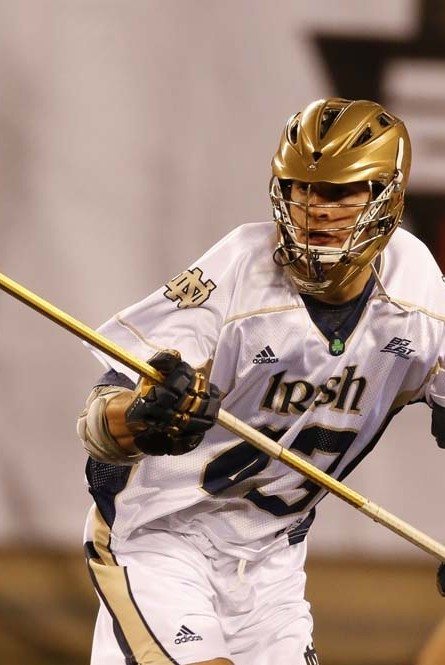 Saturday saw four D1 lacrosse teams go up early, and then fall, before the game was through. Penn State and Detroit both went up 5-1, on Yale and Notre Dame respectively, before giving way to huge comeback runs, and getting knocked out. Lehigh went up 2-0 on UNC, and looked great early on, before the Heels exploded in the 2nd quarter. Even Albany took a 1-0 lead, and then a 3-1 lead (and a 4-3 lead), before Denver's offense really started clicking.
Basically, the lesson from Saturday is, don't go up early.
Obviously the above statement is a little tongue in cheek, as scoring goals early is never a bad thing, especially if you can keep it up throughout the game, as Denver and Albany did. The real point is that no game is OVER these days until it's truly over, and that makes for truly excellent lacrosse.
Yale Comes Back On Penn State 10-7
Watching the first half, I was pretty sure my prediction of Penn State going deep was sound, and then the wheels just fell off the bus. Austin Kaut had been making some ridiculous saves to keep Yale off the board for the most part, and eventually, some of those great chances started going in. Kaut continued to play well, but Yale continued to generate quality looks. Eventually, a talented offense is going to win that battle.
I knew the Yale defense was good, but man of man, they looked awesome in the second half. Great play from their keeper, and all of their poles were forcing the issue when it was safe, and slowly working their team back into the game. Face off play improved dramatically, and resulted in more than just possessions. Good chances started coming for Yale in bunches.
The Bulldogs never gave up, and they didn't slow down. Eventually things started to click. It was the definition of not panicking.
Notre Dame Survives Detroit 9-7
HOLY SMOKES! Detroit did their thing, and partied their way to one heck of a game. They played loose early and it did not look good. They continued to play loose, and it started to work, and Detroit looked great, eventually going up 5-1 on the home team. Shots were falling, turnovers were being created, and Detroit looked like they were ready for Round 2.
In the second half however, Notre Dame clamped down defensively, Kemp began to predict the Detroit shooters' tendencies better, and ND chipped in a couple of goals when Detroit got "too" aggressive. The biggest changes came on D, and the focus of the Irish defense shifted to the more dangerous Detroit players, forcing the Titans to take some bad shots, and force some passes.
Notre Dame used superior depth, and a conservative style of pressure lacrosse to chip their way back into the game. When the scoreline was 7-6 Detroit, with about 12 minutes left in the game, you could feel that the momentum had shifted completely. ND stuck to their guns, survived a great challenge from a team with nothing to lose, and won a huge game that should prep them well for the Elite 8.
UNC Overpowers Lehigh 16-7
Early on, UNC did not look great. And when I say early on, I only mean the first couple of minutes. Fantoni and DiMaria looked in control and ready to dominate, and Poillon was solid, and the Lehigh team looked big, strong, and ready to run. UNC seemed to flip a switch at some point in the second quarter though, and all of a sudden they were on a tear and the game started to get out of reach relatively early.
Of all the teams that played on Saturday, UNC looked the most dangerous. They generated goals in a multitude of ways, and showed proficiency man up, in transition, settled, off the face off, and even man down. A team that score that many ways is incredibly dangerous come tourney time. How do you scout that in a week? Or if it's the Final Four, one day?
Denver Outguns Albany 19-14
Albany scores the first goal of the game, then Wes Berg scores. Then Albany scores two more. Then the game continues and Wes Berg scores 7 more goals for 8 total, one shy of tying the all-time record of 9 goals in a playoff game, held by two people. We knew this game would be high-scoring, and we knew that SOMEONE was going to have a monster night. It could have been about 8 different people, but it was Berg. He put on a show, and scored every which way.
This is the game where scoring first, or leading first, mattered the least. Goals were going to come no matter what, and the floodgates were open from the first whistle. It's just interesting to note that Albany looked hot early, but it was Denver that won. Probably meaningless, but it fits with the theme of the story nicely.
As a bonus, here is video from the D2 LIU Post – LeMoyne game:
And video from the D3 Nazareth – Western New England game: