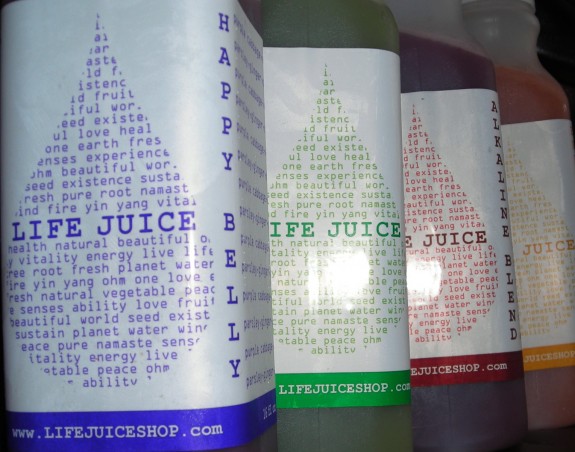 Not every product I check out is 100% lax-related, and when I do find a product from outside the lacrosse world that I think is worth checking out, I'll always be sure to let you know.  This time around I've found Life Juice, and I'm definitely feeling their vibe!  The juice is killer, their cleanse program sounds interesting, and I even found a couple of uses for the product that the creators might not have originally intended.  Research at its best!
I actually met the people behind Life Juice, Ety and Tom Salamone, at a lacrosse tournament.  Tom was playing on the Diablos LC with me, and his wife, Ety, is the woman behind Life Juice.  They brought a cooler full of frozen bottles of juice for us to drink throughout the day, so I grabbed one, stuffed it in my bag and went off to play in my first game.
One thing I always struggle with is keeping food down on game day.  This goes back as far as my college days, where I basically wouldn't eat a single thing on days before games.  I'd drink water, and some gatorade before and during the game, but I always felt a little too empty, like I lacked that last push of energy.  If I did eat, I'd often feel better for a while, but in the end, I usually ended up throwing it back up.  I know, not a pretty sight.
So when I looked at the ingredients of the Life Juice I had grabbed, a blend called Happy Belly, I was a little skeptical.  Purple Cabbage, Apple, Parsley and Ginger?  There was no way I was going to keep this down, I just knew it.  But when I drank about a third of the bottle, I definitely felt re-energized.  I put the bottle back in my bag and played in my next game.  And the result?  No puking.  No upset stomach.  And no feeling like I was going to faint.  Had I just found my new lacrosse tourney sustenance?
The day continued on, and I kept playing and drinking my Happy Belly.  I felt great all day, and ran harder in the last two games of the day than I did in my first two games.  It was a warm day, the sun was out, I ran a lot, and we had some serious tight games.  But I was able to stick through it and keep my level of play relatively high.  And I kept going back to that Life Juice.
I spoke with Tom and Ety a bit about the juice before I took off, and they offered to send me a sample pack with a couple of other flavors and combos that I hadn't yet tried.  When the case came in a couple of days later, I saw 12 green, red, purple and orange juices staring back at me.  I had my research work cut out for me.
I used one bottle of juice during a youth clinic last weekend, and as anyone who has a youth clinic can tell you, it's an exhausting process.  The Energizer Bunny juice I brought with me kept me going though, and it definitely filled me up a bit more than a gatorade would have, but it wasn't like eating a sandwich either.  It was just a good, thick juice that wasn't overly sweet.
I also tried replacing all of my meals for one day with the Life Juices, just to see if I could even handle their proposed cleanse program, and to be honest, I was never hungry.  It drinks like a small meal, and every time I have one, the word "nature" just floats around in my head.  It makes me feel good about what I'm drinking, and somehow that puts me in a pretty super mood.  I did go to Wesleyan, and definitely have some hippie tendencies to go along with my hippie hair, so maybe you don't think like me, and that's fine.  But if you, you might dig this product.
I've still got a couple of Life Juices left in the fridge, and I'm planning on using them to keep me fueled up during lax games.  I've tried a lot of other stuff out there, like Gatorade, Muscle Milk, chocolate milk, water, Motive Pure, coffee, OJ, etc, and while some of it has helped in the past, Life Juice is my new go-to lacrosse game day drink.  For me, it's the perfect balance of not being too heavy, but also being able to keep me going.
Now at $10 a bottle, it's certainly pricey.  There's no debating that.  But sometimes you have to pay for high quality stuff, especially when it's made from high-quality fruits and vegetables.  And when a product really helps me, or I really like it, I'm willing to pay for it.  Life Juice meets both of those criteria.
For more on Life Juice, check out their website and facebook page!