For years and years, there have been whispers and yells about a possible lacrosse video game in the works.  EA Sports has been brought up before, and CollegeLacrosse 2010 (and now 2011) are both available for download on XBox, but there is a new video game in town, and it's yours already!
My Lacrosse Video Game was started by Tom Kessler, who played lax for Hofstra in the early 2000s.  Tommy was a stud attackman for the Hofstra Pride, who were then known as the Flying Dutchmen, which was a much better mascot, and went on to see some pro ball success before moving on to other ventures.
And that other venture is MLVG!  The concept is pretty simple… let the lacrosse fans design the game, get their input from day 1, build up some momentum and make it happen, but on the lacrosse community's terms.  You can't please everyone all the time, but with this approach, I think these guys could be pretty successful.  What do you guys think about this idea?
MLVG has a pretty solid group of guys working on the project already, but to give you a little more perspective on the video game, and on Tommy Kessler, I sat down with him and did a quick interview.  Enjoy!  Their website dropped today!  Big things!
Tell us a little bit about yourself, Tommy! Where did you grow up, go to college and where are you now? Has lacrosse always been a part of your life? Tell us your lacrosse story!
I grew up in Hicksville on Long Island, and played lacrosse at Hicksville High School (County Champs 1997). I went to college at the "Stra", Hofstra University, formerly known as The Dutch- Dome.  I currently live in Long Beach on Long Island.  Back when I was a kid, the sport of lacrosse wasn't nearly as big. We played PAL (Police Athletic League), and went to summer camps, but travel leagues, tournament teams and the opportunities offered to kids today weren't available to us.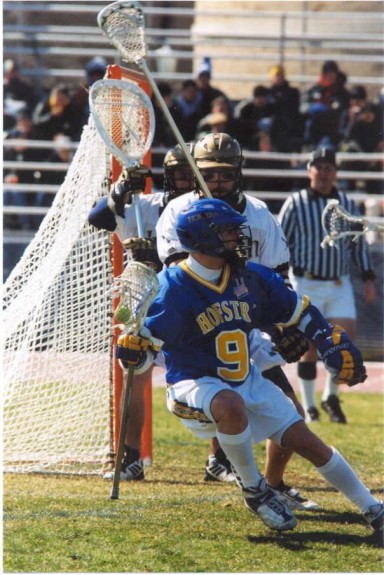 Photo courtesy Lax.com
Lacrosse started for me in 5th grade. A good friend of mine, Bryan Walker, had an older brother who was the first I knew who played lacrosse. He had given me one of his old lacrosse sticks, and I haven't put the sport down since.  My Parents used to bring me to my sisters' sports games up at the high school, and all I would do for hours is throw the ball against the wall. That summer the 1st lacrosse camp I ever attended was at Hofstra University (figures, right?).
Where does the push for a new lacrosse video game come from? Is this something you've been passionate about for some time? Or is this a new idea you just came up with?
Lacrosse, and sports in general, have been such a big part of my life for so long, it's all I ever wanted to do "when I grew up".  Like all young athletes, I have always dreamed of being a professional player or involved in athletics in some way shape or form. Besides lacrosse, I loved to play Basketball, Baseball, Football… whatever game I could find. Since I am a stellar 5'9″ tall, my professional athletic career was kind of unlikely. But I was fortunate to earn a scholarship to Hofstra, and the dream of playing at a higher level was real.
Anyone who is close to me will tell you I have been talking passionately about making a Lacrosse Video Game for at least the past 10 years.  My thinking was that if I could find a way to create a Lacrosse Video game, I would be able to accomplish a few things. The first is the most important to me. By creating a lacrosse video game, Lacrosse itself would be exposed to a much broader range of sports fans and in turn it would "grow the game" exponentially. By growing the game exponentially, there would be more of an interest in lacrosse professionally, and because I thought I was going to be a professional Athlete at some point in my career, that eventually my dream would come true. Kind of a sick way of thinking, isn't it?
Why go with a crowd-sourcing model?
Originally, crowd sourcing was not the model. I had developed a business plan that would raise the capital to develop a playable demo, a computerized version of the video game,  and a website to pitch the idea. The plan was to shop the demo around to the major lacrosse companies and investors to raise the additional capital needed to fund the final version of a High Quality Lacrosse Video Game.
The crowd sourcing model came into play over the past year and a half. The cost to develop a High Quality, EA sports style Video Game is enormous. I put the figure at over $5 million to do it right. The only problem is that the Video game world doesn't believe that lacrosse is a big enough sport to bear the cost of development. So, I searched around the internet and started to see that crowd sourcing was becoming an avenue that could be used to develop projects.  It was successful in England when a soccer journalist created a website that allowed fans to pay a 100 pound membership fee to help buy and run a soccer team.
30,000 fans signed up, bought a team called Ebbsfleet United, and that year they won the cup. It was called Myfootballclub. I am using this concept for Mylacrossevideogame.com. Crowd sourcing is also very successful on websites like Kickstarter.com and thepoint.com. The websites allows fans and followers of many different projects to be involved by helping support the project financially. A person can visit the site, search for a project they like, and commit to a certain dollar amount they want to contribute. If the goal of the project is $5,000 and the project raises $5,001, all the supporters credit cards gets charged. If the project only raise's $3000 in commitments, then no one's credit cards get charged.
Translate that over to the lacrosse community and tell our serious diehard lax rats that if they want to see a High Quality Lacrosse Video Game developed, then they need to come together as a group, put our money and ideas together and build a game as a community.  MLVG.com will be the place to get it going. Instead of having 1 person or a few people come up with $5 million dollars, lets get 50,000 people to give only $100.
We've seen a lacrosse video game, and it was an independent effort. What are the roadblocks to getting a company like EA Sports to interested? Can MVLG fill that void? Is that what you're shooting for?
The independent efforts are great. For one, they prove there is a market place for a lacrosse video game. I've seen one company get over 200,000 downloads. If I cant grab a 1/4 of that market for MLVG, then a real Video Game isn't meant to be made. Everyone would like to see EA Sports to get involved but I don't think they see a Major Lacrosse title as a smart move for them. If they spend $5-10 million developing and marketing a game to the lacrosse community of 1-2 million players, and if half of those players buy a game at $60 a game that would be $30-$60 million dollars before expenses, like packaging and distribution. Then they have to pay royalties to whoever they have the rights for (NCAA/MLL/NLL). Probably anywhere from 15-25%, minus development cost and everything else associated with making the game, EA might profit $10-20 million dollars. An amount of money anyone I know will be more than happy to make, but for EA sports to make that as profit…  They spend more than that on just the marketing budget for Madden alone. That is my opinion on why they don't get involved.
OUR GOAL is for MLVG to become EA sports for Lacrosse Video Games.
What are some of the biggest opportunities you see for MLVG right now? What will some of the biggest obstacle be?
I think one of biggest opportunities will be offering a solution to a problem that has yet to be fixed. The Lacrosse community wants a Lacrosse Video Game. One that looks like Madden NFL, FIFA or 2K NHL offered on all consoles. MLVG plans on accomplishing those needs.
The biggest obstacle will be making the community believe in what we are doing. This is uncharted water, no one has ever done anything like this. Everyone wants to know "what do I get out of it"? My answer is the Lacrosse Video Game you have been asking for. But I definitely forsee it being difficult to ask people to pay $100 for a game that isn't even made yet. What they need to understand is that the $100 is going towards the development of the game but also for the membership that will allow them to help us build the game together. Once the game is made, any paid member will get the game for free.
How are you going to engage the lacrosse community? Since their involvement is of paramount importance to the direction the game heads, you must be planning on keeping them engaged. How will you go about this?
I plan to engage the community through the membership of the site. Once you become a member, you can build your profile that will be transferred into the actual game. But most importantly the member site will have an online governance system where the members can propose ideas and vote on everything imaginable they want to see in the game. Hopefully that will be the draw. The fans will literally help build the video game. I know what you are thinking, how am I going to take 50,000 ideas and track them?  Great question, but it doesn't really work like that.
The forum will almost govern itself, because first a member has to propose an idea to the community. If the idea is valid and reasonable then it will go into a vote to the rest of the community. From there its majority rules. Of course MLVG always has the final say but I believe a lot will be accomplished through this type of forum.
We will also use the traditional social media aspect of engaging the community. Blogs, twitter, Facebook fan pages, giveaways, scavenger hunts, viral videos on youtube.
Also considering hiring someone, giving them a Flip camera, and sending them to every lacrosse tournament and function they can go to and have them spread the word of MLVG and report back to us for a weekly blog. There are all sorts of fun things we can do online nowadays!
Does lacrosse have the appeal to get people playing a video game, even if they've never played the sport? There are plenty of kids who play NFL2k10 who never played football. Will the crossover popularity be there? If it isn't naturally, how can you create more interest?
Yes, I think it does have the appeal. Lacrosse is very unusual game to someone who hasn't seen it before, but when was the last time you heard of someone watching lacrosse or just seeing it for the first time and saying, "Nahhh that wasn't for me" I have NEVER heard that before. I definitely think there is a crossover with athletes and gamers, that if you put a really great product in front of them, they will like it and be entertained. I tried skateboarding when I was younger for like a week, But you know damn well I played hours and hours of Tony Hawk in college because the game was just awesome.
I also believe that if this game is made right and marketed right like anything else that is sold in this day in age, it will reach a much bigger audience. Lacrosse needs to be inserted into the main stream media and it will take off.
Will a big time lacrosse video game increase the exposure for the sport in a positive way? What does the lacrosse community need to be wary of when branching out like this?
I don't know why the increase of exposure for our sport would be seen in a negative way.  I really only see positives that come out of increased exposure. More companies would want to be involved, which leads to more products, more money, more sponsorships, more interest at the professional level, more youth programs, more athletes having the opportunity to play the game and so on.
What do you think of this lawsuit? Do you think college players in video games were treated unfairly? How could this work in MLVG?
It's almost unfair to discuss this issue because college football and college lacrosse are on two way different playing fields. When college lacrosse gets to the level that college football is on, then we can compare apples to apples.
The funny thing is we came up with an idea that is completely opposite to what this article is saying. I have to give credit to one of my board members, and Vice President of MLVG operations, Timmy Byrnes (Syracuse National Champion, 8 yr MLL career).
He came up with a brilliant idea to involve more of our target market. Ex-Collegiate Lacrosse players. Obviously to make this thing successful we need to raise money. Well Timmy came up with the idea of being able purchase at auction the right to have your name, likeness and number defaulted to the winning bidder in every video game sold.
Example, Tom Kessler played at Hofstra and wore #9. I would have to bid (like e-bay) to have the right to have my name, number and likeness show up in every video game as the default for Hofstra #9. The bidding can start at $50 or $100 but if Dom Gallina, a fellow Dutchman that played before my time wants that same number, I will have to out bid him for it. Dom or myself could wind up paying $300 to have the right to be #9 on Hofstra in every video game developed.
In the case with Sam Keller and the article you mentioned, he was already in the game but without his permission. So he felt he was due compensation. But what we are saying is you paid for the right to be in the game, you gave your permission. Now MLVG and most importantly the Lacrosse community will benefit because of that permission. MLVG will able to raise enough money to actually put that persons name on the back of a jersey in a really cool Lacrosse Video Game that was never there before!