It's that wonderful time of year again where the best of the best in college lacrosse go head to head in single elimination to determine the best team in all the land.  We'll be running through the NCAA and MCLA tournament fields and predicting winners for each week!  We kicked things off already with the big boys of NCAA D1 and now move on down the ladder offering our picks for Division 3!
If you disagree with a pick, let us know in the comments, but make sure to tell us WHY!  Extremely compelling arguments may be rewarded with an offer of a writing position or swag!
Springfield @ Stevens, Winner Plays North #1 Cortland
Springfield at Stevens will be played this Wednesday, and I'm thinking Stevens is a heavy favorite here.  Stevens won their regular season match up 11-5, and while a lot has changed for both of these teams, I think the results will stay the same.  Stevens' D will lock down in the second half and they'll win by 3 goals or more.  The winner heads to Cortland, and I'll pick Cortland over either team.  The Red Dragons just seem to have "it" this year.
Bowdoin Hosts Mt. Ida
This will be a blow out.  Bowdoin is a more talented, disciplined and athletic team.  They should win every statistical category and earn a victory by 7 goals or more with ease.  Mt. Ida is good, but Bowdoin is really good, and this one won't even be close.  At least not for long…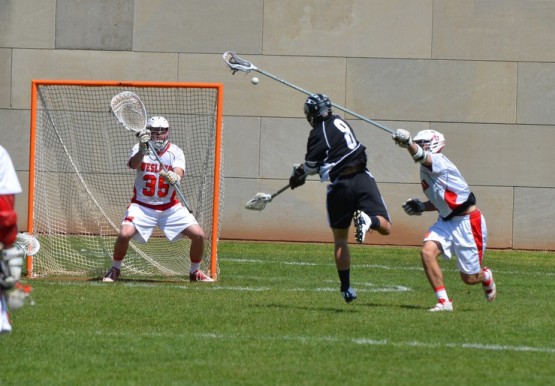 Montclair State Travels To Union
Union is strong this year, and while Montclair State is good, I don't think they have the horses to run with Union for long.  The Dutchmen will pull away as the game wears on and eventually take the W with a 14-8 score, or something along those lines.  This means Bowdoin would play Union over the weekend, and I'd take Bowdoin in that game.  The Polar Bears know how to lose a game statistically, but win when it comes to the all important score, and that's what will happen this weekend.
RIT Hosts New England College
RIT will roll here and put up big numbers on offense.  I'm thinking 17+ goals for RIT and less than 10 for NEC.  Should be pretty lopsided game.
WNEU @ Conn College – GAME OF THE DAY
Out of all the Wednesday college lacrosse games this week, WNE at Conn College might be the game of the day.  WNE beat Trinity by 7, lost to Tufts by 4, and lost to Cortland by 5.  They also lost to Springfield 10-5.  Conn lost to Trinity AND Tufts (twice) and has other losses, but is looking to gel at the right time.  WNE is the favorite here, and I'll pick them to win by 1, but expect a great game that could go either way.
Trinity Hosts E. CT State, Winner Plays Tufts
Trinity should definitely win this game, and win by 4 goals or more.  However, the Bantams have little to no experience in a big game like this, and they can be susceptible to mental lapses.  If Trinity plays their game, they roll.  If they get caught up in nonsense, anything can happen.  My gut says Trinity ekes out a W though, 10-8.
This would make for a NESCAC re-match with Tufts, and to a certain extent this makes the winner of the WNE – Conn College game somewhat irrelevant.  Being completely honest here, I just can't see either of those teams knocking off the Jumbos right now.
Salisbury South #1, Plays Winner of WAC – Goucher
Washington College really came alive this year and the Sho'men started to show some of that traditional fight, which was great to see.  Goucher won their conference and made big strides.  The difference here will be Goucher is happy to be there, WAC is still hungry.  WAC wins by 2.  In the end, it is totally irrelevant though, even more so than WNE vs CC, because the winner plays Salisbury.  And the Gulls will roll either of these squads.
Kenyon at Dickinson
I really think Dickinson is going to floor Kenyon.  On paper, this isn't even a fair match up.  Dickinson does have three losses on their resume and two are only one goal, so they can definitely lose games.  But Kenyon won't earn that chance in my book.  Dickinson should win this game by 10 goals if they have any hope of advancing deep into the NCAAs.  I don't really believe in that program either though, so I'll say Dickinson only wins by 6.
Cabrini Hosts Eastern
This is Cabrini's year, I'm sure of it.  I'm not saying they'll win a National Championship, or even make their first Final Four, but they will do well, and it will all start with this win over Eastern.  I like Cabrini to win this game by at least 4 goals, and expect them to surpass that margin.
Stevenson Hosts Birmingham-Southern
There will not be an upset here.  In fact, B-SC will be fortunate to keep the game within 10 goals.  But it's a great experience for B-SC, and I want to congratulate them on their first NCAA tournament appearance.  Endicott used to make the NCAAs and then get slaughtered, but they brought their program up to speed very quickly.  I'm hoping B-SC can do the same!  Stevenson wins 17-4.
Gettysburg Hosts Ohio Wesleyan
In the early 2000s, this would have been a marquee match up, but nowadays it's an even, middle of the pack tournament game.  I like Gettysburg to win here, but not by much, and don't think either team will make big waves in the playoffs.
Denison hosts Adrian, Will Play Lynchburg Next
Adrian has a great record, but an incredibly weak SOS, and this will be evident when Denison blows them out of the water.  Adrian just isn't prepared to play a team along the lines of Denison, so don't be deceived by the blowout score.  Denison is talented and tough, but not THAT talented.  I like the Big Red to win by 12+ goals here though.
The winner (Denison) will have to travel to Lynchburg this weekend, to play the #2 team in the South.  Lynchburg has all kinds of talent and potential, and I can't see Denison hanging with them for a full game.  My head and heart say Lynchburg by 3-5 goals and a comfortable win to move on.
So there you have it; a FULL rundown of all the games from the Men's Division 3 NCAA college lacrosse tournament!  I've made my predictions… now tell me where I'm wrong!  Don't hold back.  I'm a big boy.  I can take it.