Hey guys, I'm back for my last lacrosse camp posts of the summer.  I'm currently coaching and covering the ProLax Lacrosse Camp at beautiful Golden Goal Tournament Park and I must that say this camp is incredible.  Right now I'll be recapping the first two days but be sure to check back this weekend for the final two days which will include a highlight video from the week!
After two days with this group I highly recommend you putting this camp on your list of lacrosse camps to attend for next summer.  The facility itself is incredible, tucked away in the Adirondack Mountains in Fort Ann, NY.  The Golden Goal Tournament Park is a 200 acre sports facility which has 4 turf and 4 grass fields, a medical and security facility, an athletes' village, a dining facility and more! I had to drive 6 hours just to get up here but the experiences so far have been well worth the drive.
I arrived the night before and got to meet some of the people who run the show here at Golden Goal and they were an incredible bunch of people.  They were very welcoming and made sure I had everything I needed for the weekend.  The counselors ProLax had for the week were incredible as well, and so far the really big names have been Drew Adams and Brian Karalunas, two MLL pros (both are Long Island Lizards) who are class acts and very great coaches. I was excited to get started and see how this week would unfold!
Day 1:
Staff was up early and ready to go on Monday waiting for our campers to arrive. When they did arrive everyone was willing to lend parents and kids alike a hand in bringing bags up to their cabins in the athletes' village. We had a small group of kids so they were all able to bunk in one cabin together, making it easier for the guys to make friends which would become evident very quickly. We had players from all over the tri-state area come out and partake in the week's activities.
After move, in the kids had a short amount of time to themselves and then we had our first session of the week.  We had a small group of kids but that just meant more time to coach and improve these guys as lacrosse players!  We started things off by introducing ourselves to the group and then it was time for business. We started with stretching to make sure everyone was loose and ready for some lacrosse.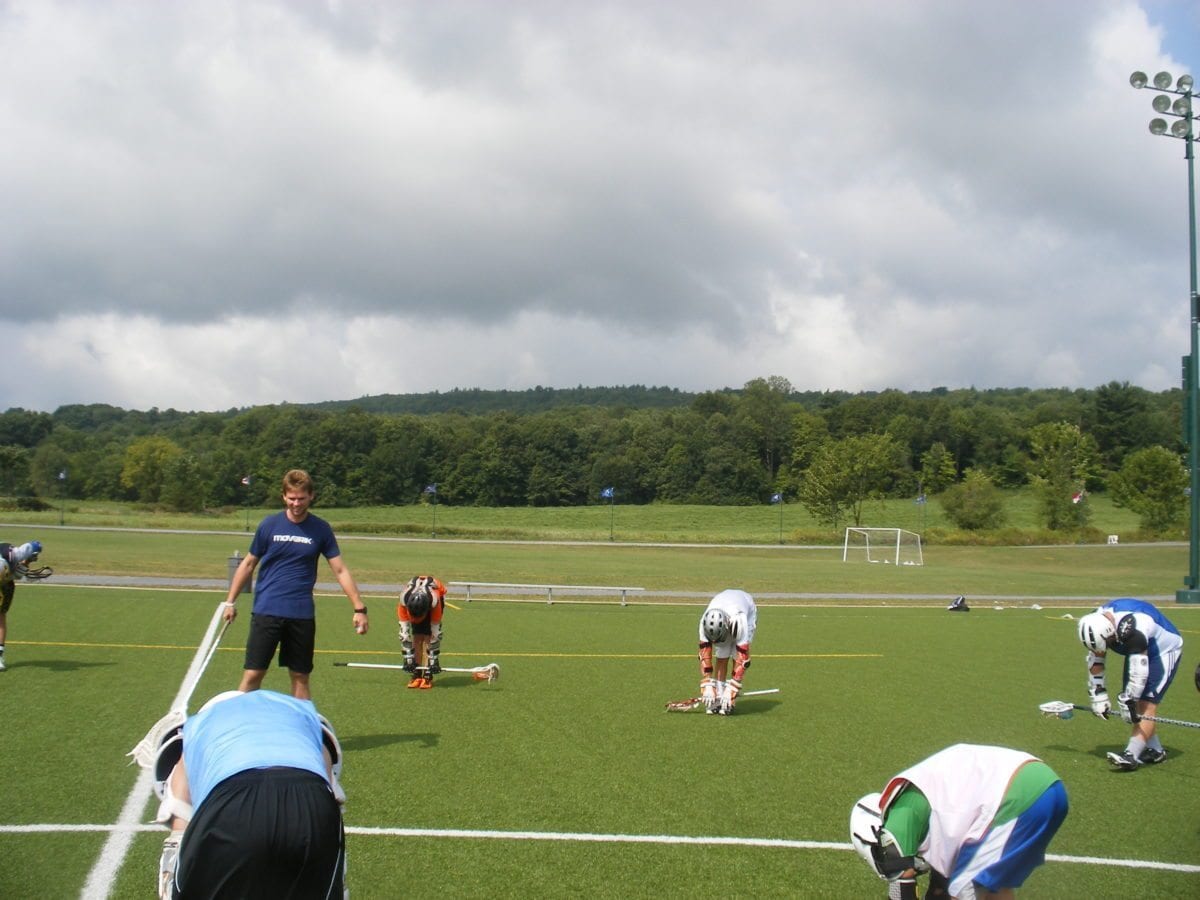 After stretching we got into line drills to make sure our stick skills were on point to ensure our first session would be nothing but successful.
Next I was able to teach the campers about some dodges including the split dodge, face dodge, roll dodge and bull dodge. After I went over and demonstrated each it was the campers' turn to give it a shot.  To make things especially interesting, we threw Karalunas in to play D. Regardless of this MLL pro being involved in the drill the campers were very confident of their dodging abilities and made some jaw dropping dodges on Karalunas including a very smooth behind the back dodge.  Be sure to check out our Day 3 & 4 recap for the highlight video which will have plenty of jaw dropping highlights including our dodging fiends!  Very impressive stuff from this crew of campers already!
We then covered a bit of shooting and that conlcuded our first excellent session of the week.  Many more to come!
For the afternoon session the guys thought it'd be a good idea to show up later than planned. So of course we had to take strict action to make a point that we wouldn't tolerate such rebellion, but here at Golden Goal we also like to keep things fun.  So instead of making these guys run until their ACLs tore, we decided running a lap while singing "Firework" by Katy Perry would suffice.  I kid you not… check the highlight video this weekend. It will be there.
We then got the kids into a box over the shoulder passing drill to get these guys back on track.  Next we built on what was taught in the morning session regarding dodging. We had 1 on 1 dodging from different parts of the field making sure we covered every aspect of the offensive and defensive player. Once again Karalunas jumped in for one or two of the guys to test their skills.  After numerous practice attempts we had a 1 on 1 dodging competition with our finalists being Tom and Trevor. Tom ended up winning the contest and a new Maverik head courtesy of Drew Adams. Believe it our not Tom and a couple of friends have started a small company called Upstate Stringing and they received much approval from our campers and our star counselors. So be sure to check them out on facebook, like the page and help these guys get some exposure!
We finished up our afternoon with some pick drills and various forms of fast breaks where both sides did a phenominal job. A good way to end the second session of the day.  For our night session we had the stadium lights turned on and got to play some friendly mini lax where counselors and campers alike competed. First teams were mixed, followed by the second game which was counselors vs campers, where the campers took home bragging rights. A fun and enjoyable night to end day 1.  And everyone got better!
Day 2:
We started off our morning in a different direction than the usual stretches. Instead we did dynamic stretching followed by a criss-cross ground ball and passing drill. Attack and Defense then split up to work separately for a bit to prepare us for some more dodging. Defense focused on positioning and how and when to push their man off their intended course. These guys did a great job of putting these tips to work and became better defensemen in doing so. Offense worked on dodging from behind and how to perfect question mark dodging. Coach Karalunas then dropped some serious words of wisdom from Aristotle before working on dodging from behind as a group. He wanted to stress the importance of observing each person's attempt while in line, so he said "a smart man is someone who learns from his own mistakes, a wise man is someone who learns from others." With that being said we got into the drill and saw plenty of great plays from both sides and so ended the morning session.
For the afternoon we had a 2 v 1 competition between the offense (2 guys) vs defense (1 guy) and the defense won and decided the offense's fate for losing. They decided the offense had to sing a Justin Beiber song which can also be found in the highlight video.
Then Karalunas kept the competitive nature going with a groundball competition and the winner was taking home a new Maverik head. Players had to lie on their back looking up at the sky and when we yelled go they had to flip over and go fight for the ground ball. We did it musical chair style meaning we had 11 guys so 10 balls and then 10 guys and 9 balls.  You get the idea. Whoever didn't come back with a ball was out. So players could either try to find their own ball or play d on a guy who picked one up and try to get theirs. It was a very entertaining and hard fought battle but Franchise came out on top.
To finish our afternoon often we did a fast break drill. As always we broke it down for both offense and defense, went through a few practice rounds and then had a battle between offense and defense with the winner picking the loser's fate. Offense won the competition with flying colors and chose that the defense had to serve their lunch. I gotta give credit to the defense though they were good sports about it all.  A great atmosphere and just fun amongst friends!
For the evening we once again competed in some mini lax which is much appreciated by our campers. It's just a chance for a bit of friendly competition and to have some fun and unwind and after putting in many hours of fundamental lax during the day. As an added bonus it rained a bit while we were out there but that didn't stop anyone from going all out and we were able to snag some great footage so keep an eye out for that.
And so concludes our first two days of the Golden Goal Lacrosse Camp. Be sure to stay tuned for my next post this week, wrapping up our final two days and including a highlight video. For more information Golden Goal Lacrosse check out their website or facebook.