In a rematch of the 2010 Championship, Salisbury got revenge on Tufts and took home their ninth National Championship in Men's Lacrosse.  Last year, Tufts came out flying, scored a bunch of early goals and held on for a 9-6 win.  People all over the country were shocked that Tufts, a former NESCAC bottom dweller could come in and dictate the pace of the game to a team like SU.  Well, 2011 was a TOTALLY different story.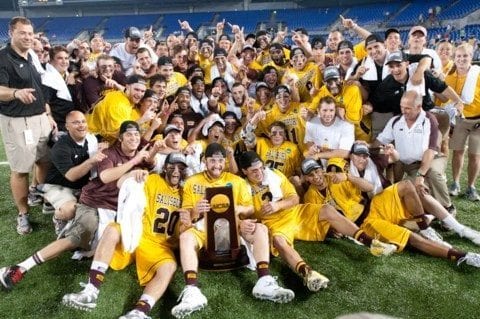 Salisbury came out hot and by the time I realized what was happening, they were up 6-1… and this was still in the first quarter of play.  In 2010, the SU Gulls couldn't hit the net, took bad shots and seemed flustered by Tufts defense.  The Jumbos also got some goals by SSDMs early on that changed the make up of the game.  This year, the Gulls knew what to expect a little bit more, and their rapid cuts on O, precision feeding and excellent shooting made all the difference in the world.  Sam Bradman showing up this time (with SEVEN goals and an assist!) didn't hurt either.
All Photos courtesy Laxpower.com
On the other end of the field, SU seemed content to let anyone BUT DJ Hessler dodge.  When the other Tufts players did dodge, SU allowed them to get in close on one defender, and then doubled quickly once the Tufts player changed direction or turned their back to the double.  However, even on the slides, SU was very composed, and rarely swung wildly at sticks.  They let Tufts force the issue, they made the Jumbos frustrated and then just took advantage of all the mistakes that were made.  SU's game plan was solid, and their execution was flawless.  The Gulls were a very balanced, composed, yet aggressive team.  Very deserving National Champs.
The 12 goal margin of victory was the largest margin by which SU has ever won a National Championship.  Tufts was a great team this year, as was RIT, Roanoke, Stevenson and a host of others, but at the end of the day, it was clear the Salisbury was hands down the best team in DIII.   Again.