The ULAX lacrosse league in New York City is mostly comprised of guys in their low to high twenties, who live in the City, but there are those of us that are slightly older than that, tipping the scales with our mid to low thirties attitude.  And then there are those guys who are slightly older than us!  And this is where the Almost, But Not Quite Old School comes in…
There is really nothing better than a guy who still wears the last free piece of gear he ever got.  Whether it be a helmet, an old pair of gloves, or long white with age flow, Old School lacrosse gear always seems to make an appearance in NYC!
That is an a Princeton helmet from 2008 or 2009 I believe, but the real gem here is the Team USA helmet from 2002.  All the stickers are correct on the helmet, but the face mask may be a 2003 or 2004 upgrade.  Or it just LOOKS like a Team USA helmet from 2002.  Either way it's cool and matches up with the Brine X-Factors gloves nicely.
Now these gloves are certainly a step backwards in time!  They look like L-27 goalie gloves I think, but I can't be too sure.  I know one of our readers will correct me here.  Now's your time to shine!  This goalie also has a white pony tail, and we LOVE that he comes out and plays against the young bucks every weekend. So much so that he was the LaxAllStars/Teamitup.com goalie all season long!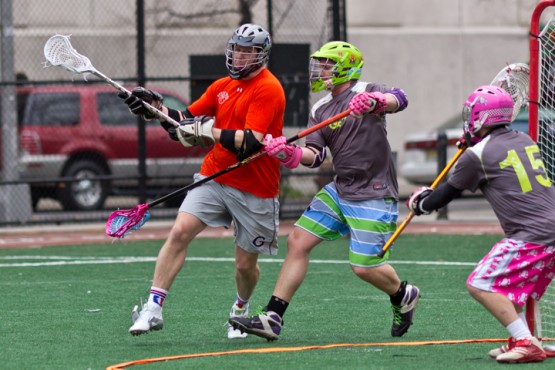 Finally, we get to some Warrior RPMs!  These gloves were great, but you could definitely wear through them with a season of good wear.  To see a pair still out on the field is always cool, and it proves Chris Massey isn't the only old guy out there still rocking the OG Warrior mittens.
Got some Old School gear you want us to show off?  Send it on in!