We asked and you answered. More Old School lacrosse photos have arrived!
Since it is unofficially "International Thursday" on LAS, and the NLL is an international pro sports league, we're featuring an older picture of Dallas Eliuk, legendary NLL goaltender.  The picture is from the mid 1990's against the NY Saints when Dallas was playing for the Philadelphia Wings.  I asked Dallas what was going on with all the stuff at the back of the nets – I thought it was a field net that had been pulled tight – but he informed me that it was, in fact, a pile of sandbags. Here's the full explanation:
"The "stuff" you are referring to at the back of the net are sandbags. They were the initial fix to anchor the goals. A few years later they made the goals out of cast iron which helped, but didn't stop me from knocking them out of position every time I moved from post to post. In Canada's box leagues the nets are moored, so when I pushed through a shot to make a save -the net stayed put. In the MILL they started penalizing me for knocking it out of place, because of an incident in Baltimore when I lost my cool, and pulled the net with me as I sprawled to make a stop. Now they use a magnet system that seems to work pretty well."
That is just amazing, first hand knowledge right there.  Straight from the keypad of the best pro box goalie ever.  So you know it's legit.  I'm sure some of our Canadian readers already knew all of that stuff, but for most of our Yankee readers, this has to be news. Very cool.
Thanks Dallas!  And thanks to Christine Nastasi, who took the photo. Christine used to travel around with the NY Saints (when they were still a team) Great work!!!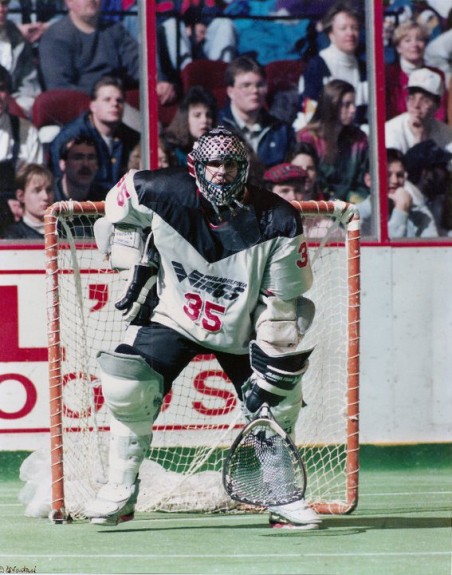 Go clean out the attic and relive your glory days. Submit your Old School photos and stories to info@lacrosseallstars.com!