We're combining our Going Home Series with our Old School Series this week and visiting Paul Woody of 24SevenLax in Glen Burnie, Maryland.  If you're looking for the NEWEST gear, check out 412's Winter Fashion Week.  If you want Old School… Well, Paul is hysterical, so we'll just let him take it from here:
(Below) is a shot of me in my old high school all-star jersey (circa 1987) taken in my kitchen (circa today).  I was a second team All-County middie for Anne Arundel County powerhouse Glen Burnie High School (our mascot was the Gopher) way back when.  We were 2-12 that year.  I ended my 3 year varsity stint with a combined record of 6-36.  I lettered all 3 years in high school, which was grade only 10-12 back then.
Check out that jersey! Its a full mesh half shirt! I wish I had the shorts that went with the, They were full on… well, they were tight.
I included a photo from my junior year as well.  Dig that Alex P Keaton hair cut and the sly shit-eating grin!  I'm rocking the L35s and an STX Laser-HighWall.  What a fool I was!  Lord knows what Salisbury and Washington College were thinking recruiting me…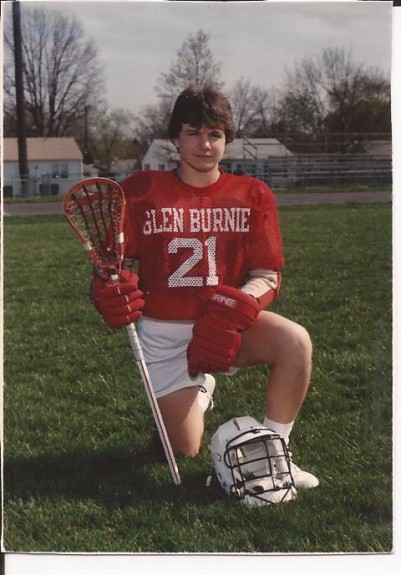 Also included a shot of me playing in my annual alumni game from last year. I coached the kid guarding me when he was 10!