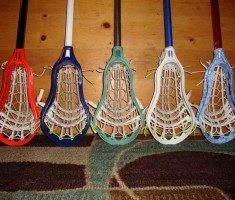 After reading Gregory Rose's post on a recent traditional string job, reader Reid Anderson shared some of his own pita pockets, and some tips on how he strings them. Some are run of the mill and others are quite unique.
Reid also had a few tips and tricks that he has incorporated into his pita and traditional pockets over the years:
Leathers connect to the head at the top via a simple top string for transplant-able pocket (without buttons)

"Some people may think this affects the release of the ball, but I've always preferred the ball to release off the top shooting string, (rather than the scoop, where the leathers 'usually' connect) so this seems to work fine."

Leathers are connected at the top using just one of the slits that the leathers are provided with, as opposed to both

"Personal preference as I don't like doing shooting strings over a double-thick leather."
"Sas originally concerned this would result in the leathers getting loose at the very top of the head (above the top shooter), but I haven't found this to be the case."

Top-string and sidewalls are strung and tightened with the strings sopping wet

"This way they are all ridiculously tight once the string dries out, so your sidewalls don't show slack between adjacent knots once the pocket is broken-in (works for mesh pockets too)."

'Floating' leathers / Gait-esque bottom string

"Run the sidewall strings under the head first, as I feel this allows for a lower-sitting pocket when one-handed cradling without compromising hold on the ball when its sitting higher in the stick / two-handed cradling."
"Before stringing the pocket, leathers are thoroughly stretched, and holes are pierced (~9″ down for the outer leathers, ~10″ down for the inners) to run pieces of sidewall string through."
"The two outer leathers share a piece of string, same with the two inners. This allows any difference in tension between the two leathers to get spread-out evenly and means you never have to fret about leather tension independently, just 'set' the outer and inner leather tensions by adjusting the placement of a single knot on a piece of sidewall string."
Great points, Reid! That's just a wealth of information and technique right there. Check out more of Reid's work on his Photobucket page.
What do you think lacrosse world? Have you tried any of Reid's tricks yourself? Have any of your own that you want to share? Let's hear them all!