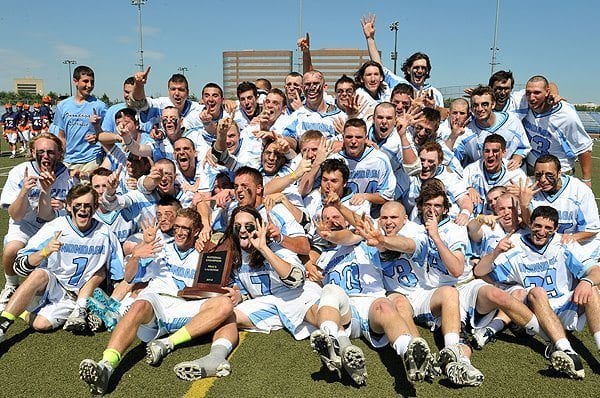 Welcome back to The JuCo Report! The playoffs are going on for the different NJCAA regions, and we are quickly approaching another final playoff run by a couple of teams… Onondaga is the obvious favorite, and they're looking super tough, but the JuCo season isn't over until the fat lady sings, and she's still just warming up.
NJCAA Men's Lacrosee Top Ten Poll – April 21, 2014
1) Onondaga (12-0)
2) Nassau (12-1)
3) Essex (11-2)
4) Anne Arundel (11-5)
5) Genesee (5-8)
6) Harford (8-5)
7) Delhi (12-2)
8) Howard (7-5)
9) Monroe (9-3)
10) Dean (7-5)
Next in line: Suffolk (4-7)
Paul Rose All-Star Game
Congrats to all the players who made the Paul Rose All-Star game this year! The PRASG is for sophomores from Region 3, in upstate New York. It's a good game, plenty of talent, and a big honor for anyone named to the rosters! The game was played at TC3's turf field, and the Region 3 title game, pitting OCC against Delhi, was played afterwards.
Game Photo – Chip Green
You can watch the full game here:
NJCAA Game of the Week
On April 25th, Anne Arundel played Howard in Region XX semifinal, and AACC came away with a tight 7-6 win to advance to the championship game against CCBC Essex. The games were played at Howard, and Essex took the Region XX title. Anne Arundel now plays Delhi (on May 2nd) in the first round of the NJCAA playoffs.
NJCAA Video
ASA Vs Harford
ASA Vs Nassau
2013 NJCAA Title Game
Game Photos – Delhi vs Dean
Great stuff from Chip Green of JB3Sports!

In The News
OCC wins Region 3 Title 34-2 over SUNY Delhi. OCC took down Dean 29-1 in the quarterfinals. Title games will be broadcast live online. Worth checking it out if you can't make it to Nassau's athletic complex in person! Delhi topped Finger Lakes in Region 3 playoff. Jefferson's Dave Vespa named Region 3 Coach of the Year. NOVA sees success in Year 2.
Thanks for reading The JuCo Report! Hit us up on the Tipline and we'll make sure your school's team is included next week, and on our radar!