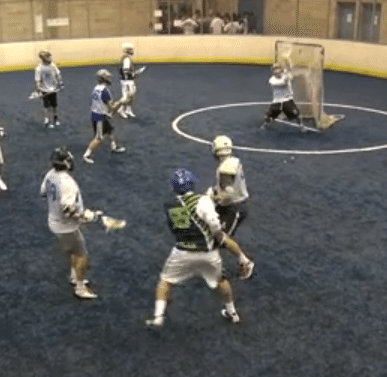 I can appreciate great lacrosse highlights, and high levels of talent, no matter where they come from. Does an indoor (not box) tournament count? If they talent level is as high as it is at the 23rd Annual Tri-State Lacrosse MLK Tournament, then the answer is an effusive YES:
Obviously Tri-State, the legendary NJ club program had a couple of teams playing, and they were joined by clubs like Sweet Lax Black (located in Cuse), Duke's LC Grey and Blue, The Quakers, The Hawks, and Rebel Elite White. The championship game saw Tri-State Green beat Sweet Lax 9-8. That must have been a GREAT game!
Almost all of the kids seen above are bound for D1 schools. A knowledgeable source informed me that as many as 80% of the kids playing may have already committed to D1 schools.
Another interesting note is that the goals aren't field goals, OR box goals. They are 6′ x 5′ cages. Oh, and the turf is blue, as it's at the Peddie School. Video credit goes to Emmett Turco, Bob Turco's son. Bob runs Tri-State. Awesome work, Emmett!