If you're looking for games on TV, look no further than our list of Televised 2012 Lacrosse games, but if you want to know ALL the games to keep an eye on this Wednesday, then I've got you covered right here!  If you want to know what WILL happen, keep reading.  If you want to know what ALREADY happened, check out our College Lacrosse Weekend Recap now with Video Explosion!
Editor's Note: The portion on Stevenson – Tufts has been moved to the bottom of the post.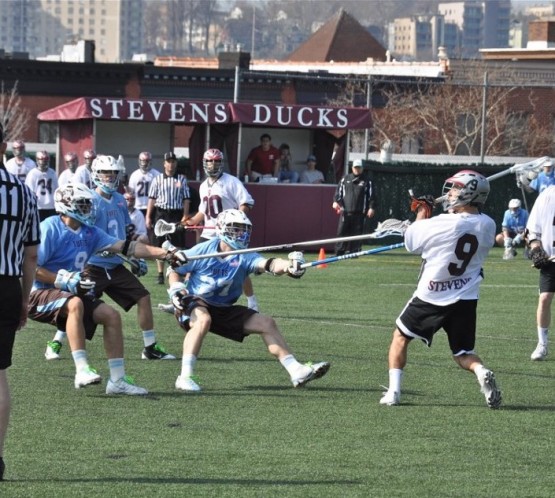 Let's hit up Wednesday!  We've got a bunch of good NCAA D1 games tomorrow.  Dartmouth vista UNC in a game UNC has to win.  A loss here would signal a serious downward spiral.  Loyola is flying high and they host Georgetown, who is flying low.  I like Loyola by 6 or more.  Mercer tries to get all-time win #2 (their first came last weekend over Wagner), this time against Towson.  Unlikely.  Notre Dame heads to Ohio State, and I'm not sure why this game isn't being played on a Saturday.  Someday ND – OSU lax will be huge.  I'll only mention Providence – Syracuse because I feel bad for Providence.  Cuse is going to come out angry.
The only NCAA D2 game this midweek (Tues, Wed, Thurs) that really jumps out at me is Rollins vs Merrimack, which is being played in Connecticut.  This game jumps out at me for two reasons: 1) Merrimack is a very solid team.  This will be a good barometer game for Rollins. 2) Rollins could use some more NE talent on their roster.  Perhaps this game in CT will be the fuel they need to get to the next level.
When it comes to NCAA D3 ball, this is where the real cornucopia of action resides.  Babson is really looking up this year, and today (Tuesday), they travel to Whittier out in California for a game.  My guess is that this will be a good one.  Whittier is athletic, tough and improving on the skill gauge.  Babson is somewhat of a surprise team, but they are for real in 2012.  This is a fantastic barometer game for both teams, as neither are likely to make major waves in the NCAAs this year.  Next year could be a very different story.
Also on Tuesday is Middlebury vs Cortland at Albany.  HUGE GAME!  Possibly bigger than Tufts vs. Stevenson because of the NCAA tournament implications.  Tufts – Stevenson is an OUT of region game, which means it's much lower on the selection criteria.  Midd – Cortland is IN region, which makes it HUGE.  Plus these teams have a long history together.  Should be epic.  Midd by 1?  Union and Kean play a game in California.  Tough life for those two East Coast programs.
And then we get to Wednesday in D3.  Ah, Wednesday!
Bowdoin at Keene State.  I'll take Bowdoin by 4.  Clarkson at Nazareth?  Tough call.  Let's say Naz by 2.  Salisbury at York will get ugly.  SU by 10.  Stevens at Montclair State is the battle for Jersey, public vs private, top tier vs up and comer classic we all want.  Stevens by 7 is what we'll get.  Wesleyan takes on SUNY Maritime and it's 90% likely that I will be at that game in person.
A GREAT sleeper game?  Western New England at Colorado College!  I went out and played a game at CC once.  Beautiful location, the air is rare and anything can happen.  We got snow on a 60 degree day and felt like we were running with only one lung functioning.  But we still won.  Can WNE do the same?  I think so.  WNE by 4.
Then on Thursday there are really only two games to really pay attention to in terms of ranked teams.  Amherst travels to Eastern Connecticut State, and with Amherst playing so many tight games, ECSU has the chance for the upset here.  It's unlikely and I think Amherst will keeping winning tight games, but it's possible.  The other game to watch is Union at Whittier.  Union will have been out there for a couple days, but a trip like that can wear on you, and Whittier has nothing to lose here.  I'll take Union by a couple, but it could be close!
And then we get to the MCLA!  Boston University vs Boston College is always good in any sport, even if one of the teams stinks.  People from the outside might not think there is much of a difference here, but there is.  BC is a good MCLA team, BU is not as good.  BC used to have a D1 NCAA lax team, and BU is going to ADD a D1 NCAA team.  This series is heading towards the end, and that makes it special. Chico State is special this year all on their own, and they take on San Diego in what could be a good game.
Want a little D2 action?  Ok.  I've got a great one for you!  Coast Guard at Briarcliffe out on Long Island for a Thursday night game!  7pm start time, should be a heated game, and it features two of the best MCLA D2 teams on the East Coast.  GTG in the other direction!  I'll take Briarcliffe by 3.
And there you have it!  A superb run down of top flight midweek college lacrosse games!
Did I miss anything?  If so, let me know in the comments!
Previous Portion on Tufts – Stevenson:
Let us move quickly to a little top notch Tuesday action before the Wednesday Preview!  Tufts visits Stevenson down in Maryland.  HUGE game right here.  Tufts is looking to hold on to their title of "OOC Road Warriors" (because they rarely lose away games) and a top flight national rating.  Stevenson on the other hand, is trying to get BACK to that top tier level, and they have a couple losses so far this year to show for it.
I like Tufts to win and here is whyt: Tufts plays disciplined lacrosse.  They are physical on D, throw overhand passes and create transition with hustle and fundamental play.  Not surprisingly, the Jumbos manage to put up a lot of points.  Why?  Because they  do things right.  Stevenson is a much flashier team, but without the go to players they have had in the past, it just doesn't work quite as well.
The unnecessary sidearm pass just looks sloppy for the Mustangs right now.  If they can play smart, it could be close, and Stevenson could even win.  But that just doesn't fit with what I've seen from them so far.  Now I like Tufts to not only win, but do so by 5 or more goals.
Now why am I making SUCH a big deal out of a DIII game?  First off, DIII is awesome.  And secondly, the game will be streamed LIVE online so everyone can watch and see how right I am.  Please let me be right here.  Here is the link to watch the live video stream:
Tufts @ Stevenson Live Video Broadcast