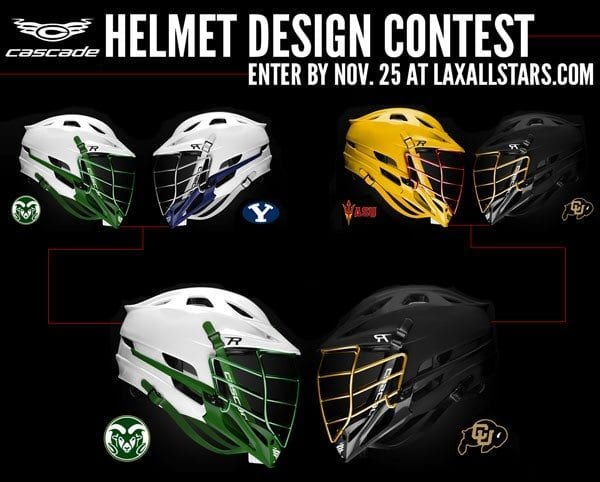 Dear LaxAllStars.com reader,
Below is a copy of last week's Weekly Draw email newsletter, which was distributed to subscribers on Friday, November 15th. To receive the Weekly Draw at its time of publication, please sign up here.
Thanks, and Grow The Game!
– The LAS Team

MCLA Helmet Design Contest
presented by Cascade and Maverik Lacrosse
Grand Prize (1): Exact replica of the masterpiece you create
Second Prize (5): #StringItForward Pack with LAS Stringing Kit
Winner Winner Chicken Dinner
Updates to Our Privacy Policy
Here at Lacrosse All Stars, we take great pride in the fact that we are creating a global community centered around lacrosse, the likes of which has never been done before. The use of computers and the Internet have served as powerful vehicles to create this community and will continue to help bring the lacrosse world closer together. In order to partake in these new communities, and virtually every other aspect of life on the Internet, we give up some degree of online privacy.
To us as Internet users just like you, we jealously guard our online privacy and expect the same of the websites we visit. We are committed to protecting your privacy and remaining transparent about our efforts to do so. In this vein, we announce some modifications to our privacy policy. These changes only strengthen our efforts to protect our users privacy. We invite you to review our updated privacy policy and if you have any questions, please, as always, drop us a line at info@laxallstars.com.
This Week's Featured Content
This Week's Featured Deal
Want more great lacrosse deals? Follow
@LASDeals
on Twitter!
Until next time, LAS nation. Grow The Game!