The MLL Supplemental Draft has been moved from the Summer to the Winter.  This news has been covered by InsideLacrosse and lots of other lax news sources that just take press releases and republish them.  Nothing special there.
But last night, oh last night!  412 started a much more interesting conversation revolving around who we would pick from the Supplemental Draft pool of players if we were starting a new MLL team.  He limited it to ten players consisting of a 3 middies, 3 attack, 3 defensemen and 1 goalie.  Keeping it simple, I like that.
I'll run down Coach 412's list quickly, give you mine and then talk about some of the guys who have a real shot at making a team (yes, a real team that isn't run by 412 or myself).
412's top ten features Matt Alrich (NLL player), Kevin Leveille (MLL stud) and Ari Sussman (Dartmouth) at attack.  That's a good group right there.  He's got a very good shooter (Alrich), finisher (Leveille) and distributor (Sussman) lined up.  That's a group that could work well together.  At the midfield, 412 goes with Brian Christopher (Hopkins), Ryan Cranston (Lynchburg) and Rhys Duch (Canadian dangler).  Can't argue with any of these selections as they can all create and initiate.  This combination also allows for a good balance of dodging to score and dodging to pass.
On D 412 goes all Long Island.  Jerry Lambe (Georgtown), Spike Malangone (Wesleyan) and Steve Panarelli (Cuse) makes up his back line.  Lambe and Panarelli are big time, physical Defenders who can play box as easily as they can play field.  I love a D guy that can play with a shortie!  Spike was the D3 Defender of year in 2009 and is a great guy to have picking off passes and shutting down dodgers.  Panarelli can take the ball away and push transition.  Sal Barcia (Robert Morris) is his keeper… he comes out of the Jesse Schwartzman school of goaltending where being a stopper is key but being the mouth and eyes of the D is even more key.  Great under the radar pick there!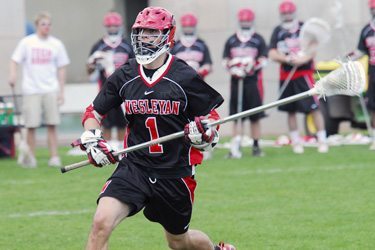 My attack would also feautre Kevin Leveille as he is the best pure finished and goal scorer available.  If he isn't on your starting attack, your list is going to be a joke.  No offense, he's just that good at what he does.  Chazz Woodson (LXM PRO) would be my playmaker (as long as he's feeling "quick") and Ryan Hurley (Cornell) would be my 3rd guy.  Hurley can finish from 10 yards and in with the best of them and has a stick that is meant for the MLL.  Eventually I would want to draft Rob Pannell (Cornell) as my distributing attackman down the road.
At the midfield, I would also pick up Cranston, just like 412 proposed.  The kid can dodge, has great size, good speed and can absolutelty bomb the ball from outside.  You need a guy who can stretch the D with his shot in the MLL and 2 point goals are more valuable than many think.  My other two middies would be Parks "Glenn" Adams (Wesleyan) and his brother Owen Adams (Stony Brook).  Glenn played with me at Wesleyan and has played in the MLL for a couple years, never quite getting the looks many thought he deserved.  Owen is taller than Glenn, and like his older brother, Owen can absolutely fly on the field.  A shortie can not defend these guys.  They have too much speed.  The two of them also run an unbelievable hidden ball trick that has worked in places like Hawaii, and they have done it successfully more than once in the same game.
On D I like old timers Ryan McClay and Shawn Nadelen.  These guys have tons of MLL and US Team experience between them.  They are proven winners and team players.  I would love to put Spike out there with them but I would also consider making him or Panarelli my LSM.  My third guy down low would be Ricky Schmidt (CW Post).  He would need to work on his footspeed a bit but his hard-nosed style of play would be great in the MLL.  Kyle Rubisch (Dowling) is another guy that I would love to have on the team.  He's got a great stick and I think he'll definitely see some time on a box team this winter.  Just wait for the injuries to kick in about halfway through the NLL season.
In goal I like Chris Sanderson.  He is an older Canadian keeper.  But Brian Dougherty can still play with the best of them and Sal Locasio was great well into the later years of his career.  I like a guy with lots of experience on my backline leading the D and taking control.  He would command immediate respect from the veterans and rookies alike.  Great stopper, can push transition with outlet passes and he's a proven winner.  Might have to replace him within 2-3 years though so 2012 would be a really important draft class for my squad.
There are other guys (beyond the ones mentioned above) out there who caught my eye and they stand a decent chance to get drafted because of where they went to school, their name recognition or they are just really good players.  The big question is not getting drafted though, it's making the team late this Spring.  Most of the teams already have 23 man protected rosters set.  To break that line up and THEN break the game line-up of 19 players is a tall order but some of these guys can probably pull it off.
Mike Cama is a FoGo out of CW Post.  He's a huge part of the reason that Post won the last D2 National Championships.  He got a little MLL run last Summer but this year could be his breakout season.  Who needs a good FoGo?  Denver, you say?  They should pick him up.
Chad Amidon has good speed and decent size.  He's a much better midfielder than I could ever be but I don't know that he has that next level stuff the MLL requires.  He has to have a shot though and I wouldn't be surprised to see him picked up by Rochester one bit.
Jeff Bigas played at Salisbury in D3 land and has a nasty streak a mile wide.  He's kind of Like Eric Martin in that way.  He's got a great stick, can plays SSDM with the best of them and brings toughness and experience to a position that relies on those two attributes more than anything.
I could also see guys like Craig Dowd, Scott Ditzell and Sol Bliss get drafted on pure name recognition alone.  All of these guys played at big time programs, knows what it takes to win and has the size and/or speed to be attractive draft picks.  Marc DiGiovanni fits in on the opposite end of the spectrum.  He's older, small (but very quick) and is virtually unknown to most in the lax world having played at D3 Eastern Connecticut State University.  That being said, he's easily the best player to ever come out of ECSU (except for maybe Shannon Sligo) and the guy just scores like it's his day job even though he's a middie.  You need to see him play to be a true believer.
Tom Ethington would be a good pick up on the longstick side of things but he's not really an MLL game changer like some of the other poles mentioned.  Scott Kahoe (Syracuse)should find a home in the league and I'd be shocked if he didn't end up with Rochester in the end.  I have no idea how a guy like Tommy Kessler (Hofstra) or Terry Kimener (UMBC) is playing these days but they were certainly good when they played on the biggest stages in the past.  Shane Koppens (Loyola), Mark Kovler (Princeton) and Grant Krebs (Notre Dame) seems like obvious pickups for teams out there.  Scoring is highly valued in the MLL after all!
Cooper MacDonnel (Attack from Loyola), Joey Marra (Goalie from Stony Brook) and Anthony Muscarella (Midfielder from Hofstra) will certainly be drafted by someone but I think they will all have a hard time consistently cracking a game day roster.  Muscarella may just need a  year (or not. he could be ready right away) but Marra needs a team to have a hole in goal, otherwise he may sit a lot.  Kid can really ball though and is a fantastic stopper.
Tom Zummo (NY Tech) has experience, speed and can still play.  He'd be great for middie depth.  Robert Trasolini is a complete player from the midfield and has a lethal split to shot on the run.  Brandon Spillet (LeMoyne), Jeff Sonke (UNC) and Adam Sear (Australia/Maryland) could all find places on offenses as shooters and finishers but again, the existing depth in the MLL at this position makes it an uphill battle.  Patrick Merrill can play with the best of them with a pole or a shortie on D and his size will help.  Expect him to end up on the Hamilton Nationals.  Finally, Nick O'Hara (Duke) is as talented and athletic a D-man as anyone and he will definitely play somewhere.  He might be the closest thing to a lock in the entire draft.  Fitting I'd mention him last.  Just making sure you're reading to the end!